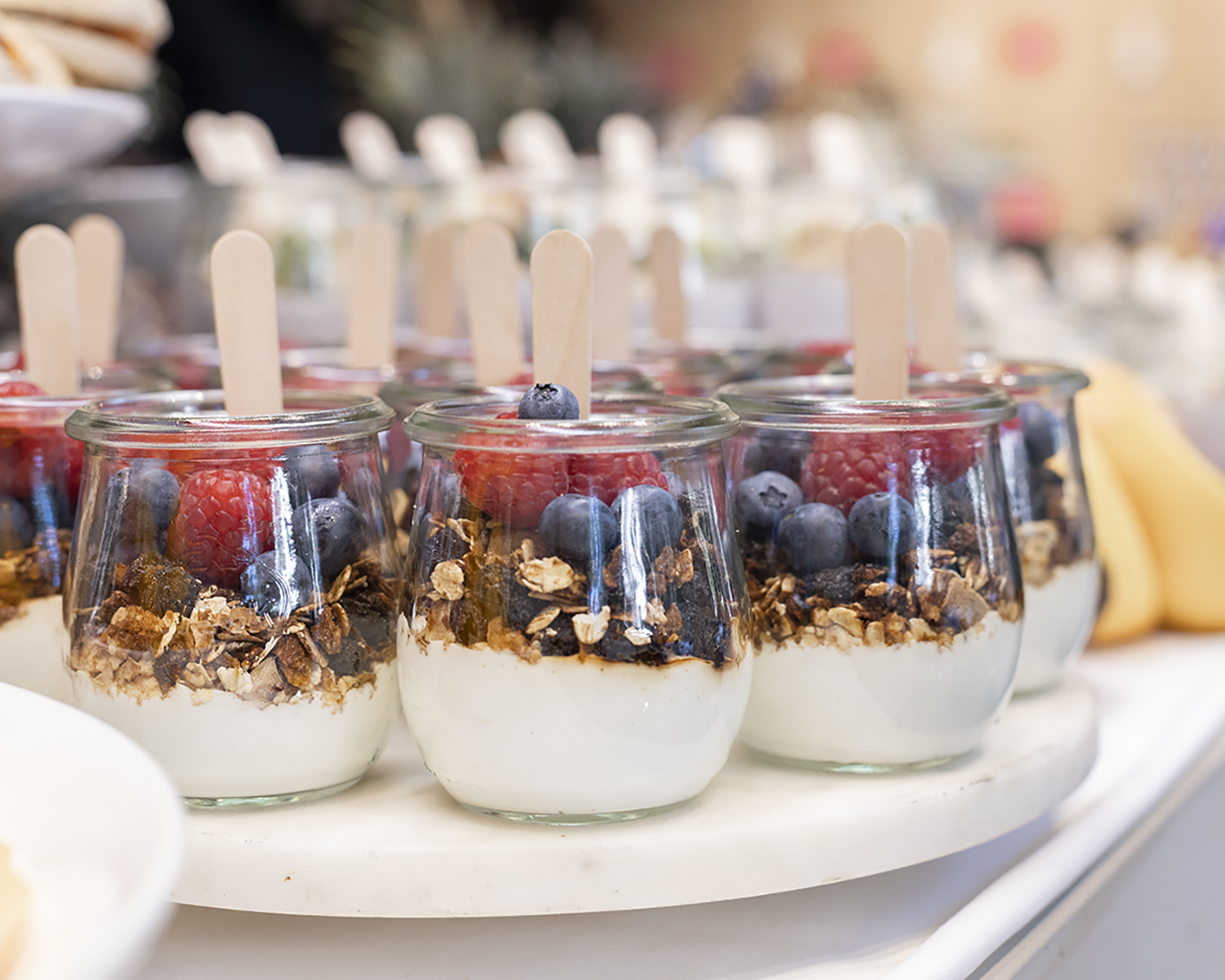 Breakfast Catering Sydney: Kickstart The Work Day
Nourishing In-Office Breakfasts
Breakfast events are often met with a reluctance to be in the office so early. However, The Blonde Butler makes sure guests are excited to attend by delivering a delicious and seriously impressive start to the day.
Our catering team offer a variety of breakfast setups to suit any morning event, offering total flexibility to ensure your guests feel welcomed and well-fed.
Kickstart your corporate event with an inspiring breakfast table where colleagues can relax, chat and indulge in nutritious, high-quality food. When it comes to feeding a crowd quickly and easily, The Blonde Butler breakfast grazing table setup is ideal. Guests can admire the visual spectacle while curating their own breakfast experience. The table becomes a hub of conversation and connection, allowing attendees to mingle, graze, and enjoy a leisurely start to their day.
Our tables are completely customisable but typically include an abundant selection of artisanal pastries, freshly-baked muffins and breakfast tarts, smashed avo & feta bruschetta, yoghurt pots with Sonoma granola, fresh seasonal fruits and cold-pressed juice.
Some occasions call for a more formal start to the day. That's why we offer elevated breakfast catering options to cater to your corporate breakfast needs, setting the stage for a successful day ahead. Our plated breakfasts are made from premium seasonal ingredients, including a formal-style breakfast menu of hot or cold-plated meals.
Enjoy a beautifully arranged plate featuring classic combinations like sweet corn fritters, perfectly poached eggs and avocado salsa, accompanied by artisanal sourdough bread or breakfast pastries. Each dish is beautifully prepared using quality ingredients, ensuring a bright and memorable meal experience your clients won't forget.
Talk to us about our bespoke plated breakfast menus for your next upcoming event.
Beautiful Breakfast Buffets
A breakfast buffet ticks all boxes for corporate events that call for a variety of delicious food to cater to different tastes and preferences. Build your breakfast just how you like it with an abundance of popular fresh food options like crisp bacon, golden hash browns, fresh avocado or spinach and mushrooms. Our buffet setups are designed to be warm and inviting, creating a comfortable atmosphere where colleagues and clients can relax and refuel.
Keep your crowd awake and hydrated with a selection of premium beverages.
​​Nothing relaxes the corporate crowd quite like the rich aroma of freshly brewed coffee. For the coffee aficionados, we can provide a barista-manned coffee machine, delivering a café-quality coffee experience. From lattes to cappuccinos, espressos to macchiatos, our skilled baristas will deliver coffee a-la-carte.
If you need a self-serve solution, we can easily set up a tea and coffee station for guests to help themselves, to deliver the necessary caffeine without a large expense. We also offer a selection of fresh juices for a refreshing start.
Feed Large Groups Quickly and Efficiently
We understand that time is of the essence when it comes to a breakfast meeting. The Blonde Butler team will see that every attendee is well-fed quickly without compromising quality and taste. We carefully plan and organise the logistics to ensure every guest receives breakfast promptly.
We also understand the unique challenges that arise when catering for a large number of guests and have perfected our approach to streamline service. Our experienced chefs and service staff are adept at handling high-volume events, allowing us to execute flawlessly for even the largest gatherings.
Dietary Preferences: Delicious Food for Everyone
Our chefs cater to various dietary needs and menu preferences, ensuring each of your guests is cared for. All attendees can enjoy delicious and satisfying catering for breakfast, regardless of their dietary requirements.
Whether guests have vegetarian, vegan, dairy-free or gluten-free dietary requirements, our breakfast options can be customised to meet their needs. We can always offer dairy-free and gluten-free alternatives and vegetarian options.
Exceptional Service and Seamless Execution
Every detail matters when it comes to creating a memorable experience. If requested, The Blonde Butler can handle every aspect of the event, from table setup to equipment supply and service with professional wait staff, allowing you to focus on connecting with your guests and achieving your event objectives.
Our talented chefs and service staff deliver a flawless breakfast experience designed to exceed all your expectations.
What Our Clients Have to Say
Your service and diligence is fantastic, the food was amazing and we had an absolute hoot!! Still being enjoyed the next day here in the office! Thank you!
I have received amazing feedback on Independence Day Catering (04/07) from the client. They absolutely loved the food. It was very well received by the whole team. Thank you so much for your work!
Boxed by Blonde Butler go above and beyond for their clients every time! Alex, Jemma and the team are magicians, and we will continue to order due to the fact that their food is delicious, and their service is impeccable. Always 5 star.
Just wanted to send a thank you email from us here at Cushman & Wakefield for the Corporate Lunch in Sydney. The event was a huge success, and the Director was extremely impressed. The chef was excellent, and his food received great reviews and both colleagues and clients were impressed with the menu. The waiter was also fantastic, and everyone was very happy with his high level of service.
Thank you to you and the team for everything today. The set-up, the extra touches with florals, menus, the incredible food and 5-star service were impeccable. The Trade Desk sales team along the clients at Publicis were extremely impressed. The Publicis team were shocked that it was their office as it looked like a private dining room. Biggest thank you for being onsite this morning too and I'm glad we finally got to work together. Looking forward to the next one!
Tailored Solutions For Your Office Breakfast Catering
Of course, every corporate event is unique. At The Blonde Butler, we tailor our services to meet your business requirements. Let us create a breakfast or brunch experience that reflects your company's brand and vision.
Whether you are hosting an executive meeting, a product launch, or a networking breakfast, our team will work to understand your goals and deliver an experience that meets the brief. We customise our offerings wherever possible, ensuring that your breakfast or brunch catering reflects your company's style and values.
Introducing Boxed By Blonde Butler
Fresh Fruit, Pastries, Yoghurt Pots and More - Dropped Off Anywhere
If time or budget is a constraint, we offer a huge variety through our Boxed by Blonde Butler service. Delicious gourmet food is dropped off at your location, ready to go. No chef setup is required! Present your guests our warm buttery ham, tomato relish and cheese croissants, perfectly baked to golden perfection. Let your hardworking team enjoy a breakfast pack of banana bread, daily muffins or fresh fruit to kickstart the day.
But the goodness doesn't stop at breakfast. Boxed by Blonde Butler also offers a range of morning tea, lunch, and afternoon tea options, catering to your needs throughout the day. From a lunchtime box of sandwiches and wraps to salads, proteins, cold or hot canapés, fresh.
Breakfast Catering Sydney
When it comes to breakfast catering in the Sydney CBD and the Greater Sydney area, The Blonde Butler is your premium choice. We understand the fast-paced nature of the Sydney CBD and the importance of getting off to a great start. Our team ensures your office breakfast is delivered on time, set up precisely, and presented beautifully.
Enjoy the most important meal with a delicious catered breakfast experience, beautifully presented.
You Can Rely on the Blonde Butler
Whether you are hosting a corporate meeting, a networking event, or a special occasion, we offer a memorable breakfast experience that colleagues, clients and staff will remember. Our commitment to excellence, detail, and efficiency makes us the ideal partner for businesses seeking a seamless breakfast catering experience.