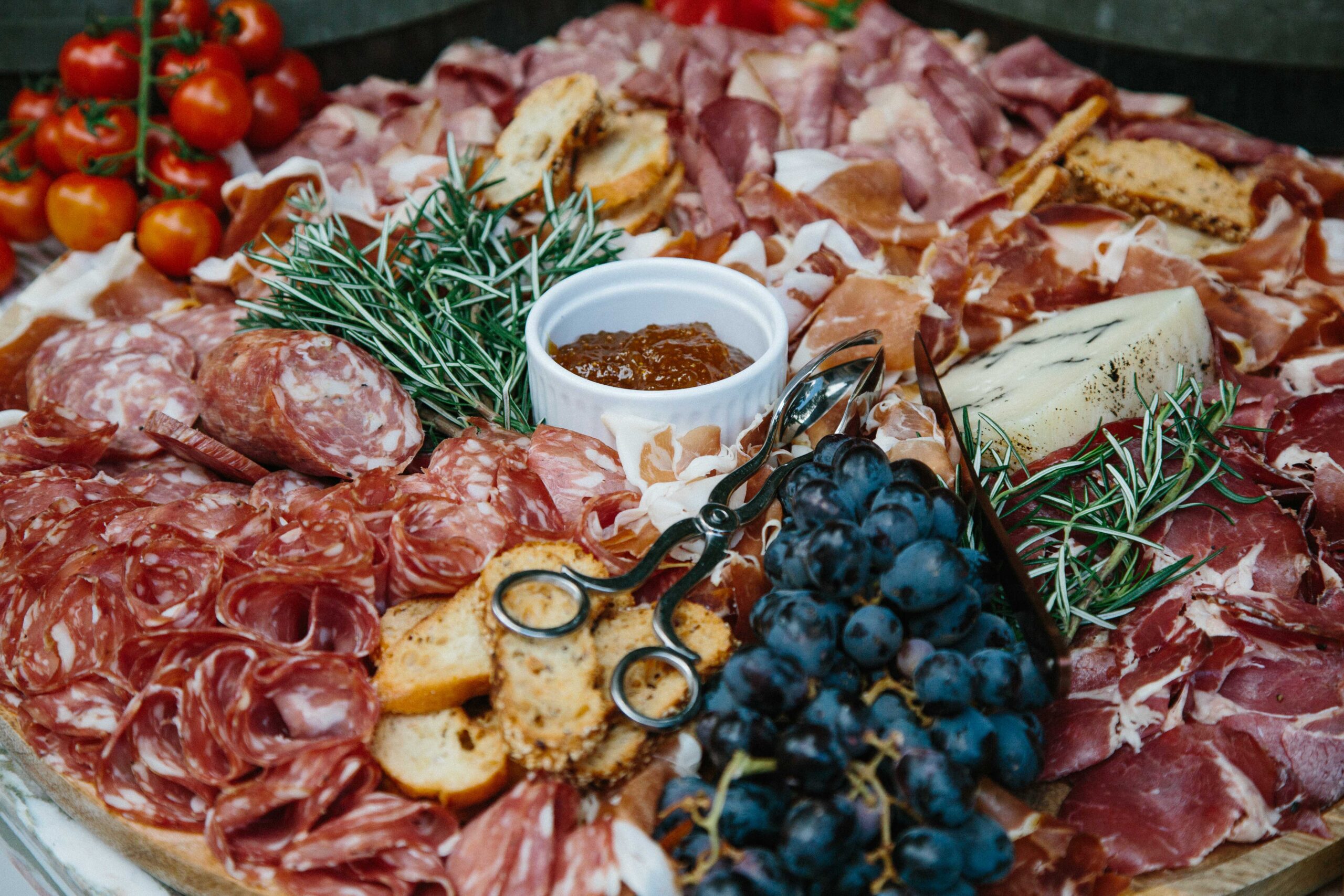 Charcuterie Board Sydney Delivery
The Art of Charcuterie Platters
When it comes to creating an exceptional event experience, nothing adds indulgence quite like a well-crafted charcuterie board. Showcasing a delicious selection of premium cured meats, accompaniments, sourdough bread and crackers, our charcuterie platters are guaranteed to impress. Providing the perfect complement to a cheese board, a charcuterie grazing platter brings a decadent and savoury element that enhances the overall catering offering to make it more substantial.
Savoury Cured Meats: Rich and Smokey Flavours
At Boxed by Blonde Butler, we source the finest charcuterie for a truly memorable experience. Our platters feature a premium selection of Italian San Daniele Prosciutto, handmade truffle salami, mild soppressa, coppa, wagyu bresaola, and more. Each variety is hand selected to offer a harmonious balance of flavours and textures. From the delicate melt-in-your-mouth prosciutto to the robust and aromatic truffle salami, every bite will transport you to Italy.
Condiments and Crackers: The Perfect Grazing Table Pairings
To complement the rich flavour of cured meats, our platters include pickles and cornichons to balance the richness to add contrast to every mouthful. The natural sweetness of fresh grapes offers a burst of juiciness to refresh the palate. Artisan chutneys and mustards bring an additional layer of flavour to keep your guests coming back for more. And, of course, no charcuterie experience would be complete without gourmet crackers and sourdough bread, providing the perfect canvas for layering flavours and textures.
A Visual Feast for the Senses
At Boxed by Blonde Butler, we understand that visual appeal is just as important as taste when it comes to catering a quality food experience. Our charcuterie platters are not only a feast for the palate but also a feast for the eyes. Each platter is styled with an artistic touch, showcasing the vibrant colours, textures, and aromas of each component. Our platters are works of art that will impress your guests and elevate the tone of your event, allowing people to graze at their leisure.
Versatile and Customisable: Catering to Your Style
We believe in the power of customisation to create truly unique experiences. Our charcuterie platters can be tailored to your preferences and dietary requirements. Whether you have a specific theme in mind, wish to include additional items, or require specific substitutions, our team will strive to bring your vision to life. We work closely with you to ensure everything is perfect, leaving you free to enjoy your event.
Charcuterie Board Sydney: Delivered to your Doorstep
We understand that organising an event with catering can be challenging, which is why we offer go-to platter delivery in the Sydney metro and surrounding areas. Our team ensures that your platters are delivered ready to serve, allowing you to focus on other aspects of your event. Whether hosting a business meeting, a celebration party or social event, The Blonde Butler is your go-to for impeccable food and reliable service.
From the handpicked assortment of premium cured meats to the complementary accompaniments and stunning presentation, our grazing boards are designed to impress. A welcome addition to any lavish cocktail party, wedding, intimate family gathering or a corporate event, a charcuterie platter is ideal for grazing in any setting. Trust us to deliver a seamless and unforgettable experience for your next event.
For the ultimate convenience and flexibility, Boxed by Blonde Butler offers charcuterie in grazing boxes that are even easier to transport. Perfect for those who prefer smaller servings or those who want to take premium charcuterie to any location with ease, we replicate our charcuterie boards in beautiful white cardboard boxes that are easy to be taken anywhere.
Serving sizes range from small, medium and large boxes, allowing you to order for smaller groups if needed. We offer a variety of grazing boxes for convenience, including artisanal cheeses, premium deli meats, gourmet dips with crudités, marinated antipasto with olives, dips and meats, and even sweet dessert options. Our savoury boxes include an array of artisan wafer crackers, sourdough croutes and lavosh and other accompaniments, so you'll have everything you need without needing to stop at the store.
Exquisite Grazing Tables: A Feast for the Eyes and the Palate
If you love the sound of our grazing boxes and want to add something special to your next event, nothing captures the essence of abundance and style quite like a grazing table. Grazing tables are a visually stunning display of flavours, textures, and colours. The finished product serves as the centrepiece of your event, drawing guests in with its assortment of beautiful, irresistible offerings.
From artisanal cheeses, antipasto and cured meats to seafood, fresh fruit or sweets, a well-crafted grazing table leaves no desire unfulfilled. Create your own grazing table using the range of Boxed by Blonde Butler drop-off selections, or call upon our talented events team to build one of our masterpiece grazing tables for you on-site. We've got your catering covered.
Gourmet Adventures On the Go
Presented in chic white gift boxes, we package our grazing boards into boxes to make a unique and thoughtful offering for any occasion. Each box is carefully assembled with amazing produce presented beautifully. Whether your day involves a picnic in a park with friends, a work meeting requiring sustenance, a night of drinks with family, or if you need the perfect gift to take to a baby shower, make your life easy and have it delivered! And while you're at it, a box of bite-size desserts to accompany your savoury box will create the ultimate end to any occasion.