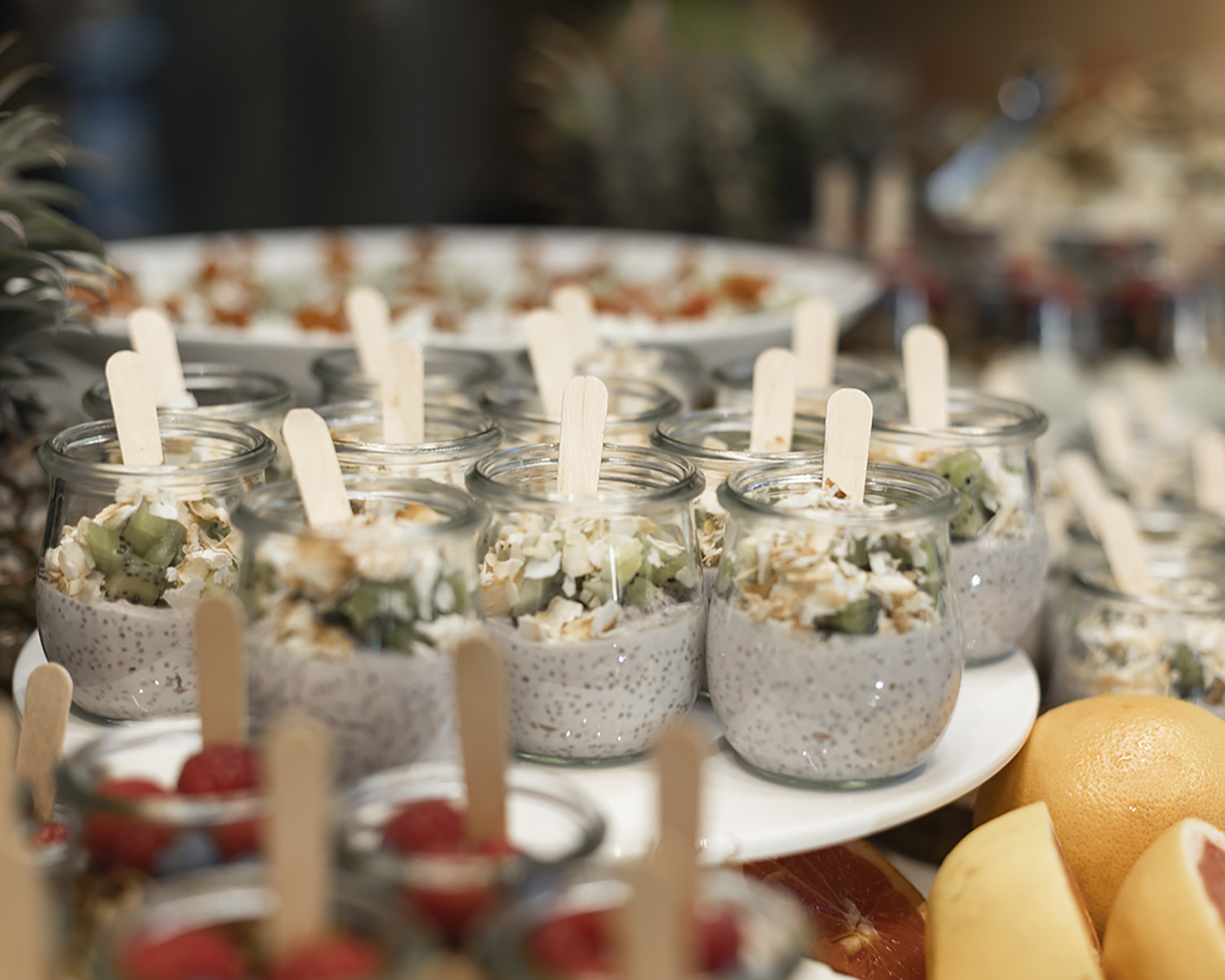 Morning Tea Catering Sydney
Elevate Your Corporate Event with Morning and Afternoon Tea Catering
Nothing brings people together at corporate events like a refuelling morning or afternoon tea break. Guests love to mingle and chat over delicious sweet treats and savoury indulgences. Whether it's a team meeting, a conference or a company-wide event, The Blonde Butler can cater morning and afternoon tea to a crowd of any size quickly and efficiently. Boost energy levels and reinvigorate your guests with delicious snack food designed to be eaten while socialising.
Our menu options include sweet and savoury items that are perfect for helping your guests through the mid-morning and afternoon hump. Artfully assembled platters feature delicious options to satisfy all tastebuds.
Combining different flavours and textures, we keep every guest in mind by ensuring there will be something that appeals to everyone.
Our menus feature a selection of freshly baked pastries, including buttery friands, delicate miniature muffins, and flaky croissants. To balance the sweetness, we offer petite pillow sandwiches, savoury tarts, frittatas, and smoked salmon bagels. For a touch of indulgence, try an assortment of petite cakes, sweet tarts, and cookies, beautifully crafted by our skilled team of chefs.
Roaming Morning Tea Catering
For a dynamic experience, our morning tea catering offerings can be roamed like canapés, allowing guests to continue to mingle and network while snacking. Our professional event staff circulate throughout the event space, bringing delicious food, coffee, soft drinks and juices to your guests. Canapé-style service adds a touch of sophistication and ensures that your guests are constantly presented with a variety of options.
Guests can sample a perfect balance of sweet and savoury offerings like ham and cheese croissants, petite prawn rolls, bite-sized gourmet quiches, and miniature savoury tarts. On the sweeter side, they can choose from an assortment of bite-sized desserts, such as lemon tarts, white chocolate and macadamia brownies bites, or miniature blackberry cheesecake.
A Visual & Literal Feast for Corporate Events
For corporate occasions that require catering for larger groups, our morning and afternoon tea grazing tables steal the show. These visually stunning setups transform your next breakfast meeting into an exciting event, allowing attendees to indulge in a feast for the senses. Our grazing tables create a focal point, encouraging guests to explore the table of offerings.
Looking for something beyond the typical afternoon tea-style menu? It's something our customers often request. Easily create a more informal feel in the afternoon by offering an abundant selection of gourmet cheeses and accompaniments. An assortment of cheese, beautifully arranged antipasto platters of roasted and marinated vegetables and a selection of premium charcuterie don't need to be reserved for happy hour. Bring the relaxing feel a grazing table offers to afternoon tea time to boost excitement in the crowd and facilitate networking.
Delicious Food for Large-scale Events
One of the standout features of The Blonde Butler service is our ability to cater to large crowds quickly without compromising on quality. Whether you're hosting a conference, a business meeting, or a product launch, we deliver efficiency without sacrificing quality and style.
Accommodating Dietary Requirements
When planning your event or ordering our catering services, simply let us know about any dietary restrictions, and we'll work closely with you to create a menu that meets your specific needs. From plant-based options to dairy-free alternatives, vegetarian, vegan, or gluten-free alternatives, The Blonde Butler will provide satisfying options to suit all guests.
Morning Tea Catering Sydney
Our serviced morning and afternoon teas are carefully designed to ensure that your crowd is served promptly, allowing them to enjoy their breaks and the networking opportunities they often bring. From pre-prepared platters to abundant grazing tables, our team ensures the food is replenished regularly, maintaining a constant flow throughout the event.
Beverages to Complete The Experience
The guest experience wouldn't be complete without the appropriate beverages to accompany your morning tea or afternoon tea.
Freshly brewed coffee and an assortment of teas are essential for any morning or afternoon tea. We know the importance of providing premium beverages, so we offer a range of options, including barista-manned coffee carts to self-serve tea and coffee stations.
We also offer individual bottles of cold-pressed fruit juices in an array of flavours, and premium brand still and sparkling mineral waters. If there's something specific you're after, just ask. Our team of event managers are happy to work to any brief.
Boxed By Blonde Butler: Morning and Afternoon Tea, Delivered
We understand the need for catering convenience that doesn't compromise on quality or visual appeal. That's why we developed our Boxed by Blonde Butler service. Enjoy Morning and Afternoon Tea boxes delivered straight to your office. Experience the same level of excellence that you would expect from our onsite catering services in a convenient, affordable boxed option.
Whether you need a morning pick-me-up or an afternoon indulgence, our boxed treats are designed to impress. Picture opening a beautifully presented white box to reveal gourmet pastries, fresh fruit skewers, delicate finger sandwiches, and sweet items.
This service is ideal for meetings that don't require the bells and whistles of engaging a caterer to prepare and present food onsite. Simply place your order on our online portal with 48 hours notice, and we'll deliver your selection on time, ready to go.
This offering includes a variety of cold and hot options for any time of day for complete convenience.
What Our Clients Have to Say
Your service and diligence is fantastic, the food was amazing and we had an absolute hoot!! Still being enjoyed the next day here in the office! Thank you!
I have received amazing feedback on Independence Day Catering (04/07) from the client. They absolutely loved the food. It was very well received by the whole team. Thank you so much for your work!
Boxed by Blonde Butler go above and beyond for their clients every time! Alex, Jemma and the team are magicians, and we will continue to order due to the fact that their food is delicious, and their service is impeccable. Always 5 star.
Just wanted to send a thank you email from us here at Cushman & Wakefield for the Corporate Lunch in Sydney. The event was a huge success, and the Director was extremely impressed. The chef was excellent, and his food received great reviews and both colleagues and clients were impressed with the menu. The waiter was also fantastic, and everyone was very happy with his high level of service.
Thank you to you and the team for everything today. The set-up, the extra touches with florals, menus, the incredible food and 5-star service were impeccable. The Trade Desk sales team along the clients at Publicis were extremely impressed. The Publicis team were shocked that it was their office as it looked like a private dining room. Biggest thank you for being onsite this morning too and I'm glad we finally got to work together. Looking forward to the next one!
Tailored Solutions for Corporate Clients
The Blonde Butler comes highly recommended as Sydney's best corporate caterer because of the breadth of our offering. Whether a high-end event, large-scale conference, or casual meeting requiring food dropped off, we provide exceptional service and tailored offerings to meet any requirement. Our experienced event managers work closely with you to understand your vision and event objectives.
Whether you would like to serve morning teas, afternoon teas, or both, The Blonde Butler will ensure a seamless experience that aligns with your corporate branding and objectives. If requested, our professional staff will take care of every detail, from setup to service, ensuring that your event runs smoothly and makes a lasting impression.
Office Breakfast Catering
Our morning tea menus also offer breakfast options so you can start the day right at any time during the morning period. Breakfast platters can include freshly baked pastries, our daily muffins, fresh fruit, yoghurt pots with granola as well as delicious savoury treats for a well-rounded offering. A range of teas, coffee and juices can be included, and we guarantee on-time delivery at any time of the morning.
The Blonde Butler offers an extensive range of breakfast catering, morning and afternoon tea options, as well as lunch and dinner menus that are perfect for corporate gatherings of all sizes. From platters of breakfast items to finger food, roaming canapés or show-stopping grazing tables, we have the perfect style and setup for every circumstance. With our quick and crowd-pleasing solutions, you can feel confident that clients will be treated to a memorable food experience.