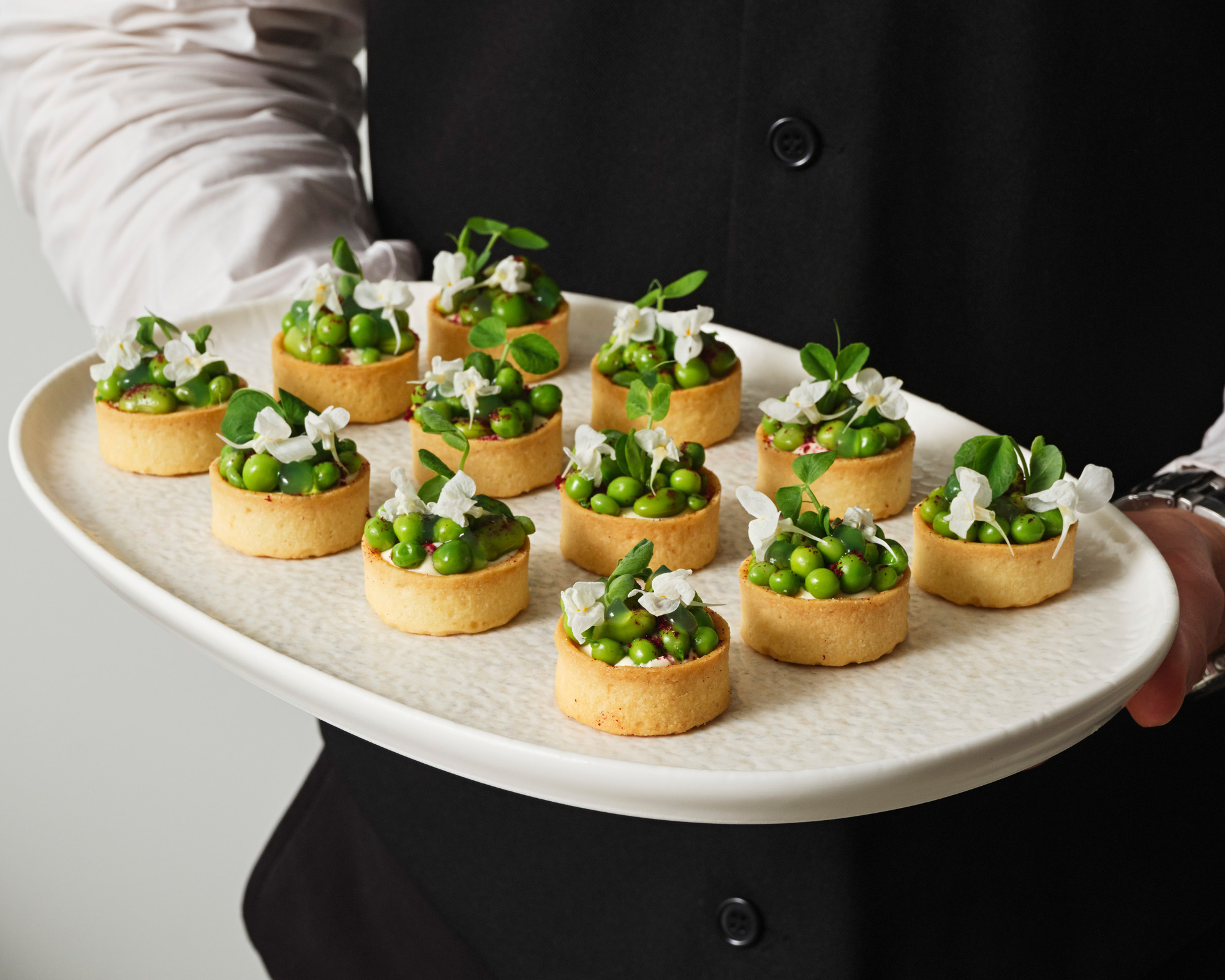 Cocktail Party Catering: Celebrate in Style with The Blonde Butler
What's not to love about cocktail parties? The perfect blend of sophistication and fun makes a great cocktail party unforgettable. Whether it's a family & friends celebration, an intimate engagement party, or a corporate event, The Blonde Butler provides everything you need for an utterly delicious, spectacular evening.
Dreaming of hosting a memorable cocktail party in the comfort of your own home, surrounded by your loved ones? You can turn the dream into reality with The Blonde Butler cocktail party catering in Sydney. Of course, planning and executing an event can be overwhelming. But when you collaborate with our team, we take all the hassle out of it for you. Relax amongst guests, sip champagne, and enjoy the entire occasion.
Our cocktail party catering menus are curated to suit a range of occasions and tastes. Whether you envision a fun and celebratory party with colourful cocktails and vibrant canapés or an elegant, sophisticated soirée for your wedding, we will create a bespoke menu to achieve your vision.
Finger Food Catering: Small Bites, Big Flavours
Our canapés are miniature masterpieces, each bite full of flavour and creativity. What's more, each piece of cocktail food is visually stunning and often the topic of guest conversation. From kingfish crudo with finger lime, lemon verbena and buttermilk to brioche toast with lemon ricotta, fresh peach & micro basil, our canapés will leave your guests in awe. In addition, we offer more substantial bites and bowls to please appetites and fill stomachs. Enjoy favourites, from wagyu beef sliders with caramelised onion to slow-cooked lamb shoulder with roasted potatoes, tahini and walnut dukkah.
Grazing Tables: Abundance Meets Style
For a more communal and visually stunning option, consider our grazing tables. These beautifully styled food tables are adorned with an abundance of the freshest ingredients, including artisan cheeses, charcuterie, and delicious finger food. Grazing tables are not just about perfect food; they are a feast for the eyes and a fantastic conversation starter.
Drinks Catering Sydney: Raise a Toast
No cocktail party is complete without a delightful beverage pairing. The Blonde Butler can provide a range of premium drinks to complement your menu – from classic cocktails to fine wines and craft beers. Our experienced bartenders can craft signature cocktails and will ensure your guests' glasses are never empty.
Professional Wait Staff: The Perfect Service
To add an extra touch of sophistication to your cocktail party, you can opt for our professional wait staff. They will handle everything, from setting up your event to providing impeccable service throughout the evening and packing down at the end of the night. With The Blonde Butler's staff taking care of the details, you can relax, knowing that all guests are well taken care of.
You needn't worry about the logistics of hosting an event at home. We can organise all the required equipment hire services, like tables, chairs, glassware, bar equipment and much more. If you prefer, we can even bring our own kitchen equipment, so you don't need to use your kitchen space. We can also recommend contacts for venue hire, styling and anything else you may need.
What Our Clients Have to Say
The Blonde Butler were an absolute pleasure to deal with and extremely accommodating with our catering needs at our recent function in the Paspaley Pearls showroom in Martin Place. Amanda was so easy to communicate with and their staff were extremely efficient and polite. Their food suggestions were delicious and beautifully presented. I can thoroughly recommend The Blonde Butler and I am looking forward to engaging them again for our next event.
Delicious and efficient. The Blonde Butler was so professional and easy to deal with. Canapes were amazing as were the waitstaff. Highly recommend!
The Blonde Butler team is exceptional from beginning to end. Outside of creating incredible menus and delicious food – their organisational skills, communication and service is second to none. When running an event, I never have any stress when the Blonde Butler team is on board. We love working with team BB and would highly recommend them to any of our clientele.
The Blonde Butler worked with us on an event at Carriageworks. It was such a seamless process and Annabel jumped through loops to ensure the food was perfect. They customised everything to cater to our event and it all ran so smoothly. Thank you so much for coming on board! 100% recommend The Blonde Butler.
I call on Alex and the Blonde Butler team for everything - from my wedding of 200px, to work events, kids' parties, or last minute family Christmas lunch. Always extraordinary food & service, guests/clients impressed and a huge weight off my shoulders. Thanks again for today's 6th birthday catering, done with care & perfection.
The Blonde Butler team was amazing! The food, the service and even the level of cleanliness post the event were first class!
Amanda and her team were amazing from start to finish in helping us pull of a unique dinner, from furniture hire and set up through to staffing and catering. Everything was 5 star. We can not go past the service delivered and look forward to using the Blond Butler team again for our Sydney based events in the future!
Cocktail party catering is perfect for private celebrations and corporate occasions alike. Impress your clients, colleagues and partners with our stunning culinary creations and attentive service. Plan your next event, like a networking evening, product launch or team-building gathering.
Let us take care of all the details while you focus on the success of your event. Celebrate in style with our cocktail party catering, and let the good times flow.
Let's start planning your next cocktail party. Share your vision and event theme, and we'll create a bespoke catering menu that guests will remember. Our experienced team will turn your vision into a reality, ensuring that every detail, from the menu to the presentation, is to your standard. Throw a cocktail party that will have your guests talking for years to come!