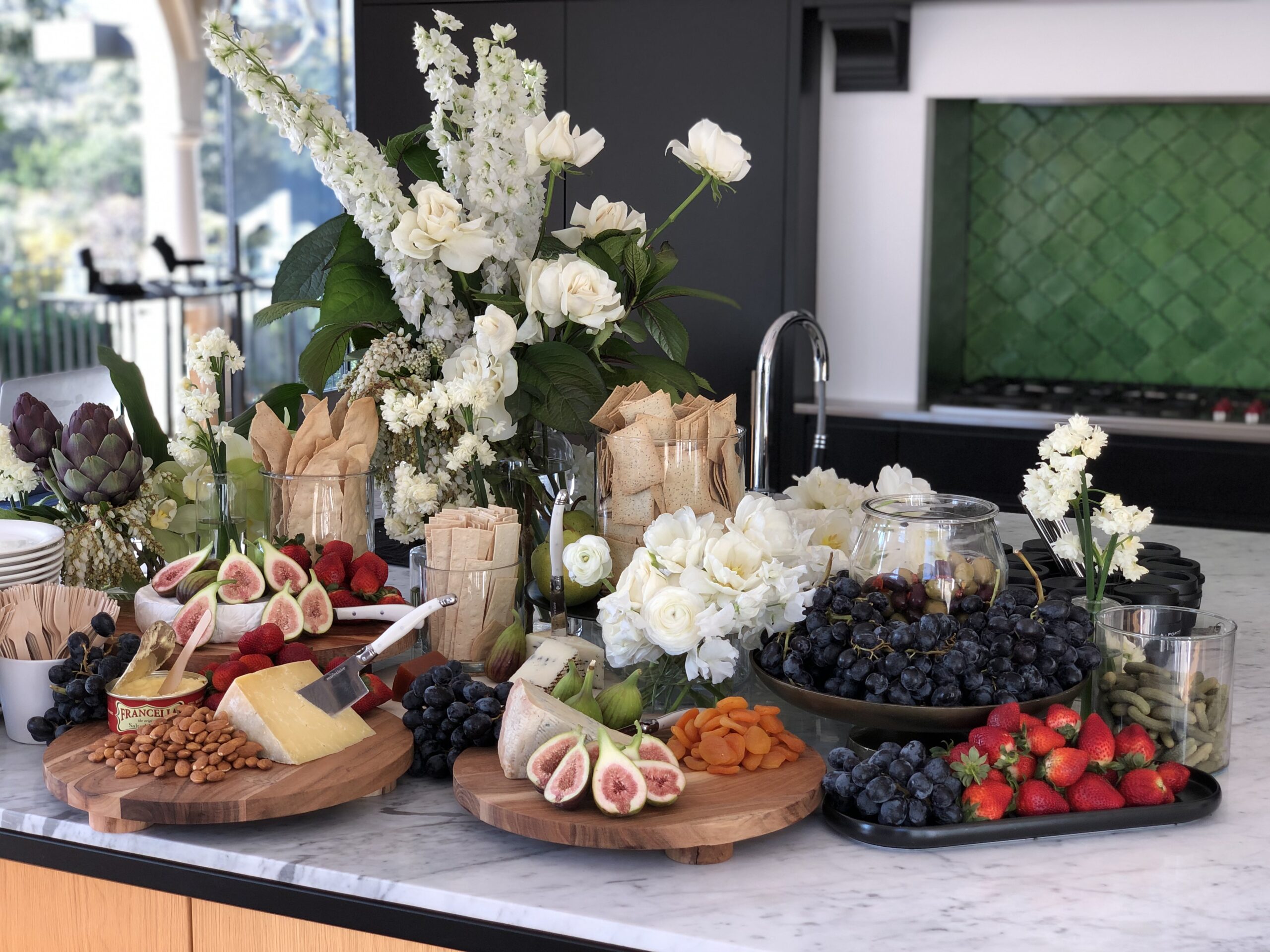 Beautifully Styled and Ready to Graze: Grazing Table Catering in Sydney
Enhance your next event with a stunning grazing table from The Blonde Butler. Grazing Tables are our specialty! Watch eyes light up as your guests discover a stunning display that looks almost too good to eat. These tables are adorned with an abundance of food, carefully styled with foliage, florals, and fresh produce to create a visual spectacle that instantly elevates the atmosphere of any event.
One of the greatest advantages of grazing tables is their ability to cater to a crowd. With a high-quality selection of tables to choose from, we have something for everyone's taste and dietary preferences. From savoury spreads of cheeses, charcuterie antipasto or fresh seafood to sweet desserts, guests can enjoy a diverse range of items, ensuring that each and every person leaves feeling satisfied.
Tailored to Your Theme: Pair the Menu to Your Occasion
Grazing tables have the versatility to align with the theme of your party and create an immersive experience. Whether you're looking for an Italian, French or Australian theme, we will source produce for the table from your chosen destination and use the appropriate techniques to deliver authenticity.
A Journey Through Food: Setting the Tone
Grazing tables take your guests on a gastronomic journey. A generous overflowing grazing table serves as a captivating welcome, immediately enticing guests. This sets the tone for an evening of fabulous food and fun, and can seamlessly transition into roaming canapés or a full meal, creating stages throughout your event.
A Sweet Finale: Dessert Grazing Tables for Memorable Endings
As the saying goes, we eat with our eyes. Grazing tables offer significant visual appeal, and this is particularly true for dessert tables. These tables are a stunning option to conclude your event, offering a variety of whole cakes or miniature desserts that guests can help themselves to. From cakes and tarts to chocolates and fresh fruit displays, a dessert table provides a sweet and memorable ending to the night. When it comes to dessert, more is more.
A World of Options: Customised Grazing Table Concepts
Personalisation goes a long way. That's why we offer a range of grazing table options to suit any time of day. Choose from brunch tables of yogurt pots, smashed avocado bruschetta, artisan pastries and fresh fruit, or indulge in an antipasto grazing table of local and imported cheeses, cured meats, pickles, olives and marinated vegetables, dried fruit, crackers & bread, for a sophisticated gathering.
For seafood lovers, a fresh seafood grazing table showcases an impressive selection of the Sydney's best, like Sydney Rock oysters, tiger prawns, Moreton Bay bug tails and Tasmanian smoked salmon. We also welcome inquiries for bespoke menu options or add-ons, allowing us to tailor the experience to your event and vision.
The Convenience of a Chef-Free Solution
When you're planning a casual event and don't want waiters or chefs in attendance, an abundant grazing table is an ideal solution to ensure there is ample food to last the duration. Once the table is set, guests can help themselves at their leisure, ensuring a continuous flow of food without the need for constant chef supervision. This creates an easy self-service experience that lets you focus on enjoying the event, knowing that your crowd is well cared for.
Grazing Tables Sydney: Perfect for Every Occasion
An enticing grazing table is an ideal way to enhance your next event. These beautiful gourmet displays make the perfect gift with a difference for friends or family members celebrating a special day, like a birthday, baby shower or milestone achievement. With their stunning visual appeal, versatility to fit various themes, and ability to provide a journey through food, they are an excellent choice to impress your guests. The Blonde Butler will bring your grazing table vision to life whether you opt for a breakfast selection, cheese and charcuterie spread, fresh seafood bar, or a dessert display.
Enhance your Next Event with The Blonde Butler
Contact us today to discuss your concept and make your event an unforgettable culinary experience. Whether your occasion calls for canapes, delivered platters, a three-course meal or something else, our experienced team is ready to collaborate. Let us know your vision, guest count and budget per person, and we will transform your ideas into a fine catering experience to be remembered.