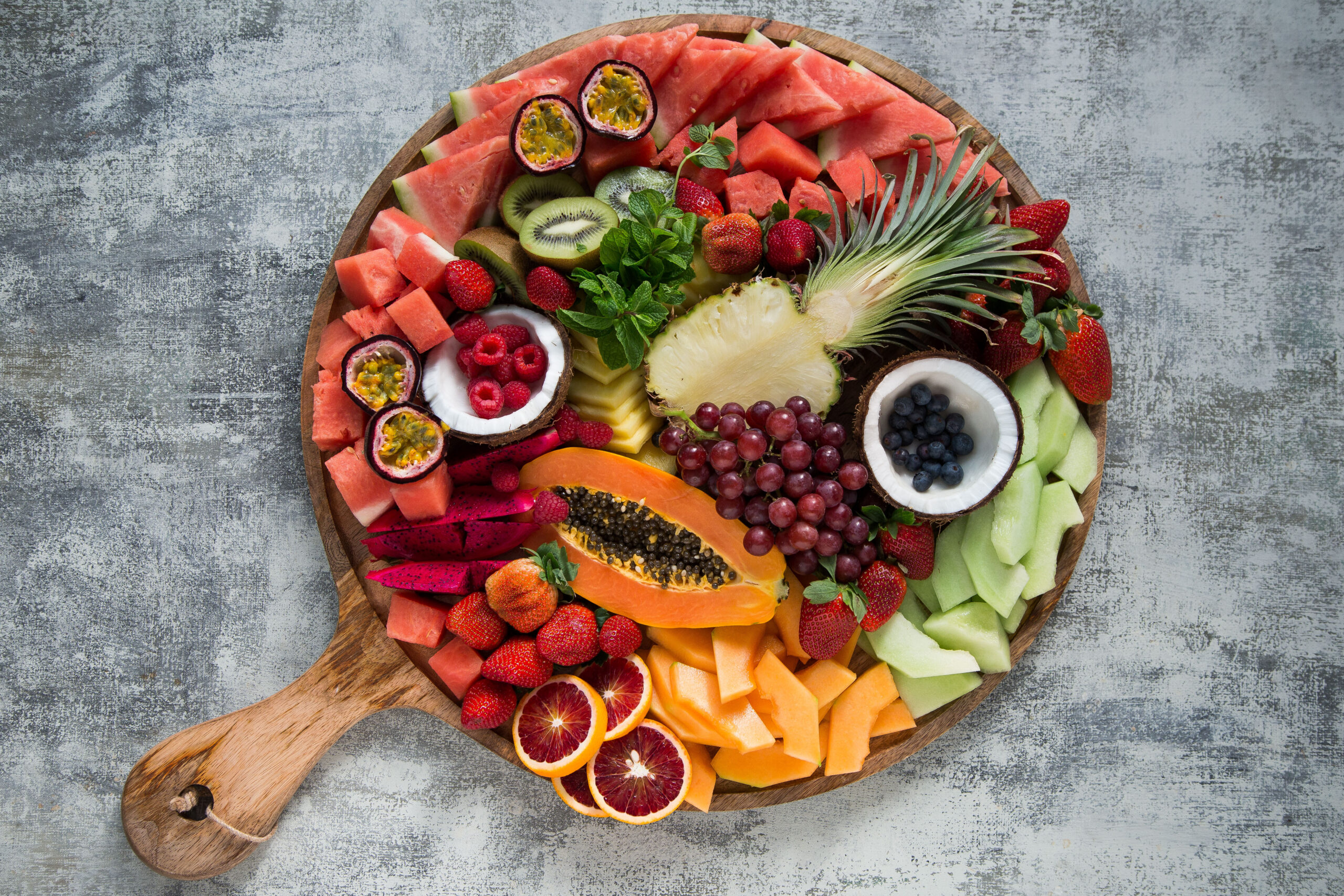 Fresh and Vibrant Fruit Platter Delivery Sydney
A fresh fruit platter is ideal for adding a healthy touch to the table. At The Blonde Butler, we offer fruit platters that are a feast for the eyes and a refreshing treat for the palate. Whether you're planning a birthday celebration, a baby shower, a wake, a morning or afternoon tea, a breakfast gathering, or even a dessert spread, our fruit platters make a beautiful, colourful addition.
The beauty of a fruit platter is its versatility. Seasonal fruit displays make a stunning addition to your event, no matter time of day or venue. Breakfast and morning tea are the obvious times of day, but a fruit platter also makes a great accompaniment to a gazing table of cheeses and meat for afternoon tea or evening events. Why not add a pop of colour and vibrancy to the table and provide guests with a fresh, healthy, delicious option? Providing a fruit platter is an easy way to account for dietary requirements like gluten free or vegan – all while making a beautiful centrepiece on the table.
A Thoughtful Gift of Fruit
A fruit platter makes a lovely gift when you want someone to know you're thinking about them. An abundant selection of fresh seasonal fruit delivered is the ultimate surprise. We can deliver early in the morning, just in time for breakfast or any other time of day.
Of course, when it comes to fruit, freshness is paramount. That's why we source our fruits from the markets daily, ensuring they are at the peak of ripeness and flavour. Our fruit platters showcase a variety of fruits and will change depending on what is in season. The platter selection may include juicy citrus, sweet berries, grapes, a variety of, refreshing pineapple and more.
Fruit Platter Delivery Sydney
Planning an event can be stressful, but with our platter delivery service, your preparation becomes much more manageable. Our team at The Blonde Butler prepares and delivers, ensuring that your fruit platter arrives fresh and ready to be enjoyed.
In addition to the delicious taste, our fruit platters create a visually stunning display. We take great care in arranging the fruits in an attractive and visually appealing way, creating a centrepiece that your guests will love.
Our platters are generous sizes emphasising the bountiful vibrant colours and textures of the fruits. The colourful display serves as an extra stylish element to your event, enhancing the overall guest experience.
Catering to Your Occasion
We understand that every occasion is unique. Whether you have a specific fruit preference, dietary requirements, or a particular theme for your event, we will try to accommodate your requests. Let our team create a fruit platter that supports your vision and suits the occasion perfectly. Our fruit platters easily serves 15-20 people.
We understand the importance of convenience and simplicity when it comes to event planning. That's why we offer an easy online ordering service for our Boxed by Blonde Butler menus. Browse bestselling and new products, pop your favourites in the cart, select your quantity, and place your order hassle-free.
Most people agree that our online platform offers the most convenient experience. Save time and sign in to your account for the quickest turnaround. With our easy online order service, you can enjoy the convenience of spectacular fruit platters for all your Sydney events.