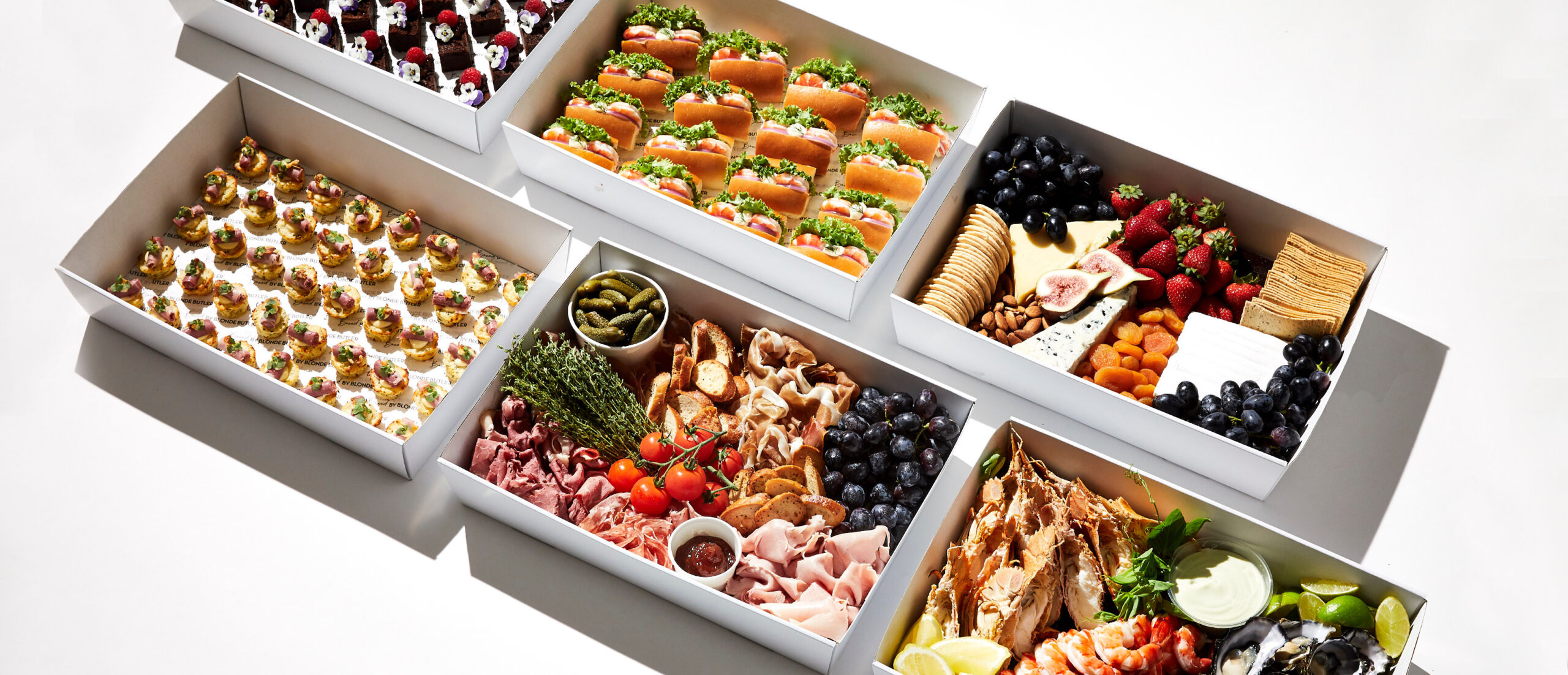 Premium Drop-Off Catering Sydney
In today's dynamic world, convenience and affordability are key considerations when catering for casual occasions. At The Blonde Butler, we understand the need for a hassle-free, budget-friendly solution that doesn't compromise quality or taste.
Introducing Boxed by Blonde Butler, our signature offering that brings together delicious food delivered in boxes, ready to go. This is premium drop off catering for every time of day. Whether it's breakfast, morning tea, afternoon tea, sandwiches, salads, individual packed lunches, or buffets, we have you covered with a range of freshly prepared options designed to make your casual occasion a culinary success. We also deliver hot food ready to go, to add warmth to your mid-morning or afternoon tea meetings, or to kickstart Friday night drinks.
Convenience without compromise
If you're looking for convenient and delicious drop-off catering options in Sydney, look no further than Boxed by Blonde Butler. Whether you're hosting a canape function, morning or afternoon tea, lunch meeting, or heading to a picnic, our Boxed by Blonde Butler service has you covered. Our team of experienced chefs offer a huge variety of options that are beautifully boxed and delivered to any Sydney location.
Design Your Perfect Spread with our Flexible Catering Menu
We understand that every event is unique, which is why our menus are crafted to suit every circumstance. Whether you need a light and refreshing morning tea spread, a satisfying lunch for your team, or an assortment of stunning canapes for a special gathering, our boxed offerings provide the ideal solution.
From sandwiches and wraps to fresh salads, delicate canapés, cheese platters or desserts, our drop-off catering menu has something to suit every occasion.
With Boxed by Blonde Butler delivered to your doorstep, you can relax and enjoy your event without the hassle of extensive planning.
Drop off catering that can be delivered hot? We've got you covered. Our range of hot finger food options are perfect for networking drinks or a morning or afternoon tea. Miniature pies, sausage rolls and arancini are just some of the items on our new hot menu designed to warm you up. We'll deliver the items hot and ready to be served.
Share and Savour: Boxed Buffets for Casual Group Gatherings
Boxed buffets, ready to go. For casual group gatherings, our boxed mains and sides are the perfect solution. These beautifully assembled boxes are filled with delicious proteins and sides designed to be shared. Curate your own buffet menu by choosing from our menu which includes wholes sides of salmon, roasted chicken, perfectly cooked roast fillet beef and fresh sides to accompany them. Our boxed buffets offer a hassle-free way to cater for large groups.
Presentation is key to creating an exceptional dining experience. Our talented chefs not only prepare sensational food but also take great care in presenting it beautifully. Each box is carefully assembled to impress. The food is artfully arranged, ensuring that it not only tastes fantastic but also looks visually appealing. You can confidently serve the food directly from the box, or re-platter to make it your own, allowing you to focus on hosting and enjoying your event.
Catering Solutions for Every Event
Boxed by Blonde Butler is a drop-off catering service that is versatile and suitable for a wide range of occasions. Flexible menus allow you to create a unique food experience that suits your catering needs. We offer gluten-free, dairy-free, vegan and vegetarian options so everyone at your event is cared for.
Boxed catering is an excellent option for corporate events, providing convenience, flexibility, and a premium culinary experience. Whether you're hosting boardroom meetings, team-training days or entertaining clients, mix and match from our menus to suit your preferences and we'll ensure it is dropped off on time and looking impeccable for your guests.
What Our Clients Have to Say
Excellent, excellent, excellent service. The food quality and quantity is superb. The presentation is beautiful and the cost is just right. The customer service was brilliant, we received the catering in my requested time due to our son's Birthday being early morning, I was so grateful for this - THANK YOU.
This is our third time using the Blonde Butler and did not disappoint, food was amazing, fresh, beautifully presented…highly recommend.
Exceptional experience. Great attention to detail. Beautiful presentation, and flavors. Excellent communication and support through the ordering process. Adding to my fav food catering list 🙂
Love everything about 'Boxed' by Blonde Butler. Perfect for our office meetings.
Great food and great service!
I cannot compliment the team enough! We gave so much headache ordering the smallest order ever and the team were so understanding and helpful. Thank you, Amanda & Jemma. The driver who dropped it off was so nice and helpful with the delivery support! The food was presented well and flavours on point! Thank you to everyone at Blonde Butler who assisted.
I ordered some lunch for our team at the office. I went online and was quickly able to order a beautiful lunch. They catered to some special dietary needs and was delivered to our door all packaged beautifully. Everything was so tasty and looked amazing. We will be using Blonde Butler again.
Amazing, second time we have used 'Boxed' and we won't be looking anywhere else in the future. Presentation, packaging, delivery..... I even loved how symmetrical the sandwiches were! I heart 'Boxed'!
Absolute perfection as always.
The absolute best caterer in Sydney.
Always delicious, always fresh, always on time.
Always 1st class … always delivered on time … these guys are impressive and have never let me down.
Ordering from Boxed by Blonde Butler is quick, easy, and hassle-free. Our user-friendly online platform lets you browse the menu and place your order in seconds. With only 48 hours' notice required, you can confidently arrange catering drop-off for your event without any last-minute stress. We prepare and deliver to your door, ensuring that your food arrives fresh and on time.
Affordable and Easy: Making Casual Occasions Special
One of the key advantages of Boxed by Blonde Butler is its affordability and ease. We understand that not every occasion calls for an on-site chef or an extravagant setup. Our boxed options offer a cost-effective solution that doesn't compromise quality or presentation. Whether you're hosting a small office meeting or a casual social gathering, our boxed catering takes the stress out of planning and allows you to focus on enjoying the occasion.
Partner with Blonde Butler
Experience the convenience of Boxed by Blonde Butler for your next occasion. Trust our in-house chefs to prepare exceptional food to impress even your most discerning guests and elevate your event.
From wedding catering to office events and casual lunches with friends, Boxed by Blonde Butler is your affordable go-to for great food delivered, without compromising on quality or presentation.