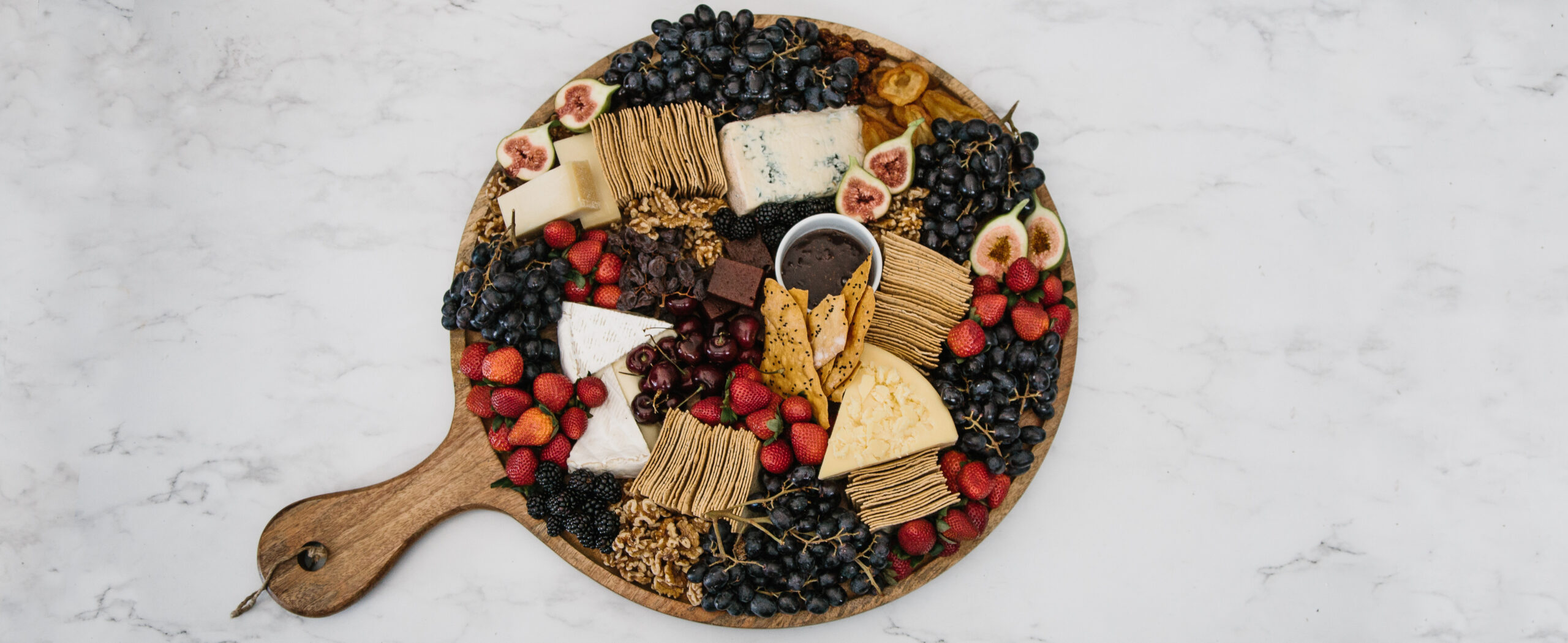 Cheese Platter Delivery Sydney
Enjoy the convenience of a gourmet cheese platter delivered to your Sydney doorstep. Whether you're hosting a corporate event, a personal celebration, or simply want to treat yourself or loved ones to a gourmet experience, our cheese platters make an excellent choice. With carefully selected artisan cheeses and accompaniments, cheese platters by The Blonde Butler are nothing short of exceptional.
Versatile Cheese Boards for Every Occasion
Cheese platters are a versatile option that can be enjoyed in various settings. Nothing elevates the mood of a room quite like welcoming guests as they walk through the door with a selection of premium cheeses to graze on.
During an event, cheese platters can also supplement the main menu to offer versatility. Whether it's a wedding reception, a business meeting, or a birthday celebration in your own home, a well-curated cheese platter adds a touch of style to any occasion.
Cheese platters are also an excellent choice for post-dinner as a replacement or addition to dessert. After a beautiful meal, the indulgence of fine cheeses can provide a perfect ending to the overall dinner experience.
Delivered ready to go, our cheese platters are a convenient option to enjoy at your leisure, whether it's a cozy night in, a picnic in the park, or an elegant night of wine and canapes
Artisan Cheese Platters with Gourmet Accompaniments
The Blonde Butler takes pride in sourcing the finest artisan cheeses from renowned cheesemongers in Sydney. Each cheese is carefully chosen to ensure a diverse experience. Savour the bold flavours of gorgonzola, the creamy richness of triple cream brie, and the sharp and nutty notes of aged cheddar.
To complement the cheeses, our platters include an assortment of accompaniments. Enjoy the perfect balance of flavours with cornichons, a variety of fresh and dried fruit and nuts, and a generous spread of quince paste. We enhance your cheese experience by layering sweet, savoury, and tangy flavours.
To complete the picture, we provide a selection of delicious crackers that serve as the perfect vehicle for savouring the cheese. From traditional water crackers to poppy seed lavosh, sourdough croutons and more, our assortment adds texture and complements the cheese flavours.
Boxed by Blonde Butler presents our cheese platters on large round wooden platters which are 60cm in diameter for maximum impact, with food artfully presented in a stunning arrangement. Each platter is designed to serve 15-20 guests.
Your Grazing Tables Delivered: Cheese Boards Ready To Go
One of the advantages of cheese platter delivery is the convenience it offers. Our platters are beautifully assembled and delivered, ready to be enjoyed. Whether hosting an event at a venue, planning a picnic in the park, or surprising someone with a thoughtful gift, cheese selections can be taken anywhere, ensuring a hassle-free experience.
Of course, the freshness and presentation of the cheeses are paramount to creating a memorable experience. That's why we partner with trusted cheesemongers and delis renowned for the highest-quality artisan cheeses. Designed to showcase the beauty and flavours of each cheese, we ensure a visually stunning and delicious selection every time.
Corporate Settings and Private Events
Cheese platters are not only an excellent choice for private gatherings but also for corporate settings. Whether it's a boardroom meeting, a team afternoon tea or a conference, our platters are a popular choice amongst the crowd. Impress clients and colleagues with a curated selection to elevate the occasion.
Additionally, we offer customisable options to cater to specific dietary preferences or to align with the theme or style of your event. Our team will work closely with you to ensure the assortment pleases your guests and aligns with your vision.
Cheese Platter Delivery Sydney
With our cheese platter delivery service, you can indulge in the exquisite flavours of artisan cheeses, expertly curated accompaniments, and the convenience of having it all delivered to your doorstep. Whether you're hosting a gathering, treating yourself, or looking for the perfect gift, our cheese platters offer a gourmet experience that will impress.
Gourmet Platters & Beverages
Have you considered pairing your cheese platter with charcuterie? Our charcuterie platters feature a selection of premium cured meats, pickles and cornichons. Delight in the abundance of thinly sliced Italian prosciutto, handmade truffle salami, wagyu bresaola, mild soppressa and other expertly crafted charcuterie options. These platters perfectly balance the cheeses and create a well-rounded grazing experience for your guests if you want to make the offering more substantial or simply to provide greater variety.
Alongside these platters, you can also order a selection of handpicked wines, beers and soft drinks from our online store to accompany the platters.
Discover Grazing Boxes with Boxed by Blonde Butler
For the ultimate convenience and flexibility, we offer cheese grazing boxes that are even easier to transport. They are picnic-ready in beautiful white cardboard boxes, and are a great option if you wish to serve the food on your own platters. Serving sizes range from small, medium and large boxes, so you can serve smaller groups if the platters are too large for your event.
These boxed options provide a budget-friendly alternative without compromising on quality and taste. Save yourself the hassle of shopping and let us deliver the goods straight to your door.
Indulge in our grazing box of cheese and charcuterie selections, dips and dunks, or antipasto. These artfully curated combinations are perfect for intimate gatherings or thoughtful gift boxes to share with friends and loved ones.
The Blonde Butler is the ideal partner for all your food, catering and event needs. Whether you're planning a wedding, corporate function, engagement party, or an intimate gathering, our commercial kitchen covers your every catering need. From beautifully curated cheese platters to enticing charcuterie selections, refreshing fruit platters, and convenient boxed offerings, our creations are crafted with the finest ingredients and presented with impeccable style.