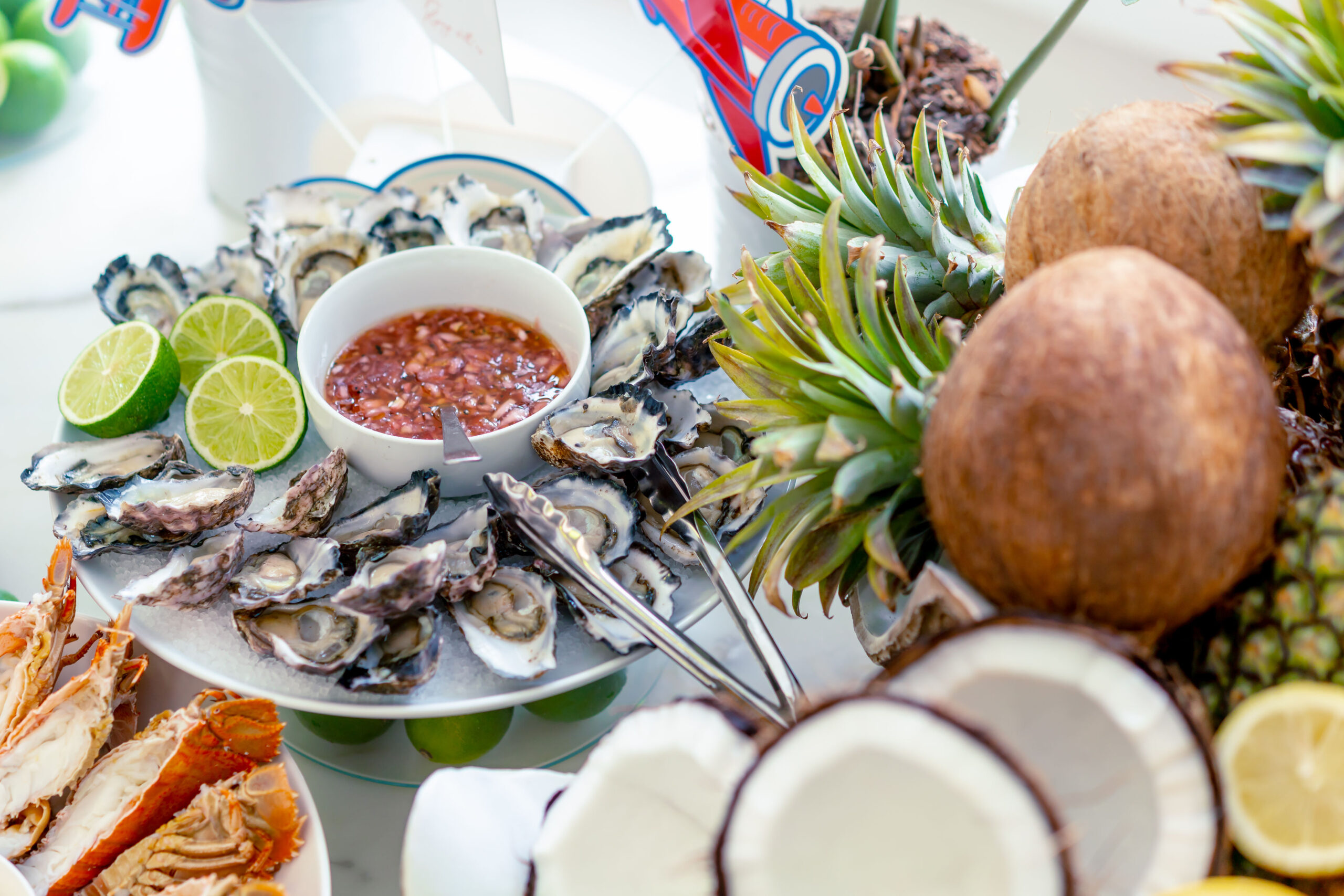 Seafood Platters Delivered Sydney: The Epitome of Freshness
When it comes to seafood, Sydney is renowned for its exceptional produce. Boxed by The Blonde Butler bring the best of Sydney's seafood to your doorstep with our exquisite seafood platters. Whether you're hosting a special gathering, corporate event, entertaining the family, or simply craving a seafood feast, our fresh seafood deliveries make it easy for you to enjoy the freshest seafood without the hassle of visiting the fish market.
Indulge in Sydney's Best Fresh Seafood
At The Blonde Butler, we pride ourselves on sourcing the freshest and highest quality seafood available in Sydney because we know that quality is everything. Our seafood boxes feature a variety of exquisite options, including freshly poached peeled prawns accompanied by mayonnaise, lemon and lime, freshly shucked Sydney Rock oysters with mignonette and lemon, sustainably caught Balmain Bugs, and Tasmanian smoked salmon that melts in your mouth with its rich and smoky taste. Every bite is a testament to the exceptional quality of seafood that Sydney-siders have come to expect.
Boxed Seafood: Sydney Fish Market Delivered
Our boxed seafood options are a popular choice for those who want to take their seafood platters anywhere or prefer to re-platter them at home. These selections come beautifully presented in white boxes and include the necessary range of accompaniments to enhance the seafood. Some of the highlights of our boxed seafood offerings include:
Enjoy the sweetness of peeled Australian prawns, served with classic condiments like mayonnaise and lemon. These prawns are carefully selected for their quality and flavour, ensuring a memorable seafood experience.
If you're looking for a fusion of flavours, our mixed selection of sushi and nigiri is the perfect choice. Each piece is expertly crafted, featuring a variety of fresh fish and seafood options, accompanied by soy sauce, wasabi, and pickled ginger for a complete sushi experience.
Savour the unique flavour and texture of Balmain bugs, a true delicacy of the sea. These bugs are cut in half still in the shell, served with creamy mayonnaise and zesty lemon. Nothing elevates a seafood offering quite like a Balmain Bug.
This box has it all! Freshly peeled prawns, freshly shucked Sydney Rock oysters, Balmain bugs, and a selection of accompanying sauces such as mayonnaise, mignonette, and lemon. This box is a true seafood lover's dream, showcasing the best of Sydney's ocean bounty in one enticing package.
Freshly Shucked Sydney Rock Oysters
Treat yourself to the briny goodness of freshly shucked oysters with a dollop of tangy mignonette sauce and a squeeze of lemon. Each oyster is carefully opened right before we pack your order to preserve its freshness and delicate taste.
Additional Seafood Dishes: Elevate Your Seafood Feast
In addition to our boxed seafood selections, we offer a range of other options that will take your platter to the next level. These include:
Indulge in the buttery richness of smoked salmon, available in convenient 100g portions. Perfect for adding a touch of elegance to your seafood platter or grazing board for your guests to enjoy.
Impress your guests with a whole side of salmon. Topped with yoghurt, fresh dill, pomegranate, and charred lemon, this centrepiece is a showstopper. Best eaten cold, this 1.8kg side of salmon will feed a crowd and create wow factor on any table.
Our 1kg smoked salmon platter is a true crowd-pleaser. Served with pickled onion, capers, cucumber, and mint yoghurt, this platter is bursting with flavours to complement the delicate smokiness of the salmon.
Seafood Platters Delivered Sydney
Take advantage of our local delivery service to enjoy premium seafood without the hassle of shopping at the Sydney fish market. Sit back, relax, and let The Blonde Butler bring the delicious taste of the ocean to your table.
Contact us today to order your seafood and let us deliver it directly to your door.
Ordering Made Easy: Convenient Online Platform
We make the ordering process for our customers as quick and seamless as possible with our convenient online platform, where you can shop our seafood options and place your order directly. Simply visit our website and browse the menu and select your preferred date with a minimum of two days in advance. Of course, if you have any questions or special requests, contact our friendly team for support.