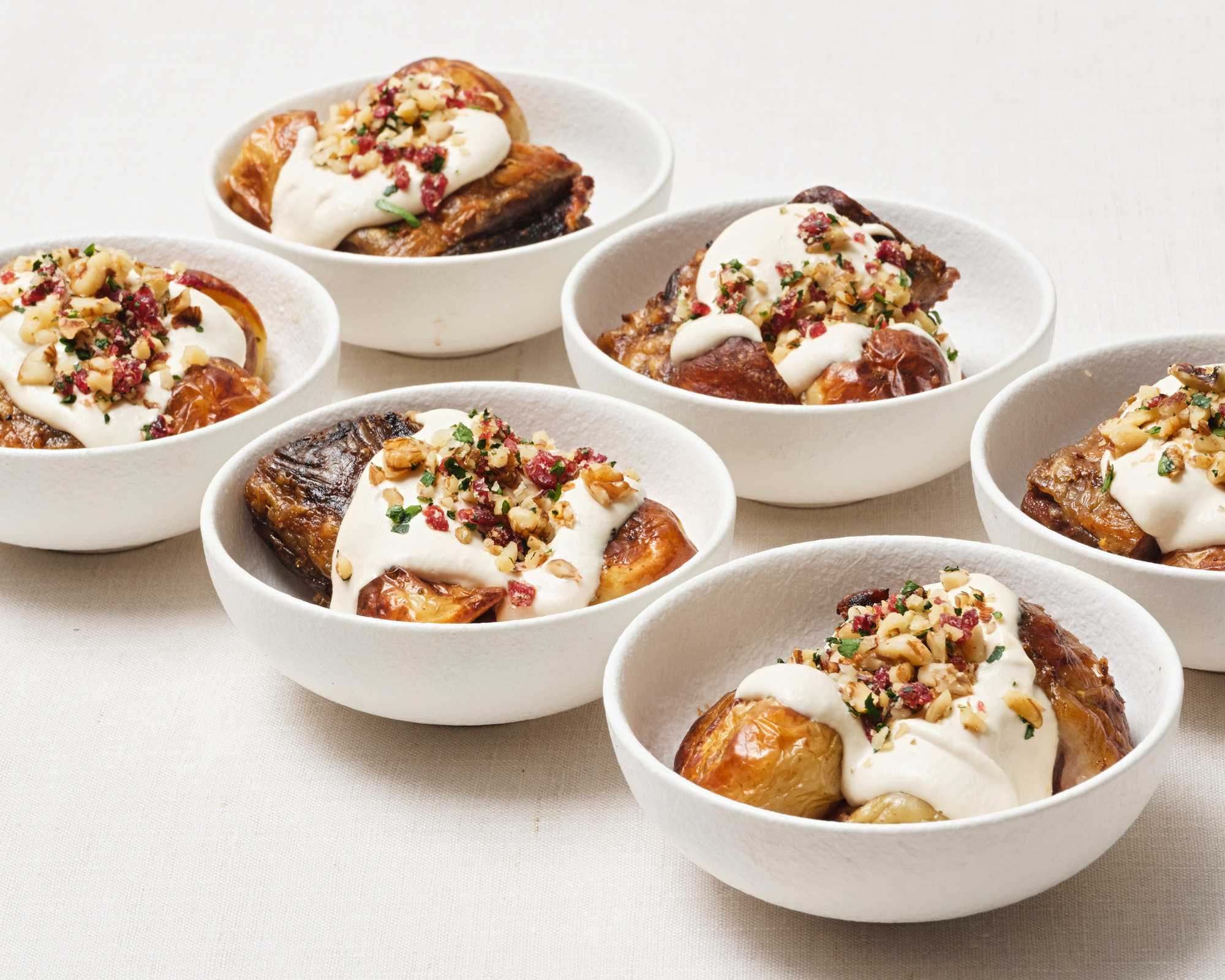 The Art of Lunch Catering
We understand that lunchtime events and gatherings require flexibility to meet the diverse needs of clients. Whether you're hosting a networking luncheon, a formal business meeting, a conference, or a casual team gathering, we have a corporate catering option to suit every need.
From plated meals to shared buffets and convenient boxed lunches, The Blonde Butler offers an elevated experience that your guests will remember.
Lunch Events with Plated, Buffet, or Grazing Table Options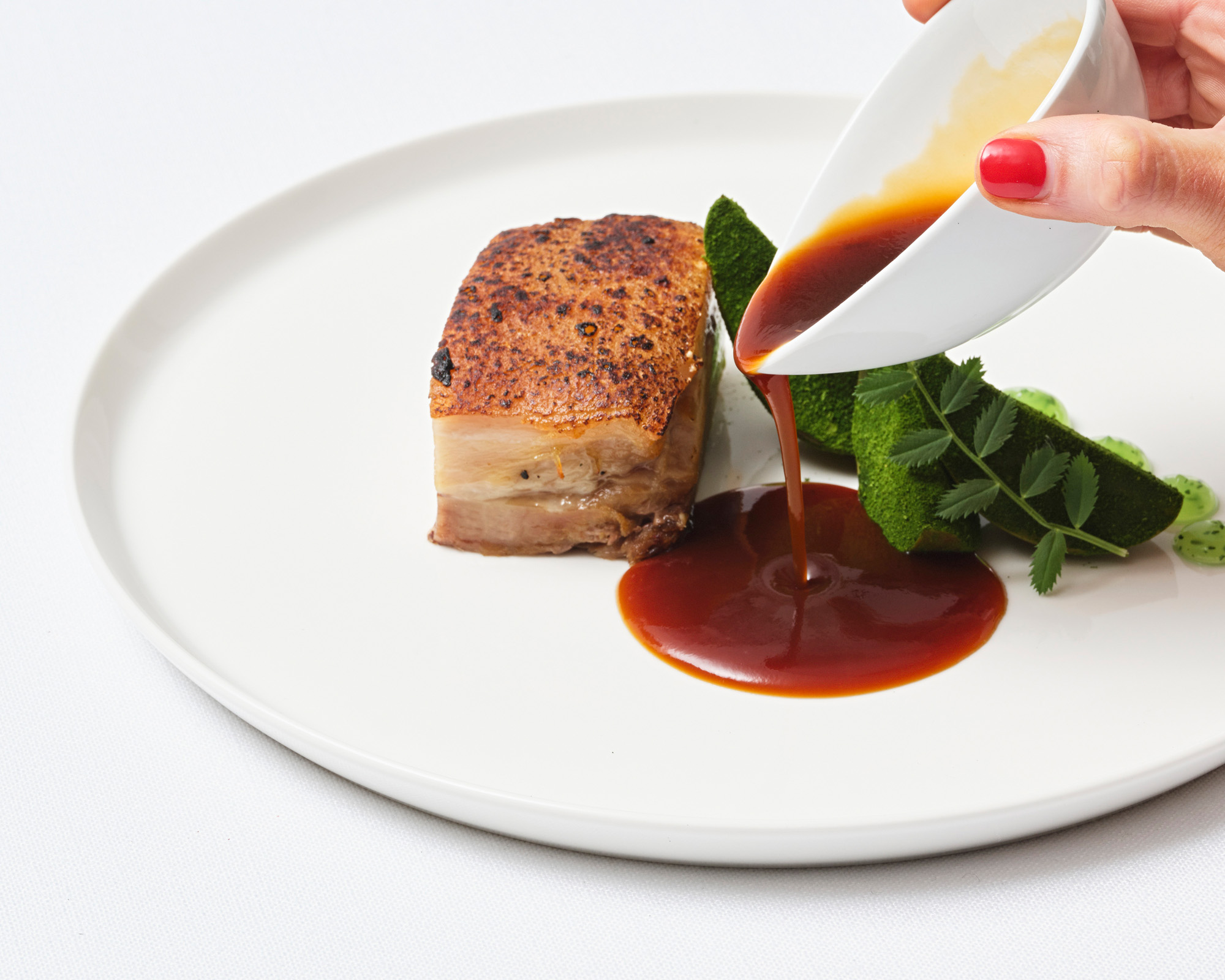 For corporate events that call for a touch of sophistication, our plated lunches are designed to impress.
Relax and enjoy a formal sit-down meal over two to three courses, with our professional team cooking and preparing onsite, ensuring the highest level of quality and taste. We are happy to use your kitchen facilities if available or bring in the necessary equipment. You can expect restaurant quality food every time.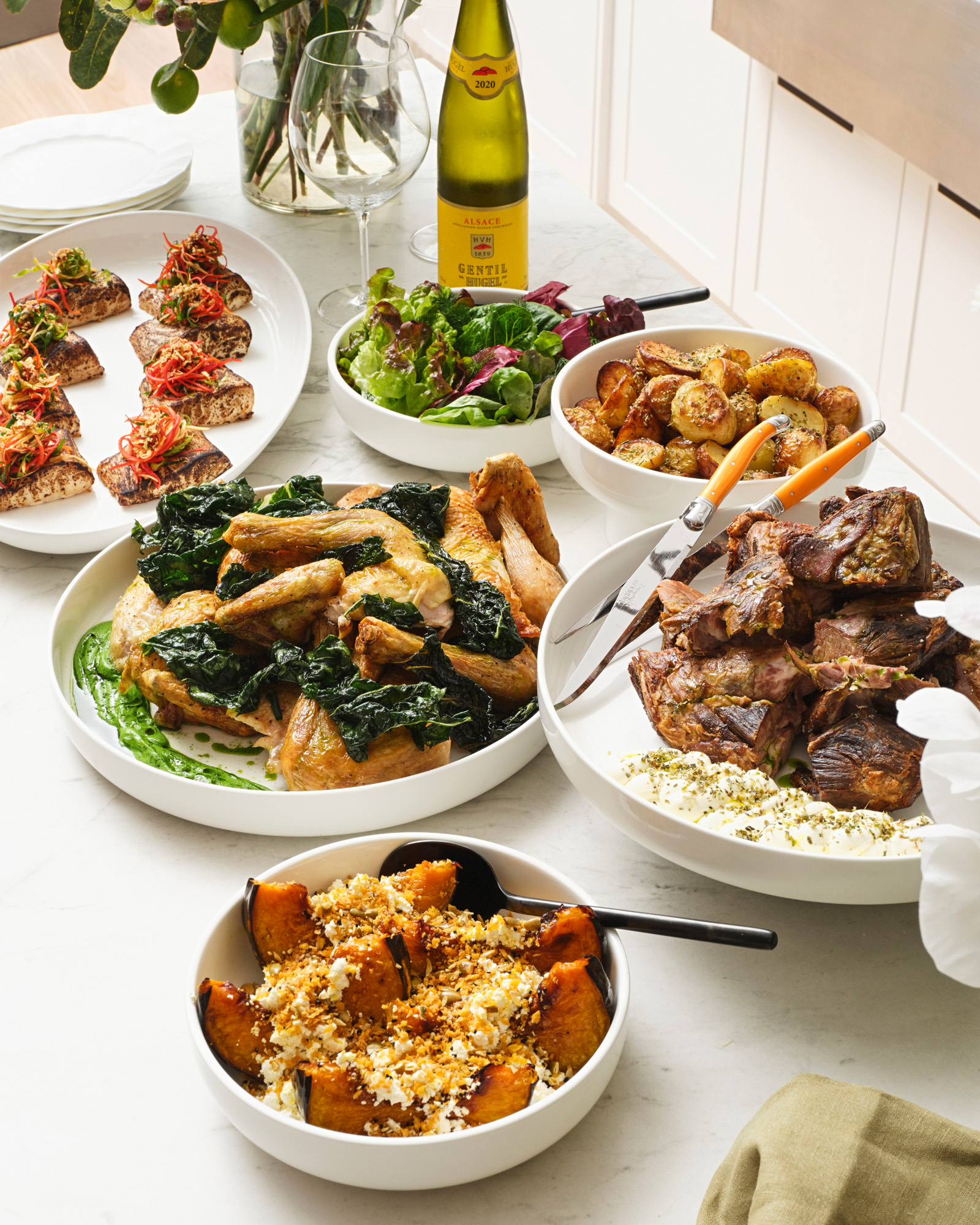 Alternatively, opt for a shared buffet setup, where guests can help themselves to a variety of different mains and sides.
Served on premium platters with risers, our chefs will set up a beautifully presented buffet and ensure everything runs smoothly and on time, allowing you to relax and enjoy your event. Our buffet menus include nutritious gourmet salads, perfectly cooked proteins, and sides, all expertly prepared and looking fabulous.
For a more elevated approach to the buffet, we can serve your menu family style with share plates laid down the centre of the table.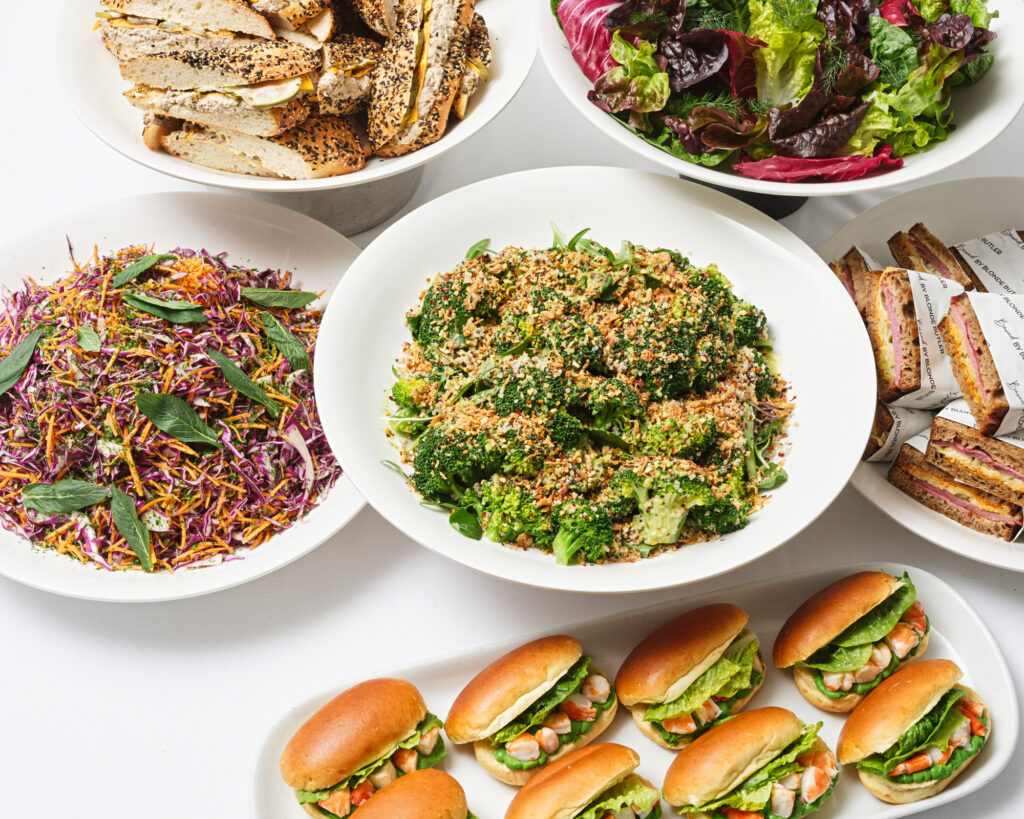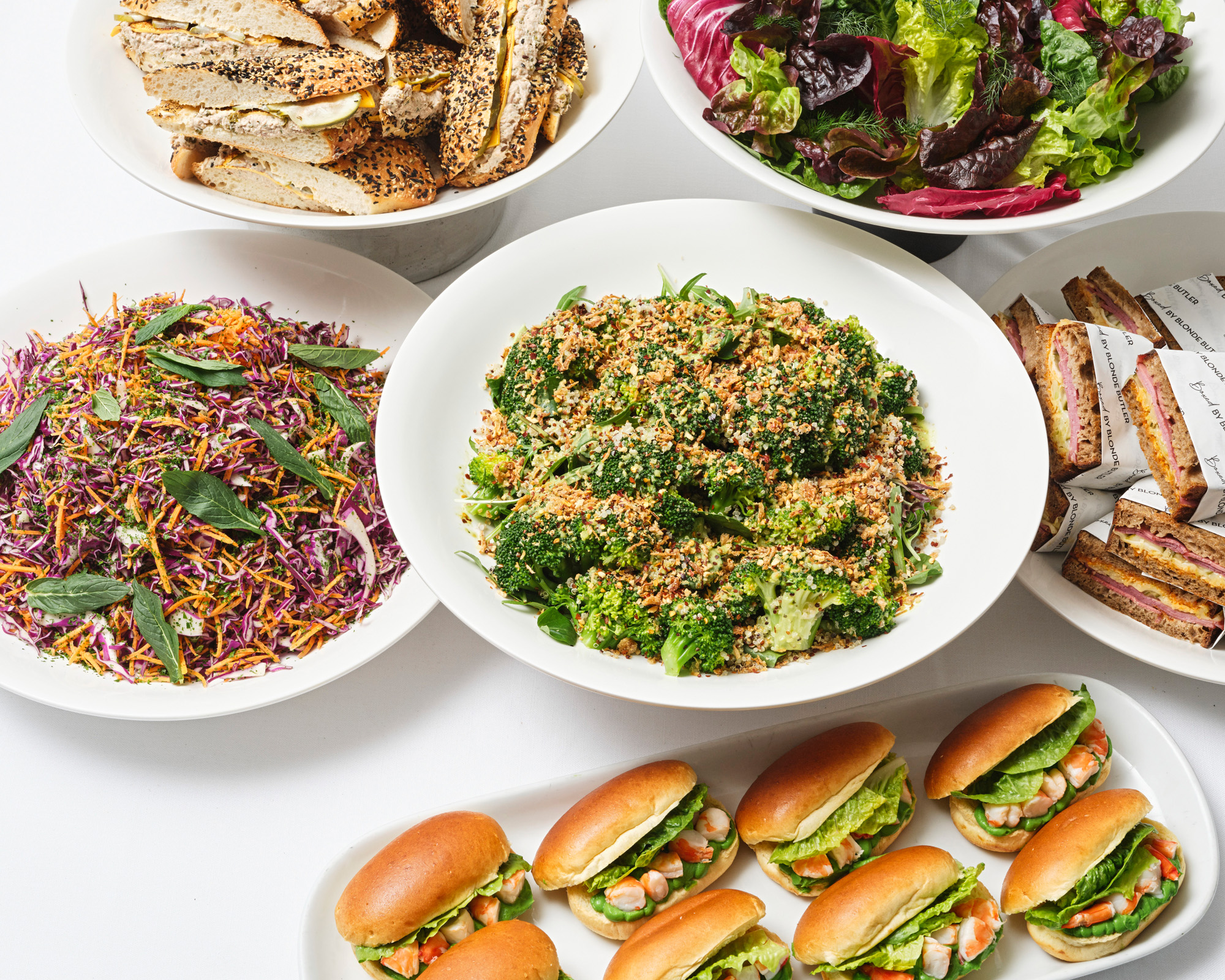 To add a visually impressive element to your event, we also offer grazing tables which are designed to be eaten at room temperature.
A diverse range, beautifully styled and overflowing with produce, gazing tables elevate the overall aesthetic of an event to create a feast for the eyes as well as taste buds. Captivate your clients and staff with a generous spread of premium selections, from hand made sandwiches with delicious feelings, to salads, cheeses and more. We'll make sure there is ample variety for everyone.
Boxed by Blonde Butler - Affordable Catering Boxes Sydney
For an elevated, yet more affordable option, Boxed by Blonde Butler, offers a convenient and hassle-free solution. The same food you expect from The Blonde Butler, prepared and neatly boxed with care to be delivered directly to you. The key difference with this offering is that chefs are not required to attend your event – simply tell us when and where and we will deliver on time.
Our Boxed lunch menu includes sandwiches and wraps filled with premium artisan ingredients, handmade by our team of professionals, as well as freshly made salads, delicious sides and quiches. Our team proudly uses high-quality, locally sourced ingredients and are beautifully presented, making them not only convenient but visually impressive.
Convenient, Affordable and Delicious
Whether you're hosting a team meeting, morning tea, a working lunch, or a corporate event on a tighter budget, Boxed by Blonde Butler provides a practical and affordable solution without compromising quality. Attendees will appreciate the convenience of these delicious boxed lunches, allowing them to focus on the agenda at hand.
Our team provide catering to offices across Sydney for casual lunches. Enjoy boxed gourmet finger food for lunch, and healthy snacks, fresh fruit and cakes for afternoon tea.
Create memorable cocktail parties that are the talk of the workplace. We deliver a great selection of canapes and drinks to get the party started, and you can also hire all the equipment you need directly from us.
Tailored Lunch Catering Sydney
Of course, every corporate lunch event is unique. That's why we have options to suit every workplace scenario. Whether you prefer a formal plated lunch, a shared buffet, or a convenient boxed option, our event managers will design a menu and setup that aligns with your vision and objectives.
From working lunches that require quick and easy solutions to large-scale events that demand a visually stunning spread, The Blonde Butler is dedicated to delivering excellence in every aspect. Enjoy a seamless dining experience where every bite is a satisfying pleasure.
Trust our team to listen to your specific needs and ideas and deliver catering that provides an unforgettable lunch experience for you and your guests. Whether you choose a premium plated menu, buffet, grazing table, small dishes roamed for a standing event, or opt for the convenience and affordability of our Boxed by Blonde Butler options, we deliver the same exceptional quality and service.
Dietary Considerations: Catering to Every Preference
The Blonde Butler know how important it is to accommodate dietary restrictions and preferences when it comes to corporate catering. By letting us know in advance, we will make sure that all attendees are cared for, providing a range of options to cater to diverse needs.
What Our Clients Have to Say
Your service and diligence is fantastic, the food was amazing and we had an absolute hoot!! Still being enjoyed the next day here in the office! Thank you!
I have received amazing feedback on Independence Day Catering (04/07) from the client. They absolutely loved the food. It was very well received by the whole team. Thank you so much for your work!
Boxed by Blonde Butler go above and beyond for their clients every time! Alex, Jemma and the team are magicians, and we will continue to order due to the fact that their food is delicious, and their service is impeccable. Always 5 star.
Just wanted to send a thank you email from us here at Cushman & Wakefield for the Corporate Lunch in Sydney. The event was a huge success, and the Director was extremely impressed. The chef was excellent, and his food received great reviews and both colleagues and clients were impressed with the menu. The waiter was also fantastic, and everyone was very happy with his high level of service.
Thank you to you and the team for everything today. The set-up, the extra touches with florals, menus, the incredible food and 5-star service were impeccable. The Trade Desk sales team along the clients at Publicis were extremely impressed. The Publicis team were shocked that it was their office as it looked like a private dining room. Biggest thank you for being onsite this morning too and I'm glad we finally got to work together. Looking forward to the next one!
Every Palate and Preference
Our talented chefs excel at catering to specific dietary requirements without compromising taste or presentation. Whether you need vegetarian, vegan, gluten-free, or other specialty alternatives, we have popular alternatives that every guest can savour. Our focus is on creating flavoursome meals that accommodate all dietary preferences, ensuring that no one feels left out or restricted in their food choices.
Personalised Office Catering
The Blonde Butler brings exceptional service and attention to detail, ensuring that every aspect of your lunch event is carefully planned and executed. Our dedicated team of event managers and experienced service staff will work with you to understand your vision, guest count, dietary requirements, and event objectives. Whether you require a formal plated lunch, a shared buffet, or convenient boxed options, we will create a customised experience that aligns with your corporate branding and exceeds your expectations.
From setup to service, our team of professional staff will take care of every detail, ensuring that your lunch event runs smoothly and makes a lasting impression on your clients and guests. You can trust us to deliver excellence in both taste and presentation, providing a memorable social occasion for all.
Unforgettable Lunch Moments
Whether hosting a team meeting, an important client luncheon, or a large corporate gathering, The Blonde Butler catering will exceed your expectations. We understand the importance of seamless execution, exceptional taste, and attention to detail. Our team of chefs, event managers, and professional staff will ensure that every aspect of your lunch event is flawlessly executed, allowing you to focus on your networking and the successful delivery of your event.
Contact Us Today for Catering Across Sydney
Staff lunches don't need to be stock standard. Elevate your next corporate event with our range of great food. Let us create a memorable dining experience that reflects your corporate style and impresses even your most discerning guests. Contact us today to discuss your requirements.