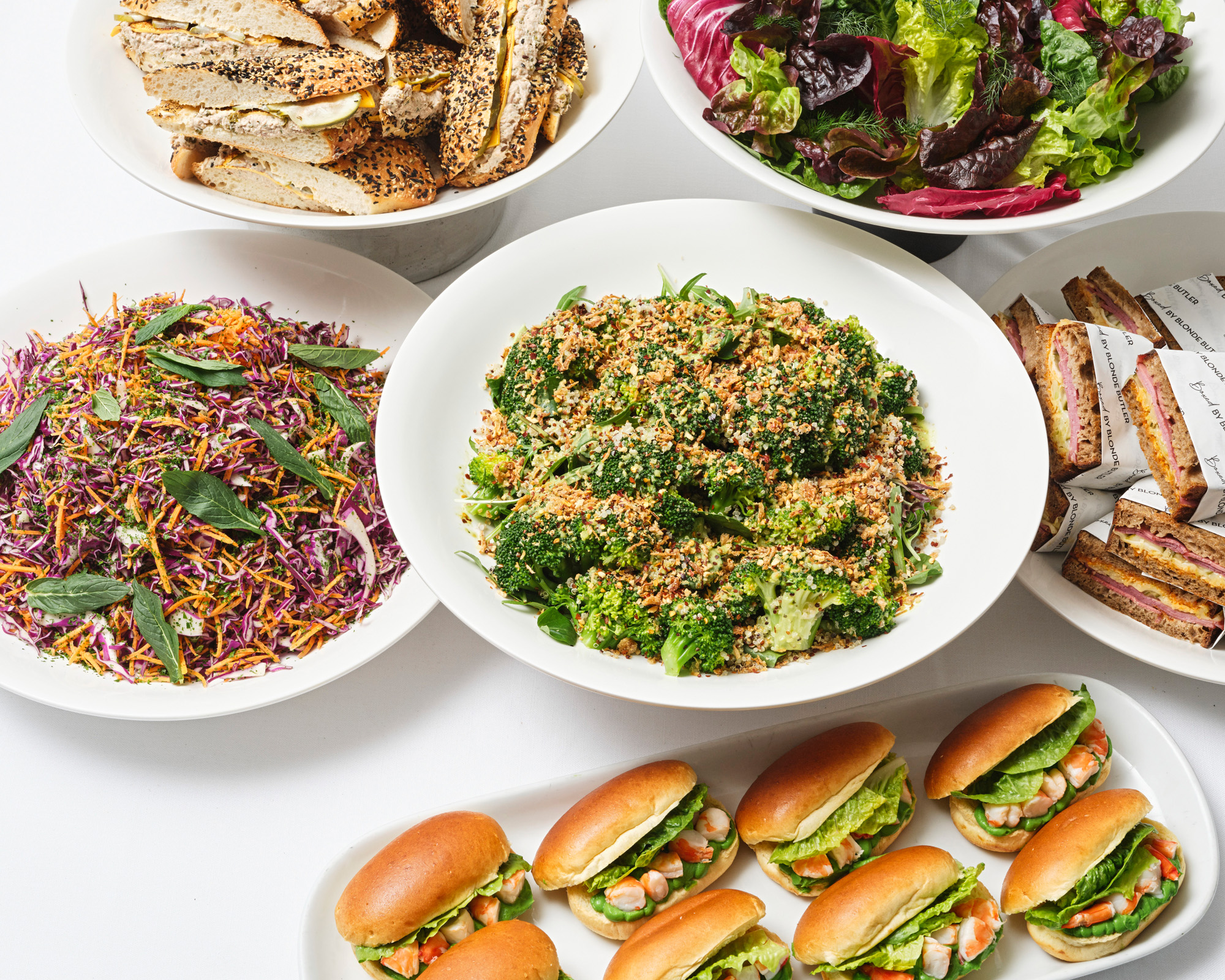 Welcome to The Blonde Butler Catering, where we know events! We live and breathe the magic that elevates an everyday event to make it something truly spectacular. That's not to say we're only about large productions and going over the top (though we do love those opportunities); we just know how to meet the brief and deliver it with excellence. Great food and professional service is what we do best, no matter how big or small your event may be.
Parties, Corporate Events & Wedding Catering
No matter the occasion, we can handle it. From honouring big birthdays to joyous weddings and significant corporate milestones, our team is here to transform your special occasion into an extraordinary celebration. We understand that life's most important moments merit the finest attention to detail. Let The Blonde Butler's event catering service elevate your next event, and take the hassle out of it for you.
Immerse your guests in a little luxury with impeccable service and extraordinary food. Our bespoke catering service are curated to deliver a personalised dining experience that reflects your unique style and taste. As Sydney caterers, we know how to impress, from lavish three course dinners to elegant cocktail parties and beautiful shared dining buffets.
Drop Off Catering Services
If you're looking for convenient and delicious drop-off catering options in Sydney, look no further than Boxed by Blonde Butler.
Our signature offering brings together delicious food delivered in chic white boxes, ready to go. This is premium drop off catering for every time of day, no matter your budget. Whether it's breakfast, morning tea or afternoon tea, sandwiches, salads, individual packed lunches, or buffets, we have you covered with a range of freshly prepared options designed to make your casual occasion a culinary success. We also deliver hot food ready to go, adding warmth to your meetings, or to kickstart Friday night drinks.
Our team of experienced chefs offer a huge variety of options that are beautifully boxed and delivered to any Sydney location.
The Blonde Butler has been catering Sydney events since 2015 and are the go-to for any special occasion. Based in Annandale in Sydney's Inner West, our extensive team of chefs, event managers, and drivers are just a stones throw away from the Sydney CBD, and are on the road daily to every corner of the Sydney metro area.
We offer a solution for all catering needs, whether it be corporate or private, high-end or casual. We have menus to suit all crowds any time of day, from delicious breakfasts to energising morning and afternoon teas, lunches to cocktail parties and dinners. Your event is personal for us and we will manage it with thought and care from the initial planning phase through to execution.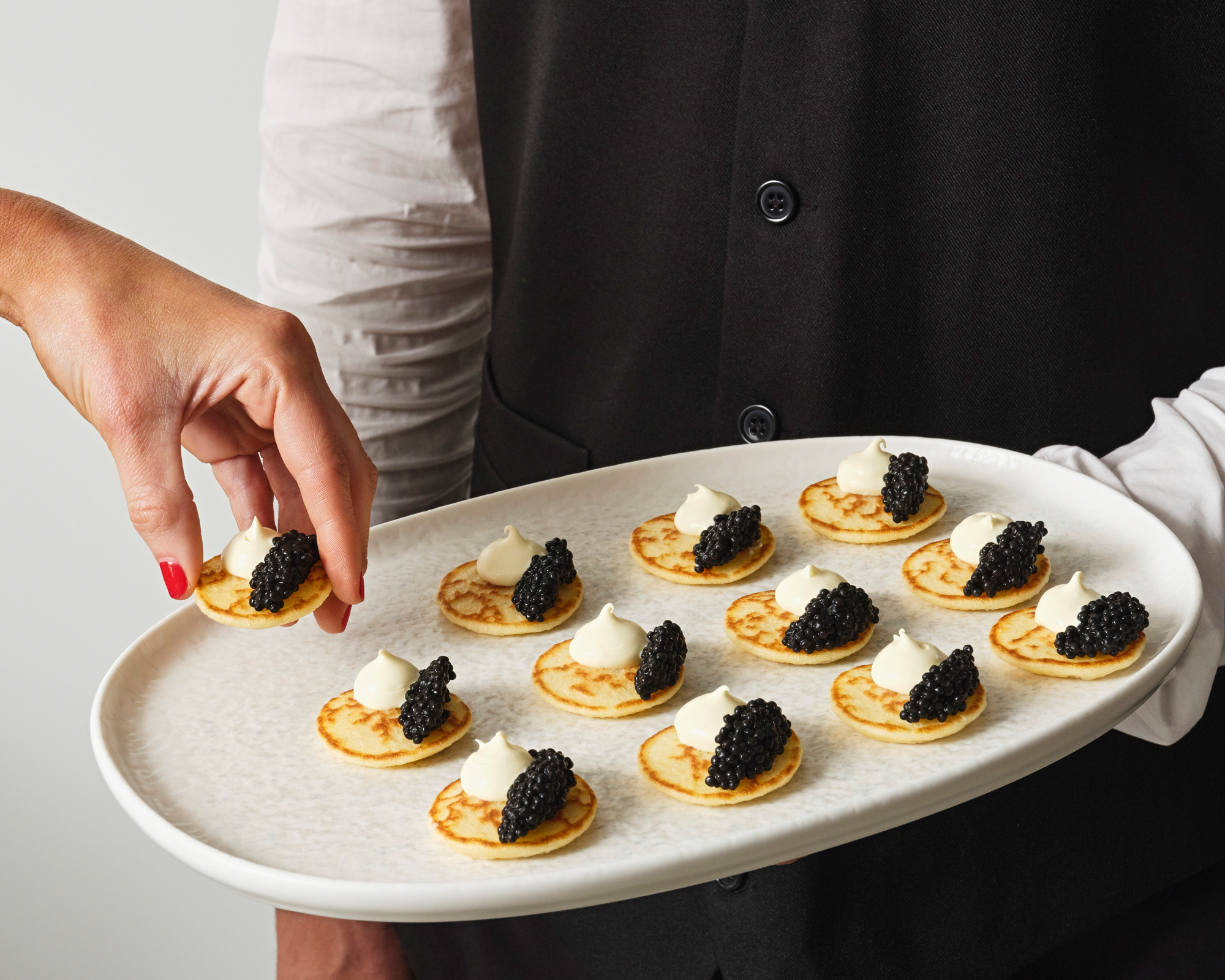 The Blonde Butler are known for servicing corporate events, including brand launches, networking events, boardroom meetings and conferences.
We understand the power of making a lasting impression in the corporate world, and our team has the experience to execute sophisticated and memorable experiences that align with your company's vision and brand identity. Whether launching a new product, hosting a company networking event or conducting office boardroom meetings, our corporate catering services offer a memorable experience at all your venues with total flexibility and ease.
As Sydney's premier catering service, we pride ourselves on delivering a memorable experience that caters to the diverse needs of the corporate world and its clients. Select from our exciting menu options and flexible setups to complement every style of business event.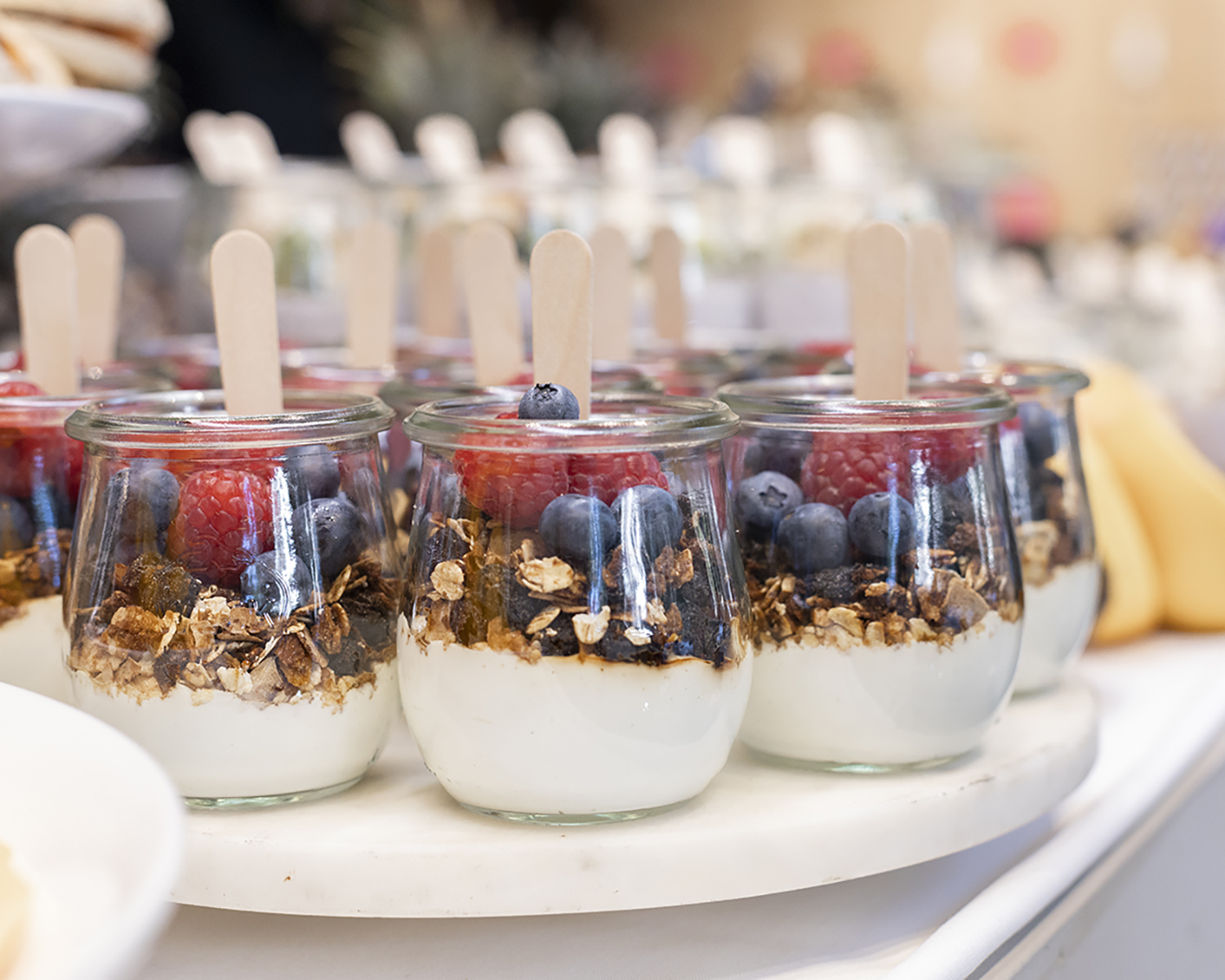 We offer flexible office catering solutions for any time of day and to suit any corporate crowd.
Our formal two or three-course plated boardroom lunches are ideal for executive meetings or impressing an important client. Our signature buffets offer flexibility for more casual sit down events, offering a range of main dishes and sides to provide choice to your guests. In need of a quick and easy lunch option? Our casual drop off buffet options feature easy to grab and go options like sandwiches and individually packed salads to feed a large crowd easily.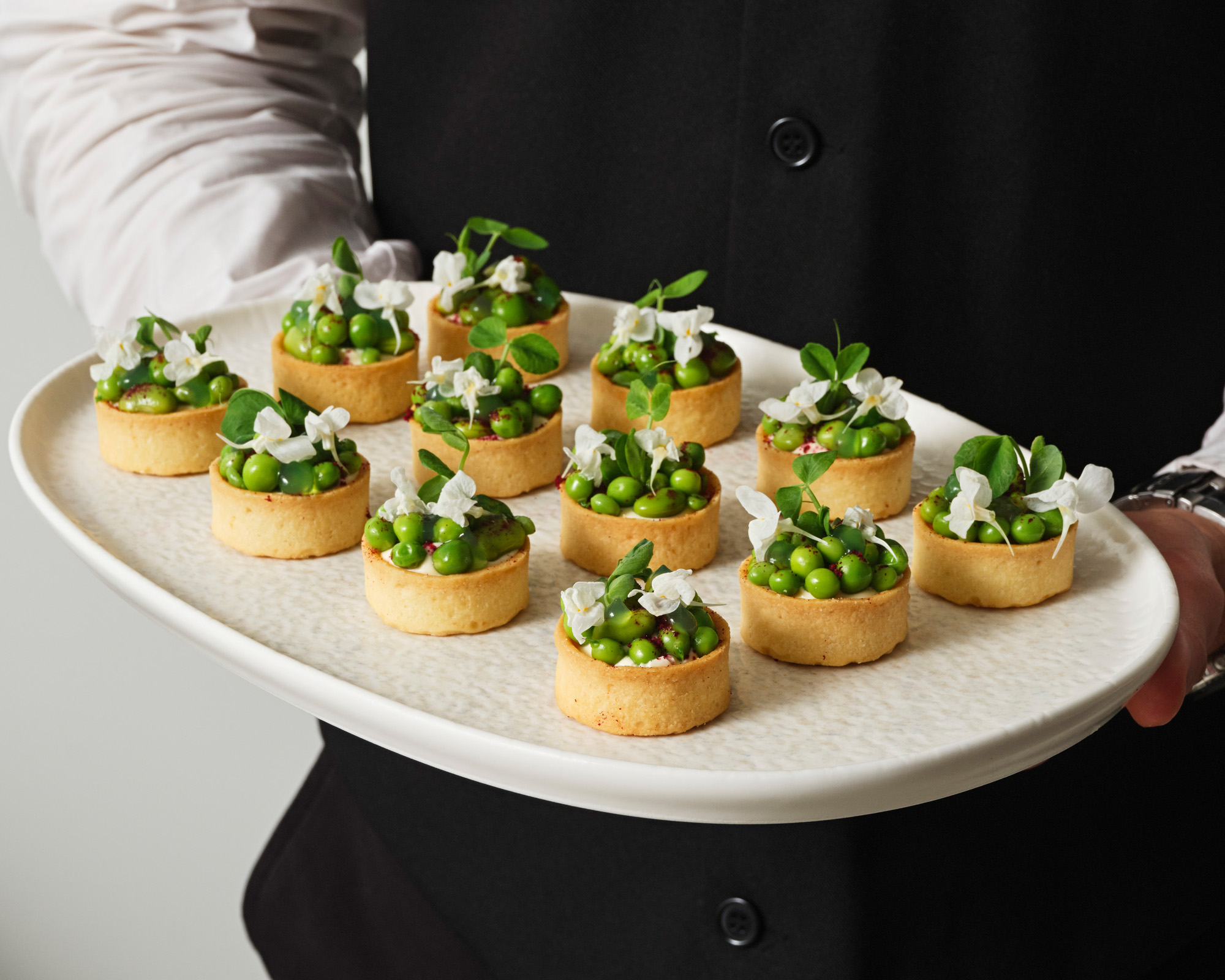 Whether you envision a fun and celebratory party with colourful cocktails and vibrant finger food or an elegant, sophisticated soirée, we will tailor a bespoke menu for you to achieve your vision. Our cocktail party menus include delicious bite sized canapés as well as more substantial items and bowls. We'll ensure your guests or clients are well fed and talking about your party for months to come.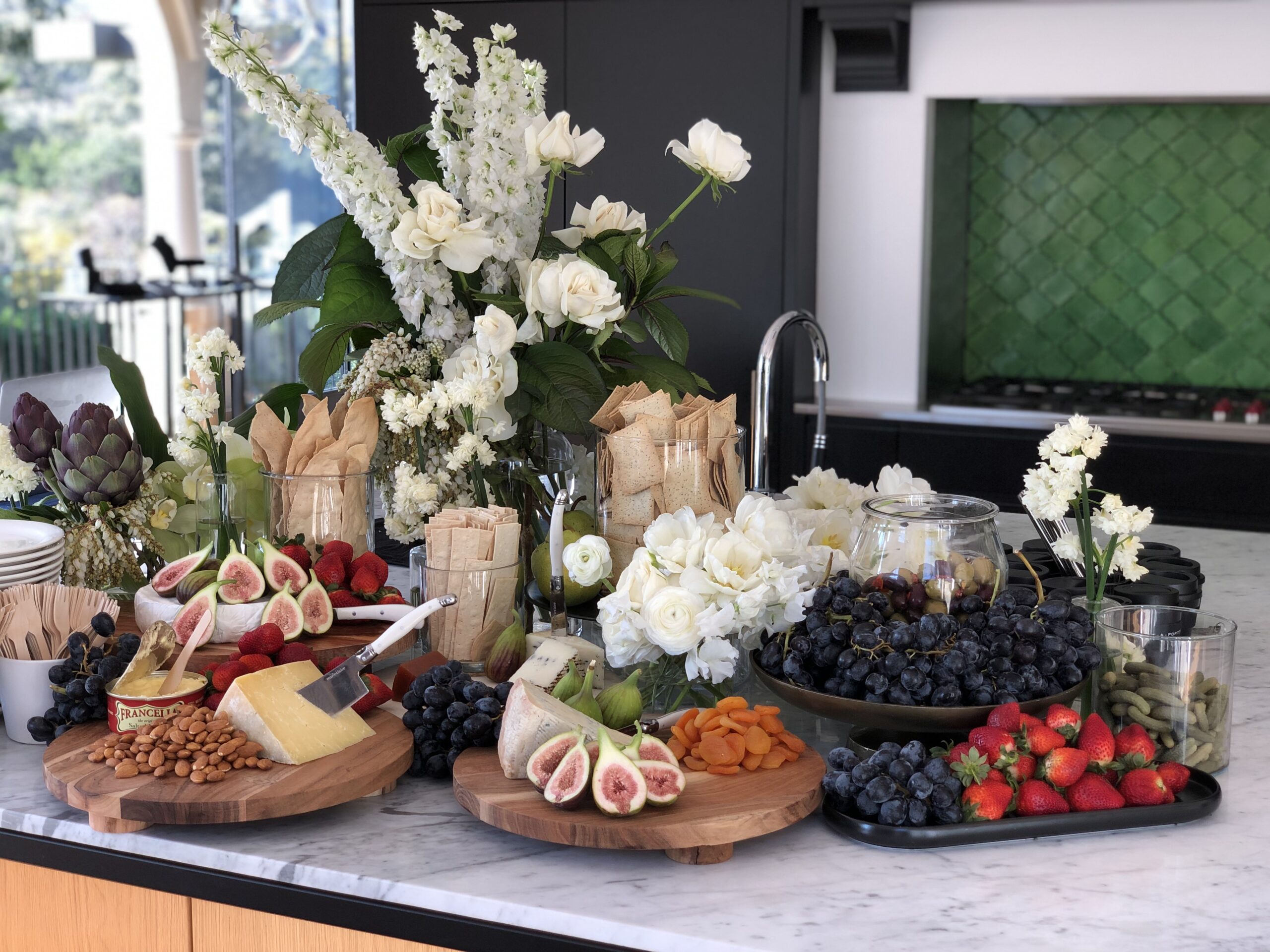 For a more communal and visually stunning option, consider our grazing tables.
These beautifully styled food tables are adorned with an abundance of the freshest ingredients, including artisan cheeses, charcuterie and all the accompaniments. We also offer fresh seafood bars and dessert station options. Grazing tables are not just about perfect food; they are a feast for the eyes and a fantastic conversation starter.
With our expertise in large-scale catering, we have the capacity to cater large events of up to 2,000 guests. Our comprehensive conference catering services cover all aspects of the culinary journey, ensuring that your guests are treated to a premium dining experience from morning till night. Our event managers will work closely with you to capture your vision and translate it through the food. Our team thrive on delivering innovative event catering services that will elevate your next event.
What Our Clients Have to Say
The Blonde Butler were an absolute pleasure to deal with and extremely accommodating with our catering needs at our recent function in the Paspaley Pearls showroom in Martin Place. Amanda was so easy to communicate with and their staff were extremely efficient and polite. Their food suggestions were delicious and beautifully presented. I can thoroughly recommend The Blonde Butler and I am looking forward to engaging them again for our next event.
Delicious and efficient. The Blonde Butler was so professional and easy to deal with. Canapes were amazing as were the waitstaff. Highly recommend!
The Blonde Butler team is exceptional from beginning to end. Outside of creating incredible menus and delicious food – their organisational skills, communication and service is second to none. When running an event, I never have any stress when the Blonde Butler team is on board. We love working with team BB and would highly recommend them to any of our clientele.
The Blonde Butler worked with us on an event at Carriageworks. It was such a seamless process and Annabel jumped through loops to ensure the food was perfect. They customised everything to cater to our event and it all ran so smoothly. Thank you so much for coming on board! 100% recommend The Blonde Butler.
I call on Alex and the Blonde Butler team for everything - from my wedding of 200px, to work events, kids' parties, or last minute family Christmas lunch. Always extraordinary food & service, guests/clients impressed and a huge weight off my shoulders. Thanks again for today's 6th birthday catering, done with care & perfection.
The Blonde Butler team was amazing! The food, the service and even the level of cleanliness post the event were first class!
Amanda and her team were amazing from start to finish in helping us pull of a unique dinner, from furniture hire and set up through to staffing and catering. Everything was 5 star. We can not go past the service delivered and look forward to using the Blond Butler team again for our Sydney based events in the future!
Private Event Catering Sydney
Celebrating life's special moments often occurs in the warmth and comfort of your own home with friends and family. Whether it's a birthday party, an intimate anniversary, a lively engagement party, or a cosy Sunday lunch, hosting a private event at home is a wonderful way to celebrate. However, the thought of planning, cooking, and serving can be a real turn-off. That's where The Blonde Butler comes in, your trusted partner for private event catering, Sydney.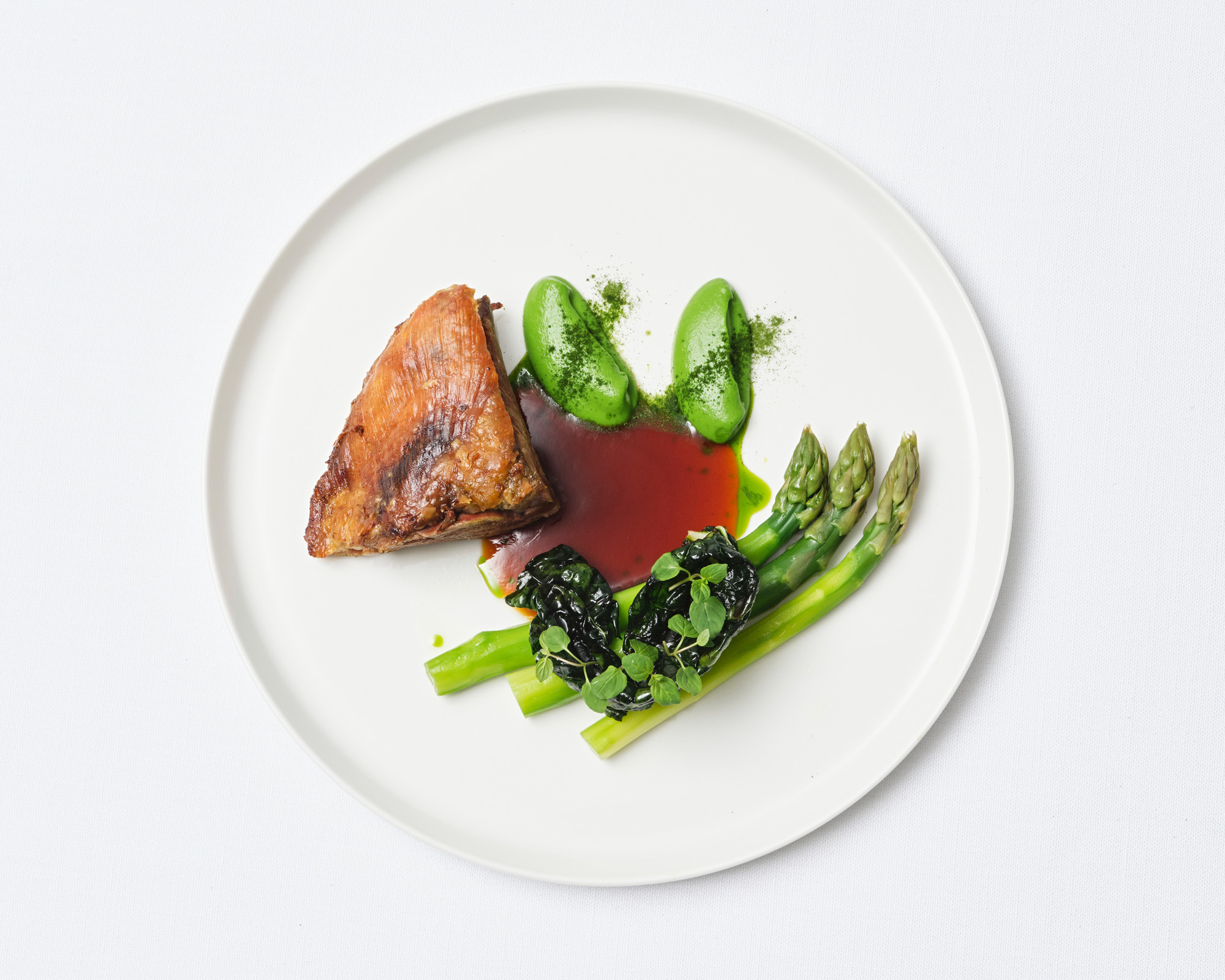 If your private party calls for an elegant sit-down affair, our plated menus deliver sophistication and finesse.
Our chefs deliver only the best food, from contemporary main courses to delicious desserts, catered to your style. The result? A dining experience your guests will rave about.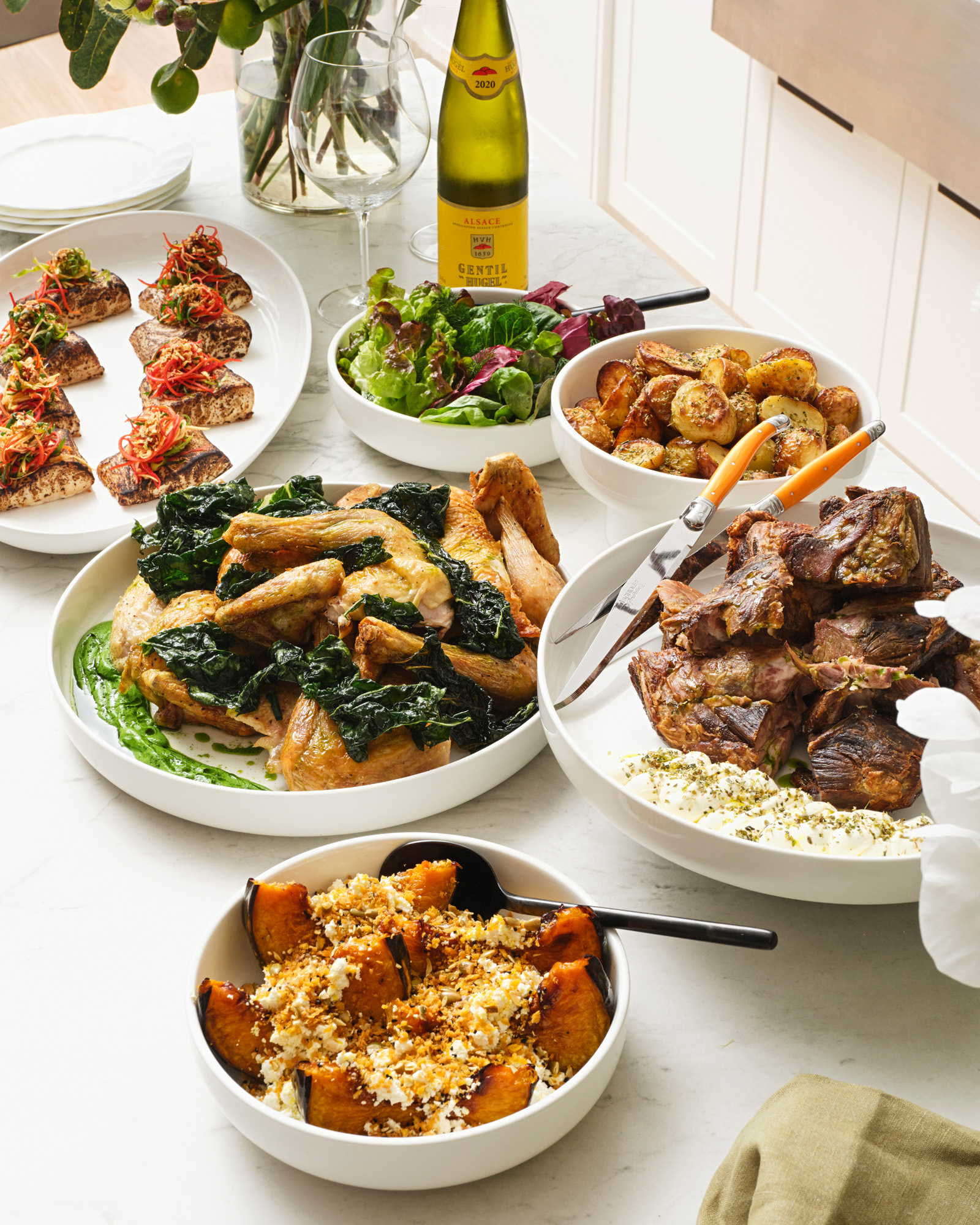 Buffets are another excellent dining option when planning a private party at home.
You can choose from our standard buffet setup, beautifully presented platters with a variety of mains and sides. Or, opt for a more communal feel with our family-style service, where dishes are served on share plates down the centre of the table. This approach encourages conversation and enables guests to continue to help themselves without leaving the table.
Wedding Catering: Sydney and Beyond
Your wedding day is a cherished celebration of love and commitment. At The Blonde Butler, we understand the importance of creating a memorable occasion to leave a lasting impression on you and your guests. As a premier Sydney wedding catering service, we offer exquisite food options for weddings and a range of different packages to suit all styles, from casual and relaxed affairs to elegant, fine dining options. Our wedding catering service is not only Sydney bound; we will gladly travel farther afield.
Sydney's Expert Caterers and Event Planners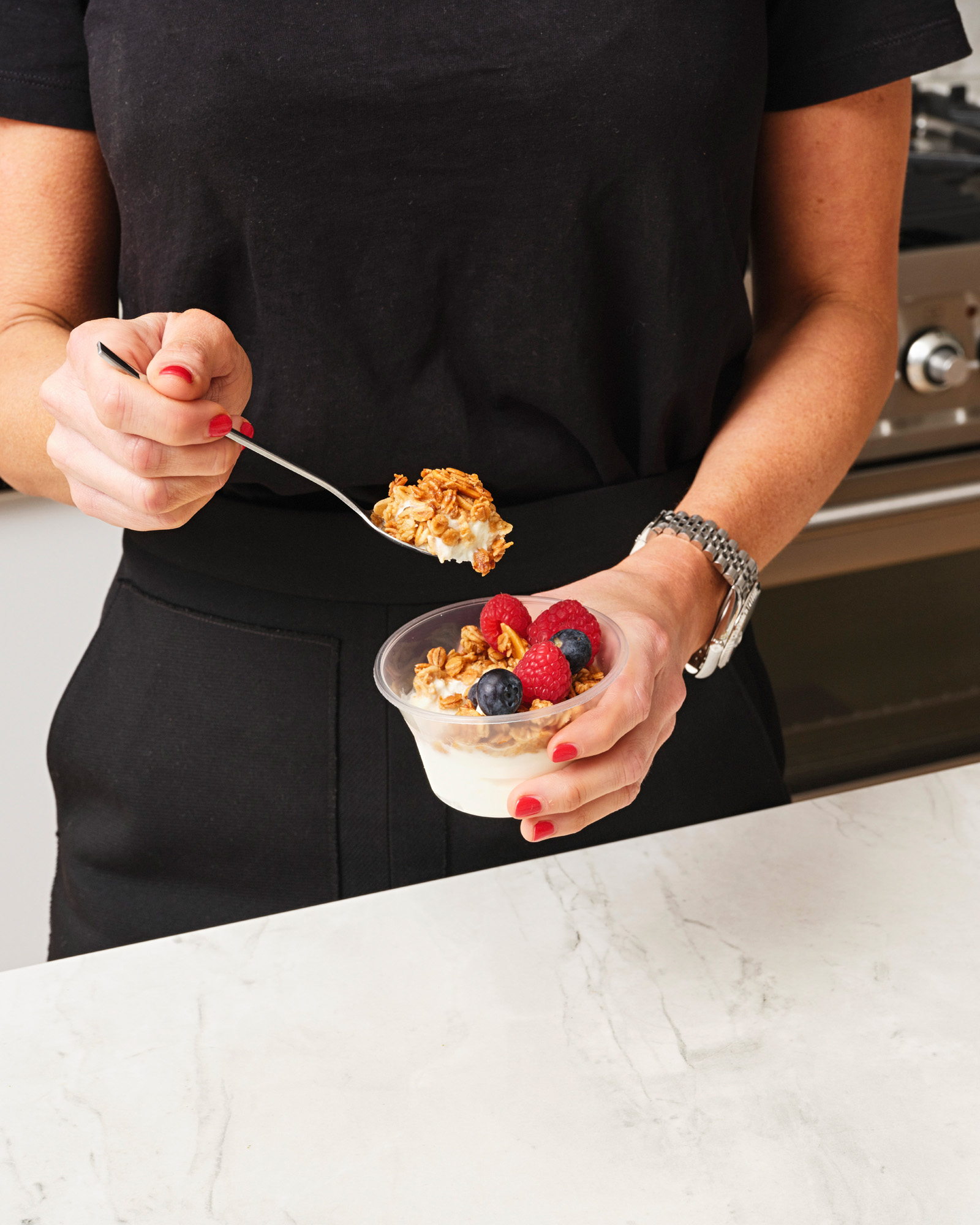 At the helm of every event we deliver is one of our experienced Event Managers.
They are responsible for listening to you and guiding you through the planning process, covering everything that may be required from food and beverage suggestions to recommended timings and quantities. They can also coordinate any suppliers that may be needed to bring your event to life.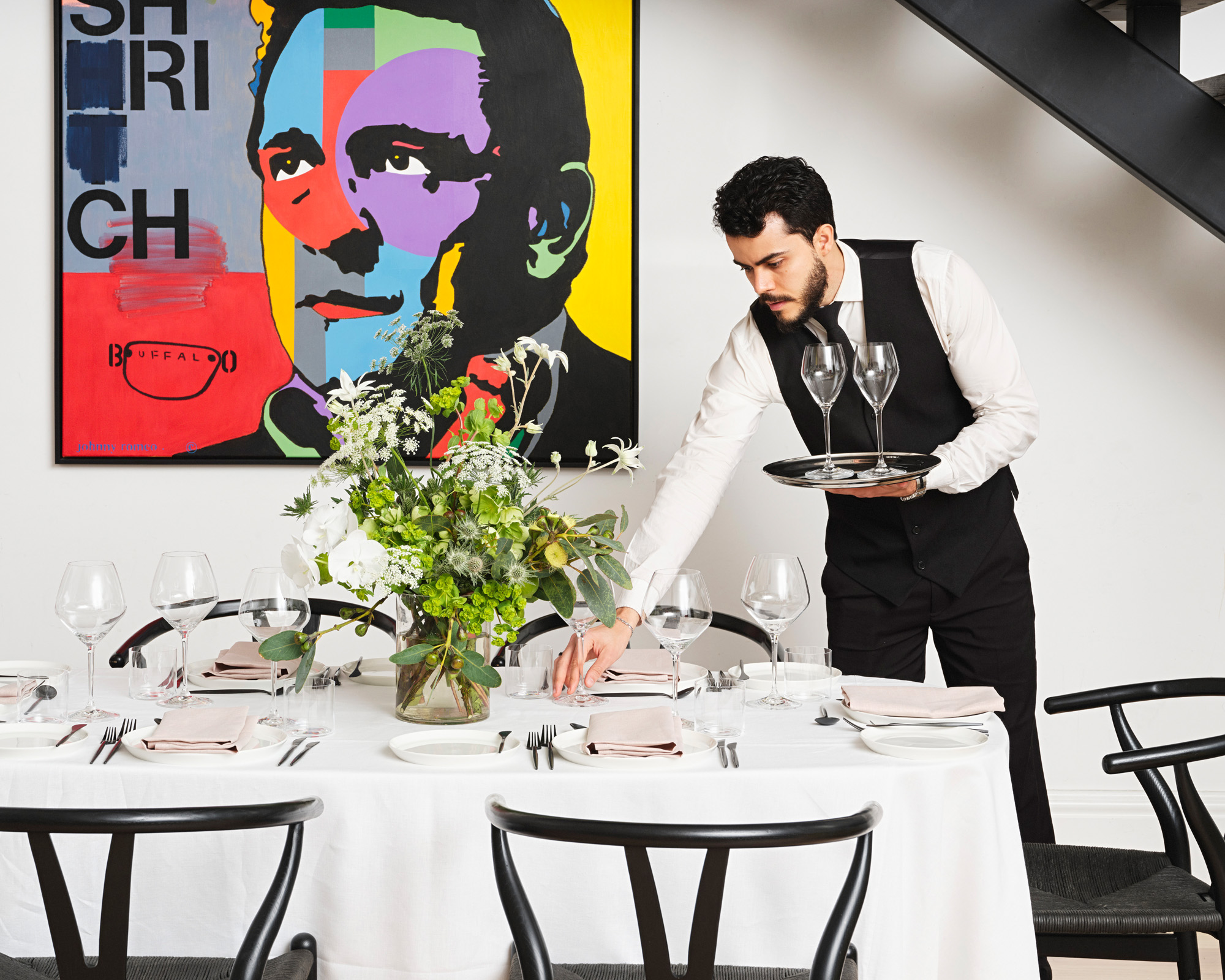 Professional Wait Staff and Equipment Hire: The Perfect Service
We work with Sydney's best staffing agencies to source wait staff of the highest professional calibre to service your event.
They can handle everything, from setting up your event to providing impeccable service throughout and packing down at the end. With The Blonde Butler's staff taking care of the details, you can relax, knowing that all guests are well taken care of.
We also offer equipment hire services. From tables and chairs to glassware and bar equipment, we can provide all necessary equipment to execute your event in any location. If you'd prefer we don't use your kitchen space when preparing your menu, or are throwing an event without kitchen facilities, we will bring in what is needed and set up out of the way.
With access to a diverse range of Sydney's best event suppliers, we will source what is required to match the theme of your event as well as your budget.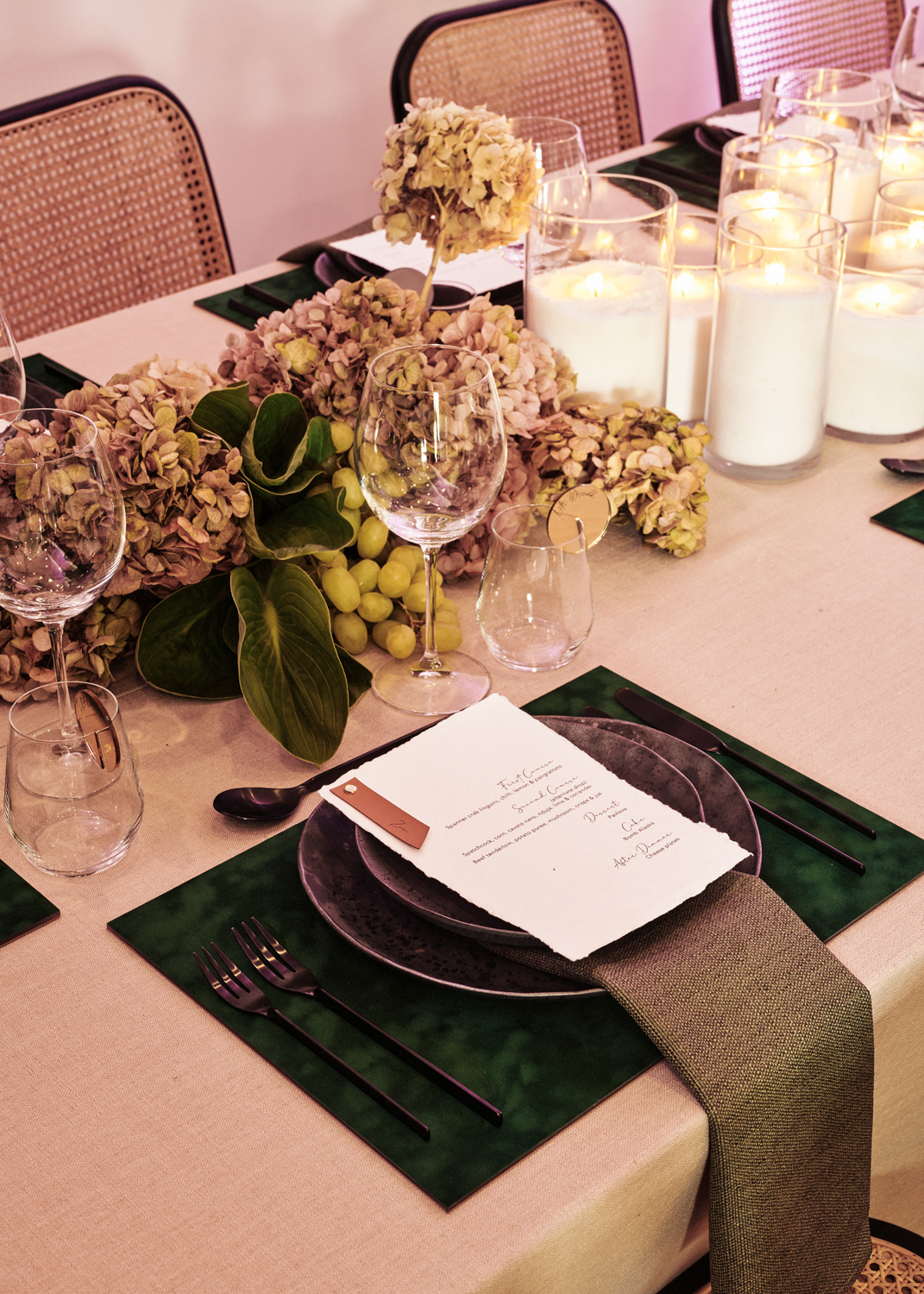 We Work in Any Sydney Venue
We work in a huge range of venues around Sydney.
Your event may take place in a grand ballroom, a quaint garden, your home, or a unique Sydney location that holds a special meaning to you. Regardless of your chosen venue, our team can accommodate it. We can work out of any kitchen facility or supply our own equipment to set up a temporary kitchen in any location if needed. Our goal is to provide a flawless catering experience that allows you to focus on enjoying the special occasion.
Our services are utilised in Sydney's top event venues, including The Cell Block Theatre, Bennelong Lawn, Carriageworks, La Porte Space, Lindesay House and the National Art School.
Let Our Team Complete Your Event
The Blonde Butler reputation has been established through our ability to plan events with a fresh approach – innovative thinking and total flexibility. Share your vision and event theme, and we'll create a bespoke menu that guests will remember. Our experienced team will turn your vision into a reality, ensuring that every detail is delivered to an elevated standard.
From intimate private parties to weddings to large scale corporate events and conferences, we approach every brief with professionalism and dedication to meet all your catering and event planning needs. Take the hassle out of organising your next event and leave it to the experts.