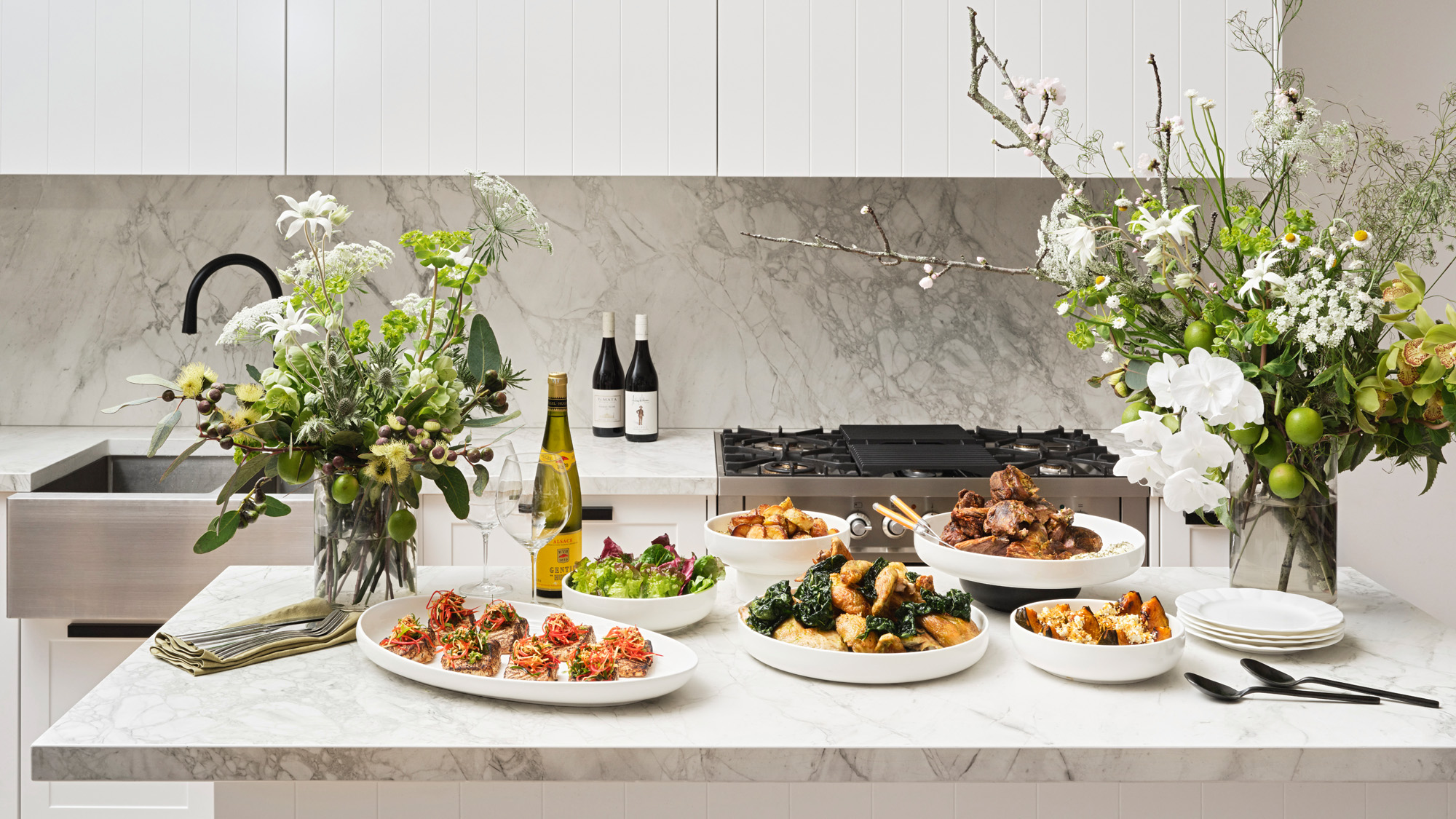 Buffet Catering in Sydney: A Feast of Flavours and Choices
Experience our premium buffet catering service, popular with both private and corporate clients in Sydney. Our buffet menus showcase diverse, delicious food options to ensure every guest is treated to an unforgettable feast of flavours and choices.
Table Buffet - Elegance Meets Variety
Our table buffets are a visually stunning display of options. Choose either two mains and three sides, or three mains and three sides. Guests can help themselves to their preferred combinations that suit their tastes before taking a seat.
For those seeking a more communal, interactive dining experience, we can serve your chosen buffet menu as share plates, elegantly arranged down the centre of the dining table. This setup creates a sense of togetherness, allowing guests to remain seated while sharing dishes to suit different tastes. This family-style arrangement creates a warm atmosphere, encouraging social connection, without the pressure to load up a plate at a separate table before sitting down to relax.
Flexible Catering Service
We understand that every event is unique, and so is the desired dining experience. Our family-style dining option offers the flexibility to serve the feast all at once or stagger the service. If you choose to stagger, we pair one main dish with a side and repeat, allowing guests to savour each course at their leisure. This approach creates a natural flow to the meal, ensuring every dish is enjoyed to the fullest.
Delicious Food - Buffet Style
Buffet menus come alive with delicious protein-packed and vegetarian options. From mouthwatering proteins that take centre stage to stunning sides that enhance the experience, every dish is a flavour exploration.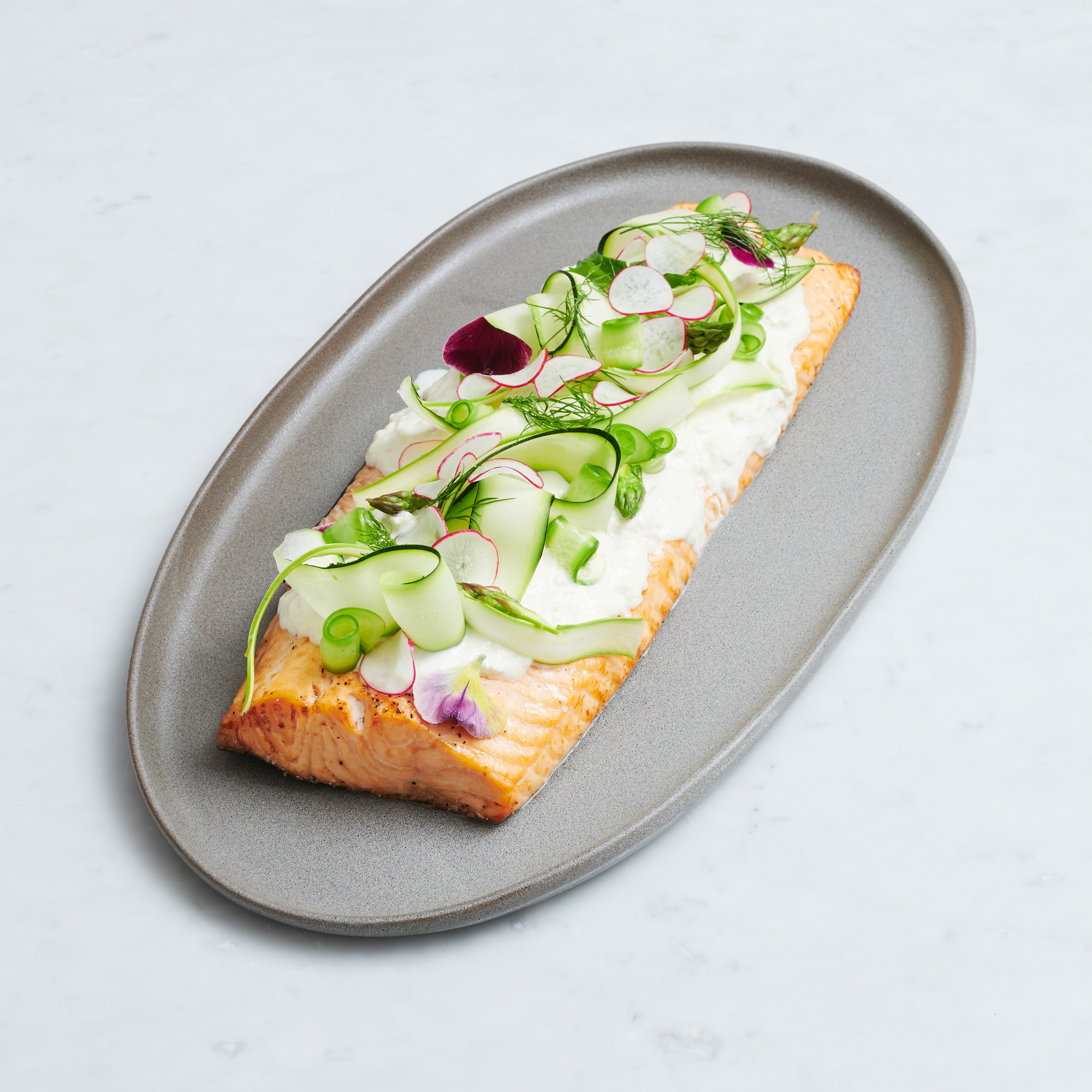 Among our protein offerings, the Porchetta steals the spotlight with its succulent texture, complemented by the flavours of wild garlic, fennel & rosemary, and served with salsa verde and seasonal fruit relish. Roast chicken comes to life with sweet pea puree and fried cavolo nero for an elegant balance. For those seeking a hearty option, our Beef Tenderloin brings tender perfection heightened by horseradish creme and fresh watercress. For an impressive yet lighter option, our whole side of roasted salmon with tahini yoghurt, fresh herbs, pomegranate & pistachio brings a delicate touch.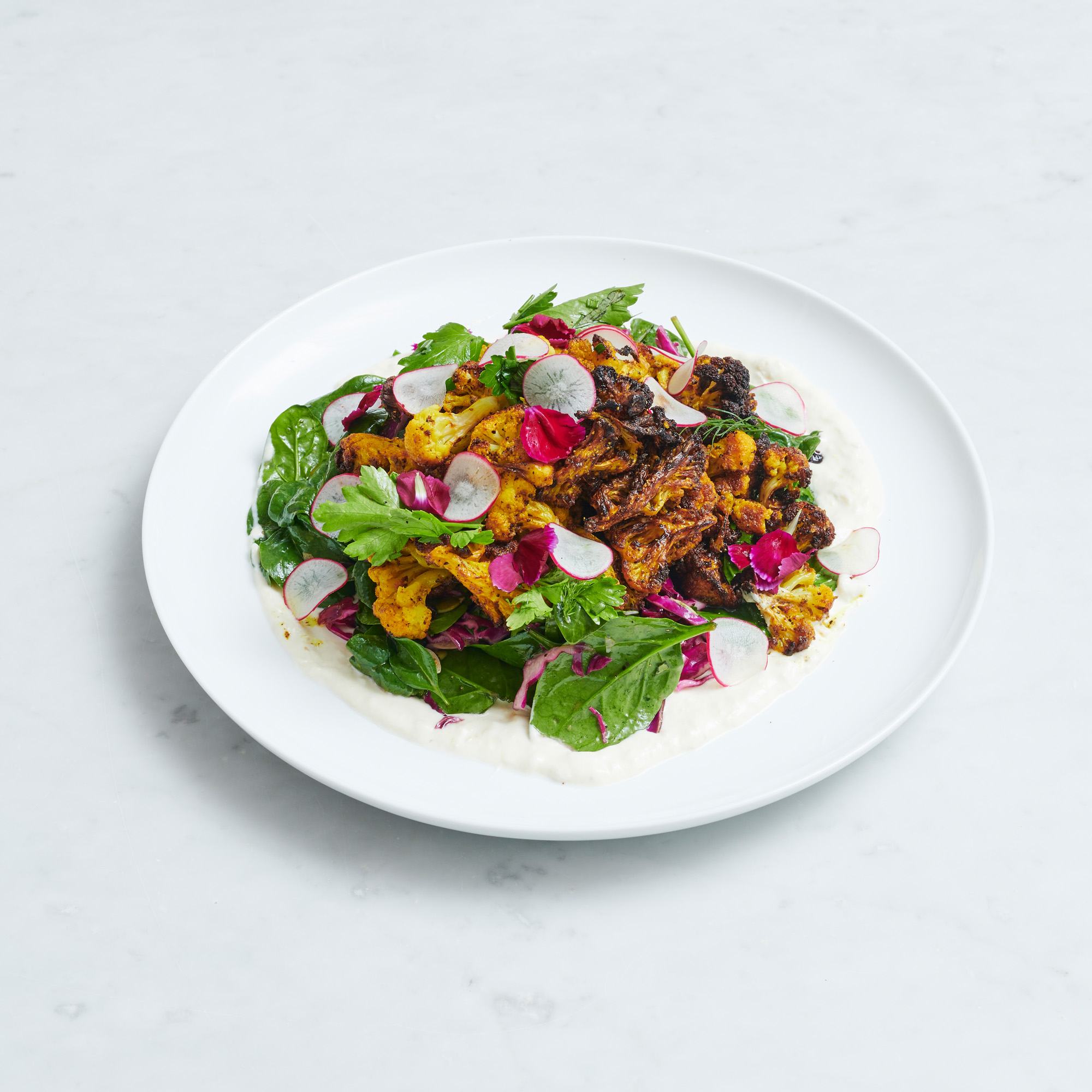 Our menu also includes a beautiful selection of sides to accompany your main dishes. Honey-glazed pumpkin takes on a new dimension with feta and toasted pepitas, while charred asparagus with lemon olive oil is a beautiful option for spring and summer. For those who savour classic comforts, our roast potatoes with rosemary salt are a sure delight, while the radicchio salad offers a refreshing contrast with soft herbs and chardonnay vinaigrette.
At every buffet, we ensure your table is set with artisan bread and Pepe Saya butter.
Buffet Style with Boxed Convenience
Enjoy a combination of gourmet excellence and convenience with our innovative Boxed by Blonde Butler buffet menus. Crafted to impress, our Boxed offerings bring the art of buffet catering to your doorstep, delivered ready for you to serve at your leisure. Designed for occasions where simplicity meets sophistication, our boxed buffets ensure premium quality food and zero hassle.
Enjoy a beautiful range of dishes, now conveniently packaged in elegant boxes. From flavorful proteins and vibrant sides to refreshing salads and tempting desserts, each element is carefully selected to create a balanced and fulfilling dining experience.
Our Boxed by Blonde Butler buffet menus are ready to eat upon delivery, ensuring that you can focus on enjoying your event without any food concerns. These carefully arranged boxes are a feast for the taste buds and visually pleasing, with the same attention to presentation that our on-site buffets offer. Whether it's a corporate meeting, a social gathering, or any event in between, our Boxed buffet menus deliver great food and stylish presentation directly to you.
Exceptional service is a crucial element in creating a memorable event. That's why we offer the option of professional wait staff to ensure that every aspect of your gathering runs smoothly. Enjoy quality service, from setting up the event space to food and beverage service throughout the event.
Our wait staff are professionally trained to the highest standard. With their attention to detail, they seamlessly blend into your event, taking care of all the service aspects so that you and your guests can fully immerse yourselves in the occasion.
After the festivities, our staff will efficiently pack down the event space, leaving it as pristine as when they arrived. No matter the size of your event, our team will ensure every moment is executed with professionalism. Gain the peace of mind to fully relax and enjoy the celebration, whether it's an intimate gathering or a grand-scale event.
Comprehensive Equipment Hire
At The Blonde Butler, we believe that every detail matters. That's why we offer a comprehensive equipment hire service that covers all your event needs, ensuring convenient setup and plenty of style. Whether you're hosting an event at home or on location, we can arrange all the necessary professional equipment.
From tables and chairs to glassware, our equipment collection is designed to enhance aesthetics and offer functionality. If you're planning a bar setup, we can supply equipment that allows you to serve your guests with finesse. And if you prefer not to use your kitchen, we can provide kitchen equipment for on-site food preparation.
We're here to simplify your event planning with a full equipment solution, all in one place. From our furniture hire to our focus on the finer points, you can be confident that your event will be well-organised and leave guests thoroughly impressed.
Of course, a wedding buffet should reflect your unique love story. Showcasing your individual style; our buffets are a one-of-a-kind dining experience like none other.
Picture your dream wedding buffet featuring beautiful dishes that guests can graze on. From elegantly presented proteins like succulent roast chicken and mouthwatering beef tenderloin, to exquisite sides such as honey-roasted carrots and vibrant radicchio salad, our dishes delight both the eye and the palate.
At The Blonde Butler, we're not just providing a meal but designing a food journey that aligns with your wedding's theme and style. Every bite taken will be a delightful memory that lingers long after the celebration ends.
With our wedding buffet service, you can enjoy the benefits of a premium dining experience without the hassle. Let us curate a delicious feast that adds to the joy and beauty of your special day.
We recognise that each guest brings their own dietary preferences and needs to the table. Our chefs will ensure that everyone can indulge without hesitation. We cater to vegetarian, vegan, and gluten-free diets and any other special requests. Trust us; you can fully embrace the event without concerns about the guest dietary requirements.
A great buffet is a feast for the senses, a visual spectacle of colour and flavour. That's why we offer a unique food experience that is as impressive as it is delicious. With absolutely amazing food and stunning presentation, we bring your buffet ideas to life throughout Sydney.
Whether it's a private celebration or a corporate event in the CBD, our menu options deliver the perfect experience. From delicious proteins and tasty sides to the convenience of boxed buffet menus, we've got your next event covered. Let us bring flavour, presentation, and convenience to the table.
Reach out to us now to discuss your requirements, and let us bring the magic of our buffet catering to your next Sydney gathering.