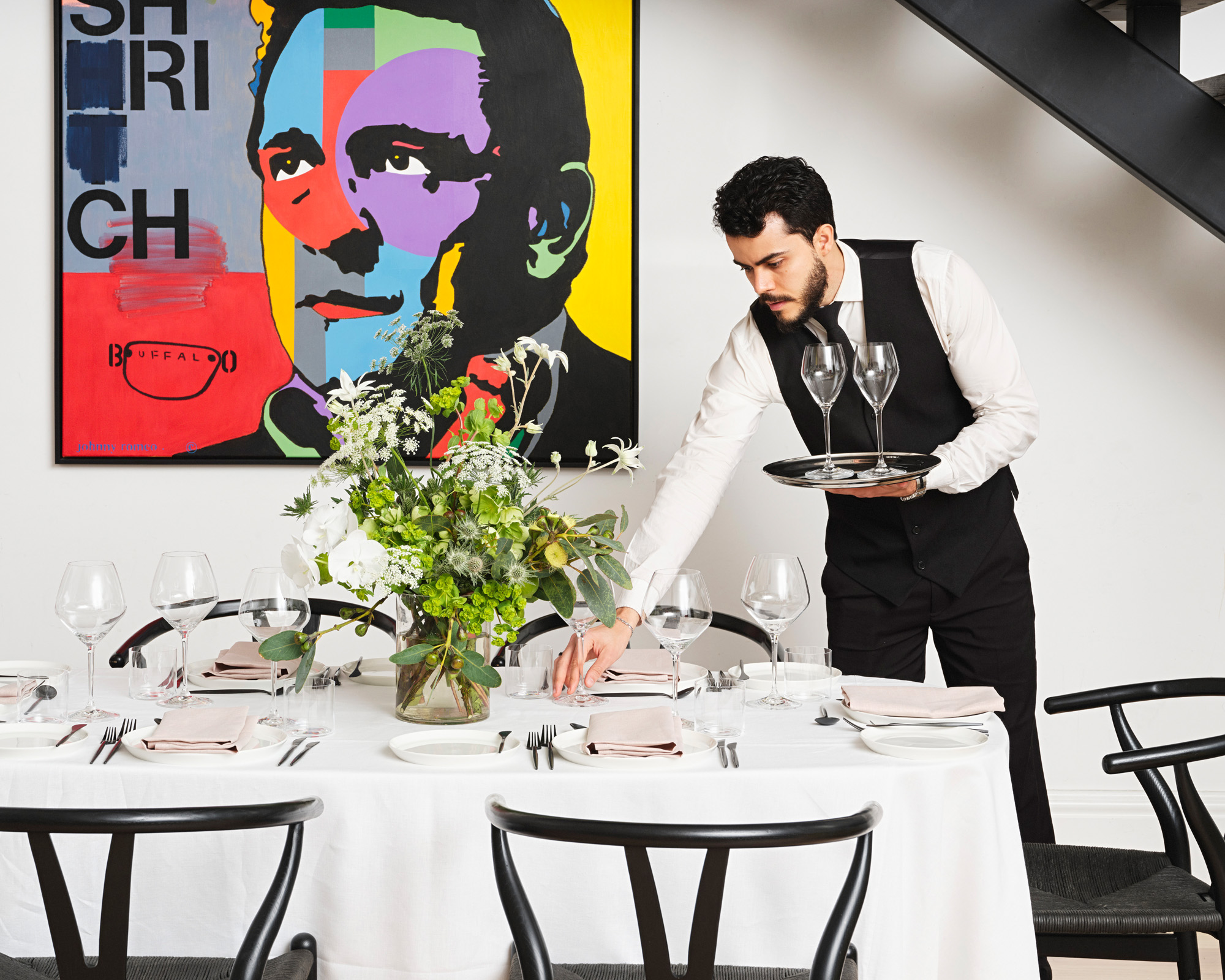 At Home Catering Sydney: Bringing the Party Home
Celebrating life's special moments often occurs in the warmth and comfort of your own home. Whether it's a birthday party, an intimate anniversary, a lively engagement party, or a cosy Sunday lunch, hosting a private event at home is a wonderful way to celebrate. However, the thought of planning, cooking, and serving can be a real turn-off. That's where The Blonde Butler Catering comes in, your trusted partner for Sydney party catering.
Imagine hosting a special occasion where you can savour every moment without the stress of cooking or serving. Turn your home into a gourmet dining destination with The Blonde Butler at the helm. We promise great food and service, ensuring an stress-free experience for your next event.
A beautiful private event begins with canapes. These bite-sized morsels set the stage, offering flavours and artistry to impress your guests. From classic favourites to innovative creations, our canapes are designed to set the tone for an amazing night ahead.
Start with a fresh burst of flavour like Spring pea tart with whipped goats curd, lemon & mint, or chat potato with horseradish creme and chives. Try warm classics like Prawn toast with sriracha & shallot or miniature beef bourguignon pies. As the night kicks on, progress to our more substantial options like a wagyu flank steak skewer with charred onion or a miniature truffled three cheese toastie. Finish off on a sweet note with desserts like a miniature chocolate, cherry and coconut tart.
For those who prefer a more casual yet visually stunning experience, our grazing tables are the perfect choice. These abundant tables of delicious food, artfully styled with foliage, florals, and fresh produce, make a serious impact. Grazing tables can easily feed a crowd and offer something for everyone. Whether you're hosting a birthday brunch or a garden party, our grazing tables elevate your event's aesthetics.
Of course, every gathering is unique. That's why we offer specialised grazing table styles to suit your event's theme. Whether you opt for a delightful brunch, an elegant cheese and charcuterie spread, an opulent seafood station, or a decadent dessert bar, our grazing tables are designed to impress.
Dinner Party Catering Sydney: Plated Menus
If your private event calls for an elegant sit-down affair, our plated menus deliver sophistication and finesse. We deliver only the best food, from contemporary main courses to delicious desserts, catered to your style. The result? A dining experience your guests will rave about.
Our sophisticated plated menus feature a melange of flavours, textures, and visual appeal – on par with what you would expect from a Sydney fine-dining establishment. Select your favourites, like:
Start your dining experience with a fresh entree like Hiramasa kingfish, delicately balanced with buttermilk, finger lime, jalapeno and micro coriander. 
Alternatively, juicy sous vide then roasted chicken breast with textures of corn and Aleppo pepper. For a vegetarian option, our beetroot dish combines stracciatella, walnut, roasted grapes and vinaigrette.
The star of your dining experience, our main courses offer a diverse range of options. We roast barramundi and serve it with roasted heirloom carrots, romesco and pistachio dukkah.
Our pepper crusted wagyu tenderloin with white bean puree, salsa verde and green beans is one of our most popular main dishes. Another signature is our delicious pork belly, complemented by apple, braised pencil leeks, purple cabbage & cider jus.
Complete the dining experience with an exquisite dessert. The Belgian chocolate tart with creme fraiche and salted peanut brittle, is a beautiful blend of sweet and savoury.
Alternatively, our caramelised white chocolate panna cotta, served with malt biscuit crumb and freeze dried mandarin is a sensation. Our Eton Mess with blackberry, passionfruit and mascarpone is a classic. And, of course, let's not forget our cheese buffs. Our cheese plate offers a selection of local and international cheeses served with premium crackers, dried fruit and paste.
Communal Feasting with Buffets
Buffets are another excellent option when planning a private party at home. You can choose from our standard buffet setup, beautifully presented platters with a variety of mains and sides. Or, opt for a more communal feel with our family-style service, where dishes are served on share plates down the centre of the table. This approach encourages conversation and enables guests to continue to help themselves without leaving the table.
Buffet catering offers dishes to appeal to all palates and preferences, promising a fabulous dining experience for all guests. Feast your senses with favourites like:
Porchetta rolled with wild garlic, fennel & rosemary is complemented by salsa verde and seasonal relish.
Roast chicken is adorned with sweet pea puree and fried cavolo nero for a gluten-free sensation. For meat lovers, our beef tenderloin is served simply with horseradish creme and fresh watercress.
Any buffet is incomplete without perfect sides. Charred asparagus is drizzled with lemon olive oil and sprinkled with shaved pecorino.
Heirloom tomatoes are paired with peach, buffalo mozzarella, basil and vincotto dressing. Roast potatoes, seasoned with rosemary salt, promise a comforting and gluten-free accompaniment. Lastly, the radicchio salad, with red oak, soft herbs and chardonnay vinaigrette, provides a vibrant pop of flavour.
At The Blonde Butler, we believe that culinary excellence is about crafting an unforgettable dining experience. Our buffet offerings combine exquisite proteins and tasty sides to create a range of flavours that cater to every palate. Whether you love meat, seafood or vegetarian food, our buffet menus tick the box.
No celebration is complete without dessert. The Blonde Butler offer beautiful desserts to satisfy every sweet tooth. Whether you prefer plated desserts, roaming dessert service, or a dessert grazing table piled with decadent treats like cakes, tarts, biscuits and berries, we have you covered.
Professional Catering Service and Equipment for Private Events
To ensure your private event runs seamlessly, The Blonde Butler provides the option for professional wait staff who can set up your event, carry out food and beverage service, and handle the post-event cleanup. You can relax and enjoy yourself while we take care of the details.
We also offer equipment hire services. From tables and chairs to glassware and bar equipment, we can provide all your professional equipment. If you'd prefer not to use your kitchen space, we even offer kitchen equipment for hire.
To complement our exceptional cuisine, we offer beverage packages that include a selection of wines, beers, soft drinks, coffee and tea, and mineral water. For a touch of elegance, consider adding cocktails and premium spirits to your event. Whether you want a signature cocktail on arrival or a well-stocked bar throughout your event, our team will supply it.
What Our Clients Have to Say
The Blonde Butler were an absolute pleasure to deal with and extremely accommodating with our catering needs at our recent function in the Paspaley Pearls showroom in Martin Place. Amanda was so easy to communicate with and their staff were extremely efficient and polite. Their food suggestions were delicious and beautifully presented. I can thoroughly recommend The Blonde Butler and I am looking forward to engaging them again for our next event.
Delicious and efficient. The Blonde Butler was so professional and easy to deal with. Canapes were amazing as were the waitstaff. Highly recommend!
The Blonde Butler team is exceptional from beginning to end. Outside of creating incredible menus and delicious food – their organisational skills, communication and service is second to none. When running an event, I never have any stress when the Blonde Butler team is on board. We love working with team BB and would highly recommend them to any of our clientele.
The Blonde Butler worked with us on an event at Carriageworks. It was such a seamless process and Annabel jumped through loops to ensure the food was perfect. They customised everything to cater to our event and it all ran so smoothly. Thank you so much for coming on board! 100% recommend The Blonde Butler.
I call on Alex and the Blonde Butler team for everything - from my wedding of 200px, to work events, kids' parties, or last minute family Christmas lunch. Always extraordinary food & service, guests/clients impressed and a huge weight off my shoulders. Thanks again for today's 6th birthday catering, done with care & perfection.
The Blonde Butler team was amazing! The food, the service and even the level of cleanliness post the event were first class!
Amanda and her team were amazing from start to finish in helping us pull of a unique dinner, from furniture hire and set up through to staffing and catering. Everything was 5 star. We can not go past the service delivered and look forward to using the Blond Butler team again for our Sydney based events in the future!
Celebrate your love story with the warmth and familiarity of your own home as the backdrop. Our at-home wedding catering service is designed to transform your intimate celebration into an unforgettable experience. The Blonde Butler can direct the whole process from the initial event planning stage to the service.
We bring our premium catering service directly to your doorstep. Our chefs will design a bespoke menu to suit your style so that every dish is a testament to your love story. From elegant canapés to sophisticated plated meals, we'll create the wedding feast you dream of on your special day.
As the sun sets, creating a magical atmosphere in your backyard or living room, with tempting desserts to sweeten the occasion. Whether you choose a plated dessert or an extravagant dessert grazing table to accompany your wedding cake, we promise it will be unforgettable.
Home Party Catering Sydney
We know the deep significance of having guests in your home for a special event. That's why our private Sydney caterers tailor everything to meet your style. Contact us today to start planning the perfect private celebration set in the comfort of your own home. Celebrate your significant life moments with style, elegance, and the exquisite flavours of The Blonde Butler.