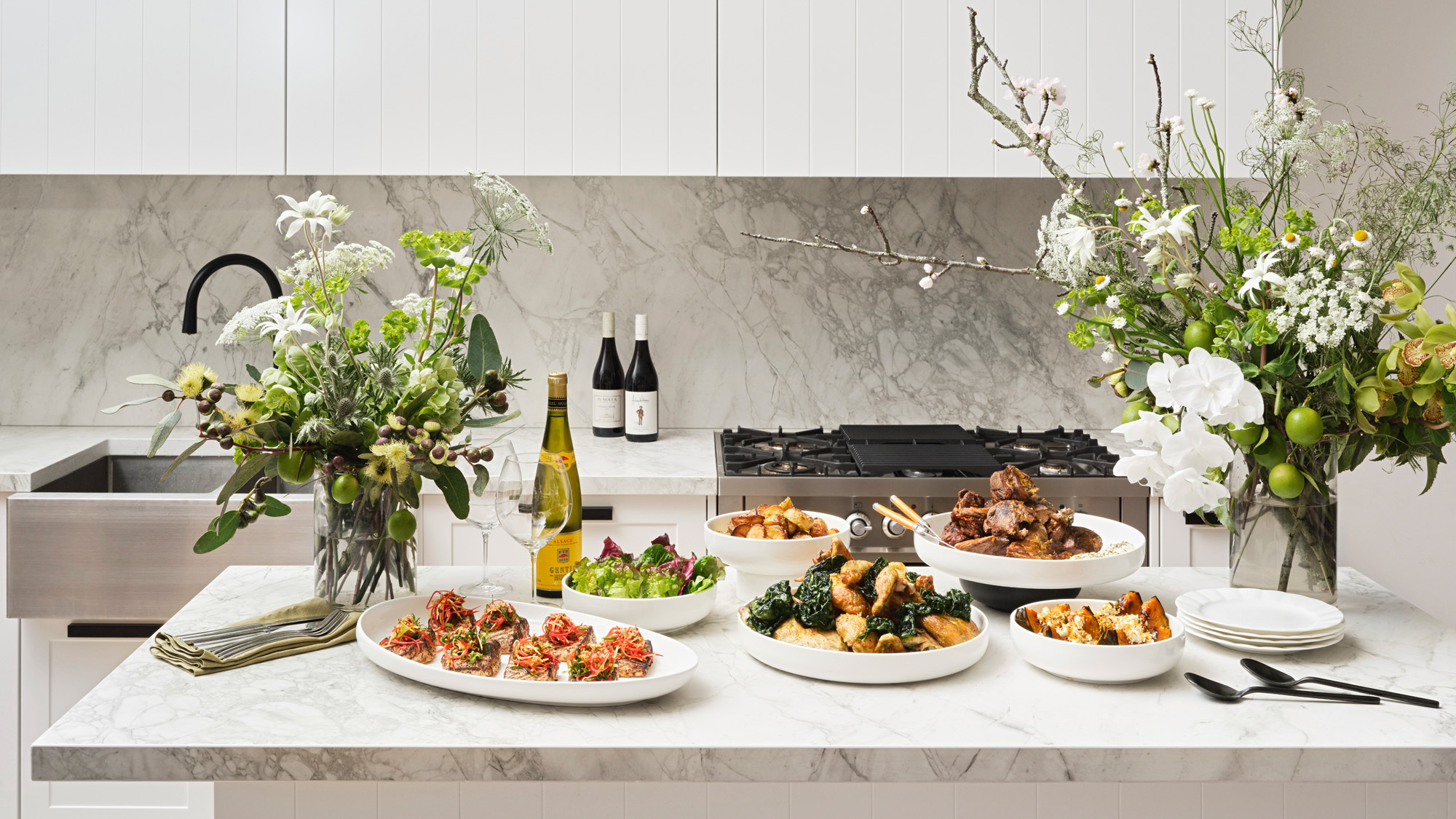 Stylish Event Catering in Chatswood
Welcome to Chatswood, a thriving Sydney suburb that plays host to a range of exciting events and special occasions. The Blonde Butler is here to be your trusted catering partner in the Chatswood area. With our focus on exquisite cuisine, impeccable service, and attention to detail, we make your private and corporate gatherings memorable.
Private Events: Memorable Celebrations
When it comes to private events, The Blonde Butler is the go-to caterer for stylish, flavoursome food and beverages. From stylish dinner parties to lavish birthdays and joyous engagement parties, we know how to take your celebration to the next level. Our executive chef designs unique menus to suit your occasion, ensuring that every dish is a standout.
For cocktail parties, our canape options are sure to impress. From bite-sized finger food to more substantial options like sliders and tacos, our cocktail menus cater to various palates. We also create composite dishes served in bowls, showcasing a fusion of flavours and textures. And let's not forget the decadent dessert canapes that provide the perfect sweet ending to your special occasions.
Our plated meals and shared banquets offer a refined dining experience for more formal occasions. From beautifully presented entrees to mouthwatering mains and enticing desserts, each course is crafted with precision and care.
Corporate Catering Chatswood
Of course, making a lasting impression on your corporate clients is vital. At The Blonde Butler, we understand the dynamics of corporate functions and will create a menu that meets your objectives and heightens your brand. Whether you're planning a business dinner, a networking event, or a brand launch, Blonde Butler will help you leave a lasting impact on your colleagues, clients, and guests.
For business meetings and luncheons, our boardroom-style lunches are ideal. With plated 2-3 course meals, guests can indulge in a delicious culinary experience while discussing important matters. Our buffet options with various mains, sides, and bread rolls are ideal for larger corporate gatherings, providing a range of delicious hearty options to satisfy the whole crowd.
Our themed buffets and food stations are a hit for casual corporate events or office catering. Whether you want to take your guests on a culinary journey with an Italian-inspired spread or a globally-inspired fusion menu, we can create a delicious themed buffet. Food stations add an interactive element to your event, allowing guests to customise their plates and explore different flavours.
Cuisine and Setup: Diversity and Excellence
We pride ourselves on offering diverse cuisines and setups to suit every occasion. From Mediterranean delights to Asian fusion, our menu options feature a variety of culinary influences. Our chefs create beautiful dishes that showcase the finest ingredients, ensuring a memorable experience.
We understand that the setup and presentation of the food play a crucial role in creating an impact. That's why we pay meticulous attention when it comes to styling and presentation. Every setup is designed to impress, from elegant grazing tables adorned with fresh produce and artisanal cheeses to beautifully plated meals and thoughtfully decorated food stations.
The Blonde Butler is here for all your Chatswood events. Whether it's a grand wedding reception, a stylish cocktail party, a corporate event, or a casual backyard barbecue, we have the expertise to deliver the perfect guest experience.
Our delicious menus span the entire day, from breakfast to morning tea, lunch, afternoon tea, dinner and beyond. Whether you're seeking a light and refreshing menu for a morning meeting or an indulgent feast for an evening celebration, our team will design a food experience that fits the occasion.
Drop Off-Catering: Affordable and Beautiful Boxed Lunches
Affordable elegance can be delivered! Boxed by Blonde Butler offers a diverse range of delicious food options for any time of day, conveniently delivered ready to go. No chef is required on site. Simply place your order via our website with a minimum of 48 hours notice, and we will deliver to any venue in Chatswood.
From breakfast items, morning tea to afternoon tea, lunches, to cold and hot canapés to accompany Friday night drinks, organising catering to be delivered has never been easier.
Flexible Catering Services: On-Site and Drop-Off Options
The Blonde Butler offers the utmost flexibility. Whether you require the seamless experience of on-site service or simply want the convenience of drop-off catering, we have you covered.
Our on-site catering service is the complete dining experience, where a professional team will set up and manage the service at your event. From the setup to the clean-up, we take care of every detail, allowing you to focus on your guests and the success of your event.
On the other hand, our drop-off catering option is perfect for when you want to enjoy our delicious cuisine at the most affordable price in the comfort of your chosen venue. We carefully package and deliver the food, ensuring it arrives fresh and ready to be enjoyed.
Whether you opt for drop-off or on-site catering, we offer the same high-quality food and service Blonde Butler is renowned for.
Customised Menus for Every Guest
We understand the importance of catering to diverse dietary requirements. Our menus can be fully customised to accommodate specific needs, ensuring that all guests are cared for. Our chefs create stunning vegetarian, vegan, gluten-free and other specialised options that taste delicious. We believe everyone should be able to enjoy exquisite food, regardless of dietary restrictions, and we are committed to pleasing every guest.
Let us take care of your guests' dietary needs, so you can focus on hosting a remarkable event.
Of course, a great selection of beverages is essential to complement your culinary experience. Whether it's a corporate function or a private event, quality beverages are vital. From refreshing juices and soft drinks to a curated wine list and premium spirits, we have a wide range of choices to suit every taste. Our professional bartenders and baristas craft signature cocktails and perfect lattes to impress your guests. Whether you opt for a fully staffed bar or a self-serve station, our team ensures the drinks are always on point.
If requested, we can create a bespoke drink menu tailored to your event. From signature cocktails inspired by the theme of your occasion to a selection of wines that complement your chosen cuisine. Whether you prefer a classic and elegant approach or a trendy and innovative twist, our drink options will undoubtedly be crowd-pleasers.
Event Resources: Furniture Hire, Equipment, and Styling Recommendations
As your trusted partner in Chatswood, The Blonde Butler goes beyond food and beverages to assist you with event resources. If requested, we offer recommendations for the best suppliers of furniture hire, equipment, and styling in Sydney. Whether you need special furniture, glassware or eye-catching decor, we can assist. From table settings to lighting and decor, we can connect you with trusted professionals. When you work with The Blonde Butler, we streamline your planning process, saving you time and effort.
Trust The Blonde Butler For Your Event in Chatswood
When it comes to catering in Chatswood, The Blonde Butler is the standout choice. We bring passion, creativity, and gourmet excellence to every event. Contact us today to discuss your catering needs, and let us make your next event in Chatswood truly exceptional.