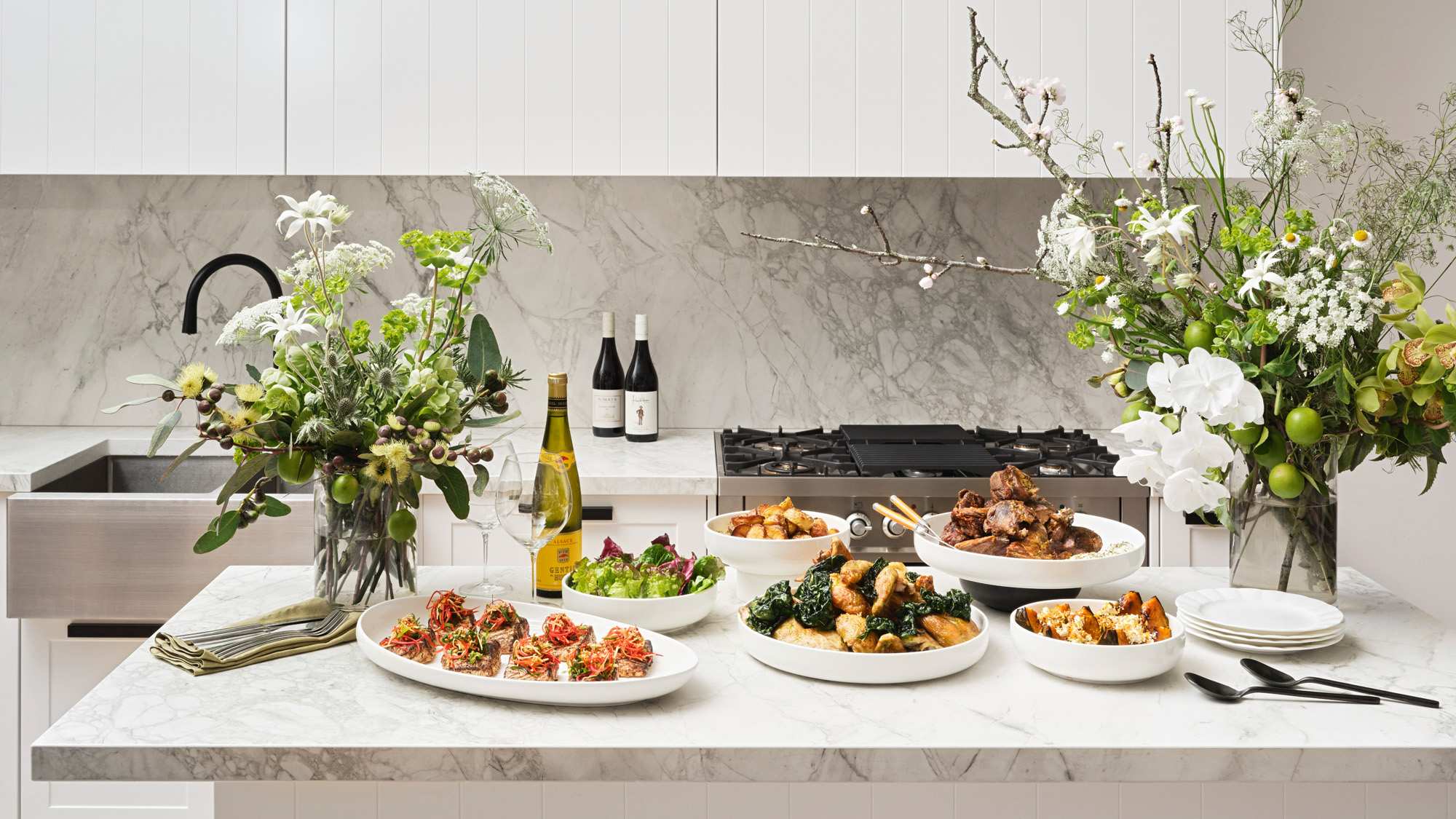 Elevate Your Macquarie Park Events
Welcome to The Blonde Butler, your go-to gourmet partner for extraordinary events in the dynamic Macquarie Park area. Whether you're hosting a private gathering or a corporate affair, we specialise in crafting unique, unforgettable food experiences that make an impression on your customers, clients and guests.
Private Events in Macquarie Park: An Experience Like No Other
From intimate celebrations to grand parties, our team at The Blonde Butler is dedicated to making your private events in Macquarie Park truly special. Whether it's a birthday bash, engagement party, baby shower, or relaxed Sunday lunch, we bring a touch of culinary magic to every occasion. Our custom menus are carefully designed to suit your preferences and cater to any dietary requirements, ensuring that all guests are treated to exceptional flavours and beautifully presented dishes.
From mouthwatering canapes to beautifully styled grazing tables and tasty dessert offerings, our menus are crafted to suit all taste profiles. Whether you prefer a formal plated meal or a more casual food station setup, we can create a bespoke experience that aligns with the tone of your event.
Corporate Catering Service: Business Events & Office Catering
For businesses in Macquarie Park, our corporate catering services deliver the perfect blend of professionalism and culinary excellence. Whether you're planning boardroom meetings, networking events, team training sessions, customer events, brand launches, or conferences, we will make your office catering a company highlight.
For boardroom meetings, our plated two to three-course lunches add an air of sophistication and ensure that your guests are well cared for. Alternatively, our themed buffets and food stations provide a delightful culinary experience for larger corporate gatherings, allowing guests to mingle and savour an assortment of delicious dishes.
There's a menu option to suit every type of company event, from formal plated lunches to themed buffets and grab-and-go sandwich platters. You can focus on your business objectives while we care for your guests.
Innovative Cuisine and Custom Menus
The Blonde Butler takes pride in innovative food and artfully crafted dishes. From contemporary Australian fare to international influences, our custom menus can be tailored to suit your event's theme. Whether it's a multicultural feast or an intimate cocktail party, our team ensures a dining experience that's second to none.
Catering to Dietary Preferences: Everyone's Invited
We believe that exceptional catering is inclusive catering. At The Blonde Butler, we are committed to providing options that suit dietary preferences and requirements. Our chefs create beautiful dishes to accommodate vegetarian, vegan, gluten-free, and other specialised diets so all guests can enjoy them. We understand the importance of ensuring everyone feels welcome and catered to, and our custom menus reflect that commitment.
Cheers to Unforgettable Moments!
Quench your guests' thirst with quality drinks that complement our signature menus. From premium wines and refreshing beers to handcrafted cocktails and mocktails, our beverage selection caters to all. Make a champagne toast, enjoy a signature cocktail on arrival, or keep your guests refreshed with a range of non-alcoholic options. Cheers to unforgettable moments and impeccable taste!
On-Site Catering: Seamless Service from Setup to Cleanup
The Blonde Butler provides on-site catering services to make your event seamless and stress-free. Our team of specialists will organise every detail, from setup to cleanup, allowing you to focus on the occasion's success. With our staff on-site, we ensure a flawless dining experience for all attendees.
Drop-Off Catering: Convenient and Delicious
Affordable elegance can be delivered! Boxed by Blonde Butler offers a diverse range of delicious food options for any time of day, conveniently delivered ready to go. No chef is required on site. Simply place your order via our website with a minimum of 48 hours notice, and we will deliver to any venue in Macquarie Park.
Our on-time delivery service is the perfect choice for those seeking more flexible and affordable catering options. Whether for corporate events or at-home gatherings, our drop-off catering offers beautifully boxed delicious food delivered directly to the door in Macquarie Park, North Ryde, Sydney CBD, North Sydney and beyond. Enjoy the convenience of having delicious cold and hot food at your fingertips, ready to be served and savoured whenever you feel like it.
Whether planning a grand wedding reception, an elegant cocktail soirée, a professional corporate event, or a laid-back backyard gathering, we are here to make your gathering shine. From the break of dawn to the evening hours, our versatile menus cater to any time of day. Enjoy a fresh, energising breakfast spread for a morning meeting or a luxurious culinary affair for a night of celebration. Blond Butler Macquarie Park caterers are your go-to for gourmet celebrations of every kind.
Your Wedding Catering Specialists
Celebrate your love story in style with unforgettable engagement parties and weddings in Chatswood. Whether you envision an intimate garden gathering or a lavish reception in an elegant venue, The Blonde Butler will bring a special high-quality menu that is a true reflection of your love. We will plan and execute every aspect of your wedding, from personalised menus to seamless service throughout the event. Our beautiful food creations will be a wedding highlight, from mouthwatering canapés to hearty main courses and divine desserts. With our passion for creating magical moments, The Blonde Butler Catering is here to make your dream wedding a reality.
We'll go the extra mile to ensure that your event is everything you dream them to be. Our event coordinators listen to your ideas, offering guidance and planning support to bring your vision to life. From recommending the best venue options to coordinating with external suppliers for furniture, equipment, and styling, we make your event planning experience effortless.
Let's Create Your Perfect Event
Exquisite cuisine, impeccable service, and unforgettable moments. Let us be your culinary partner in Macquarie Park and transform your events into extraordinary occasions. Contact us today to discuss your special requirements, and let us bring The Blonde Cutler touch to your Macquarie Park office, home or Sydney venue.