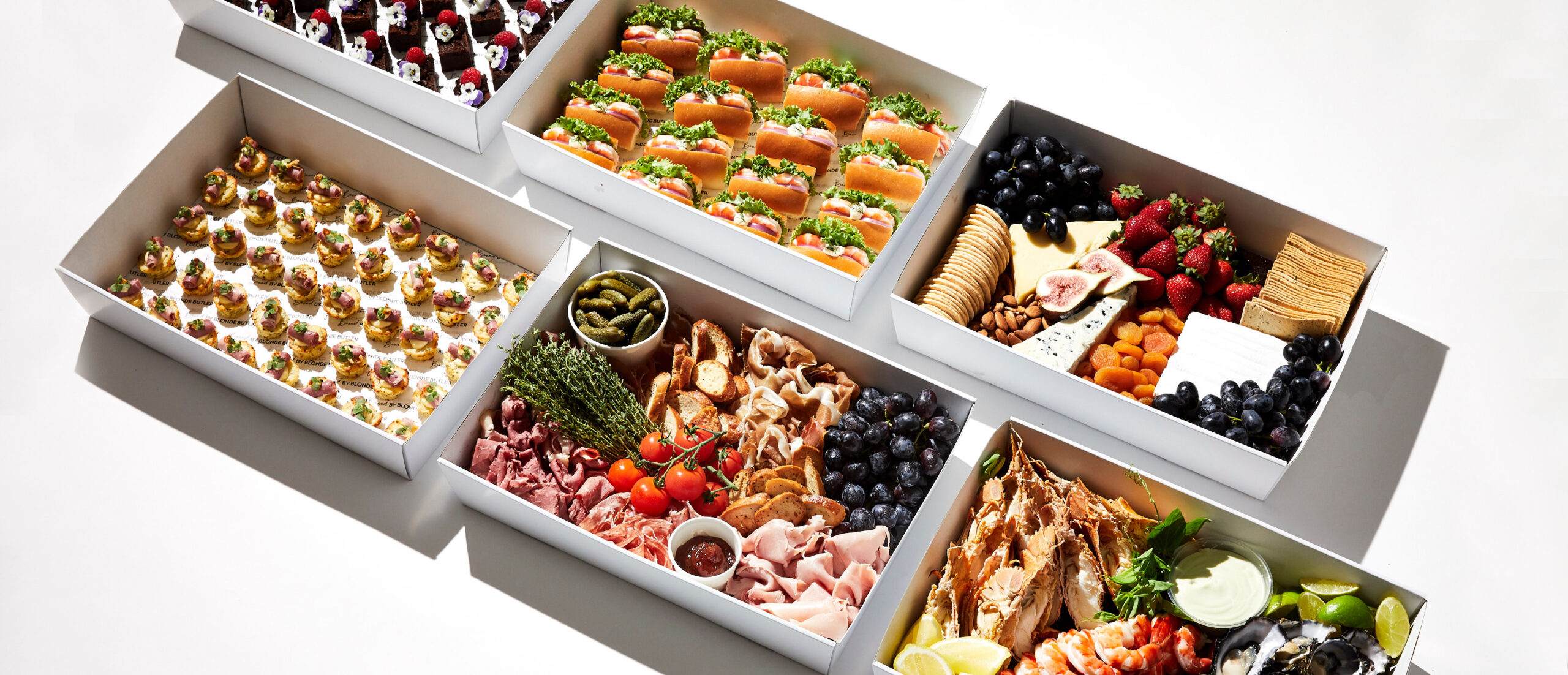 Your Premier Catering Company, North Sydney
Blonde Butler Catering serves the diverse market of North Sydney, catering to both private and corporate events with equal passion and dedication. Whether you're organising a personal celebration like a birthday party, engagement, or baby shower, or planning a high-profile corporate function like a brand launch or conference, our flexible catering services will meet your individual needs.
Our talented team creates tailored menus and experiences that cater to various occasions. From elegant plated dinners and themed buffets to interactive food stations and grab-and-go options, we deliver exceptional culinary experiences that will impress your guests and make your North Sydney event truly unforgettable.
Corporate Catering North Sydney: Elevate Your Business Event
Enjoy exceptional food experiences for all your business events. From boardroom meetings and networking events to team training sessions, customer events, brand launches, and conferences, The Blonde Butler has your corporate gatherings covered. Our dedicated team of chefs and event professionals is committed to delivering excellence, ensuring your business events are elevated, memorable, and seamlessly executed.
Unforgettable Culinary Experiences
Corporate events require a unique blend of professionalism, creativity, and culinary excellence. That's why we offer catering services tailored specifically to meet the needs of North Sydney businesses. From small boardroom meetings to large-scale conferences, we have the expertise to create extraordinary culinary experiences that impress your clients, colleagues, and guests.
We know the importance of providing an exceptional dining experience for North Sydney's business crowd. Our formal plated 2-3 course boardroom style lunches are perfect for those seeking an elevated dining experience. From entrees to main courses and desserts, our talented chefs execute a full-service dining experience to parallel a top-tier Sydney restaurant. For larger crowds, our delicious buffets offer a high-quality, beautifully presented corporate dining experience. We can use your kitchen facilities on site or bring in the necessary set up ourselves.
For events that require a more casual and interactive dining experience, our interactive food stations are designed to feed large groups. Choose unique concepts, like authentic Mexican tacos or Southern-inspired beef brisket with the classic accompaniments, for a cohesive food experience that complements your event theme.
One of our specialties is serving a premium breakfast that meets the high standards of Sydney-siders. Our breakfast offerings are designed to inspire productivity and create a welcoming tone for your corporate guests. From refreshing juices and barista made coffee to freshly baked pastries, nutritious yogurt bowls and hot-plated breakfasts, we have a range of delicious food menus and versatile setups, including grazing tables and buffets.
Drop Off-Catering: Affordable and Beautiful Boxed Lunches
In today's fast-paced world, convenience and affordability are essential. Boxed by Blonde Butler offers a hassle-free, budget-friendly solution that doesn't compromise quality or taste. Whether it's breakfast, morning tea, afternoon tea, sandwiches, salads, individual packed lunches, or buffets, our freshly prepared options are designed to make your casual occasion a culinary success. Order online for convenient delivery to the doorstep, and we'll deliver your food in chic white boxes ready to be served. Meaning no chef or team of staff are required on site.
After Hours Catering in North Sydney
When it comes to cocktail events, making a lasting impression is vital. The Blonde Butler specialises in canapé catering that makes an impact, combining elegance, sophistication, and artistry. Our exciting menus include bite-sized finger food, substantial options and desserts. Each creation is designed as finger food to be enjoyed while standing, allowing guests to move about the venue and mingle.
Tailored Menus for Your Corporate Event
We take pride in our ability to curate bespoke menus that align with your business objectives, brand identity, and event theme. Our chefs use high-quality seasonal produce sourced from local suppliers to craft beautiful food that caters to the entire crowd. From gourmet canapes and plated meals to interactive food stations and themed buffets, our beautiful food is designed to delight the senses and leave a lasting impression.
Versatile Offerings for Every Occasion
While our focus is on corporate occasions, we also cater to private events in North Sydney. Whether you're throwing a cocktail party, a celebratory engagement or anniversary, or a lavish wedding reception, Blonde Butler is your ideal partner. We work closely with you to understand your vision, preferences, and budget, creating a tailored menu to surpass all expectations.
Exceptional Service: Going Above and Beyond
At The Blonde Butler Catering, we go the extra mile to ensure your North Sydney events are a resounding success. Our dedicated events team offer planning advice, guidance and support to bring your vision to life. From recommending the best venue options in North Sydney to coordinating with external suppliers for furniture, equipment, and styling, our team makes event planning effortless.
Dietary Considerations: Inclusivity and Quality
Dietary restrictions and preferences are a common consideration in corporate and private events. That's why we offer menu options to cater to dietary requirements. Our team creates delicious dishes that accommodate vegetarian, vegan, gluten-free, and other specialty diets. We prioritise using top-quality ingredients, ensuring every guest enjoys a flavourful dining experience.
Unforgettable Experiences: Memorable Moments
At The Blonde Butler, we believe that every event should be memorable. Beyond exceptional food and service, we love to create unique experiences your guests will enjoy. From innovative presentation styles to interactive food stations and stunning dessert displays, we add a touch of creativity and innovation to elevate your event and leave a lasting impression on all attendees.
Your Premier Sydney CBD & North Sydney Caterers
The Blonde Butler is your top Sydney caterer for both corporate meetings and private gatherings. With our tailored menus, professional service, and attention to detail, we bring excellence to every occasion. Contact us today to discuss your catering options, and let us bring The Blonde Butler touch to your next event.