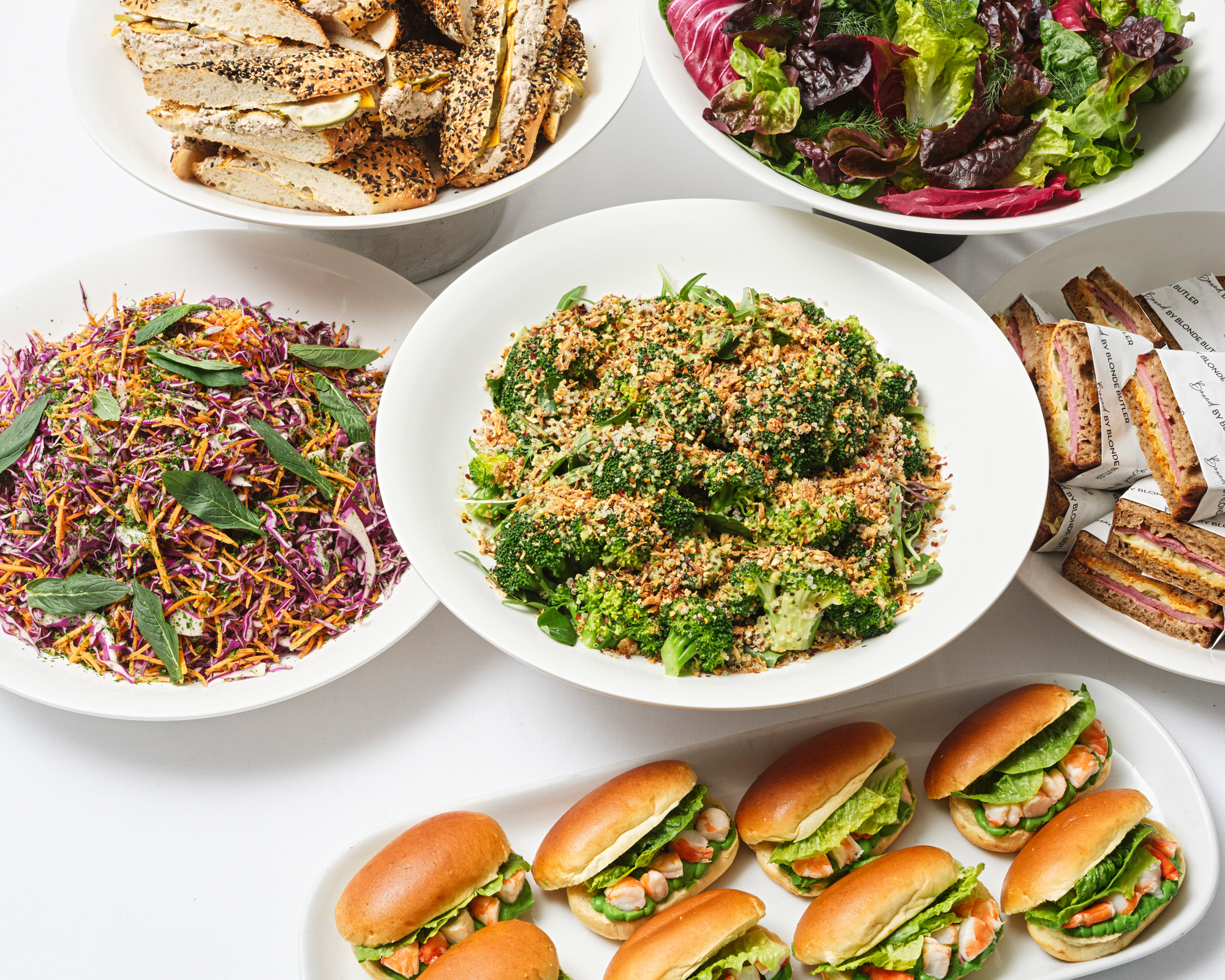 The Blonde Butler Corporate Catering Parramatta
Welcome to Parramatta, a vibrant business hub in Western Sydney, where The Blonde Butler brings first-class catering services to the corporate world. With our culinary expertise and flawless service, we elevate your business events to new heights.
At The Blonde Butler, we understand the importance of catering to the unique needs and preferences of the corporate market. From boardroom meetings and networking events to conferences and brand launches, our catering services are tailored to suit a wide range of business occasions. Our stunning food, quality ingredients and flawless service bring elegance and sophistication to all your Parramatta corporate functions.
Formal Plated Meals: Exquisite Dining Experiences
For formal corporate events, our plated meals are the epitome of fine dining. Indulge your guests with a 2-3 course dining experience that showcases the culinary skills of our in-house chefs. From succulent meats and seafood to delicious vegetarian options, each dish is cooked on-site using the finest ingredients.
Buffets and Food Stations: Versatile and Engaging
If you're looking for a more interactive and versatile catering option, our buffet and food station setups are perfect for engaging your guests. Entice them with a smorgasbord of delicious choices, from hot and cold dishes to vibrant salads and mouthwatering sides. Our skilled chefs will prepare a delicious range of dishes, ensuring that every attendee is satisfied. From themed buffets to customisable food stations, our team will create an enticing food journey to be remembered.
Grazing Tables: Abundance and Style
Our grazing tables are a stunning option to add a touch of visual appeal and abundance to your corporate events. These beautiful tables flow with an assortment of delicious bites, including artisan cheeses, cured meats, fresh fruits, antipasti, and more. Grazing tables create a focal point for guests to gather around, fostering conversation and connection. Their visually stunning presentation makes them a perfect addition to cocktail receptions, networking events, and corporate celebrations.
Canapés and Finger Foods: Elegant and Convenient
Our canapés and finger foods provide an elegant and convenient catering solution for cocktail-style events or networking functions. From delicate canapés to savoury finger foods, each piece is meticulously crafted to look and taste incredible. Let your guests mingle and network while indulging in a memorable and enjoyable experience.
Customised Menus and Personalised Service
At The Blonde Butler, we believe in the power of customisation. Let us know your corporate catering needs, preferences, and dietary restrictions, and we will customise a menu to your liking. Whether you need gluten-free options, vegetarian or vegan alternatives, or special dietary accommodations, our team will create menus to suit your requirements. Our event managers will guide you through the planning process, ensuring a stress-free experience from start to finish.
Exceptional Service: Making Your Event Shine
Our professional staff are dedicated to ensuring that every aspect of your corporate event in Parramatta is executed flawlessly. We are here to make your event shine and leave a great impression on your guests. From the initial consultation to the final execution, our team will work closely with you to ensure your corporate gathering runs smoothly.
Boardroom Meetings: Enhancing Productivity and Collaboration
For your important boardroom meetings, The Blonde Butler offers a range of catering options designed to enhance productivity. Our breakfast packages provide a perfect start to the day with freshly baked croissants and pastries, fresh fruits, and specialty coffee and tea. Our plated meals and buffet lunches are convenient and delicious for lunch, allowing your team to refuel and stay focused. From start to finish, we ensure that your boardroom catering experience is streamlined and refined.
Networking Events: Impress and Engage
Networking events and cocktail parties are great opportunities to form new relationships and make an impression. With The Blonde Butler party catering, you can engage your guests with our delicious finger food and impeccable service. Our canapés are designed to satisfy while facilitating networking and conversation. From elegant bite-sized pieces to flavour-packed mini-meals, we offer an enticing selection to suit every taste. Let us create an unforgettable culinary experience that adds sophistication and charm to your Parramatta networking event.
Office Catering: Fueling Success
Productive team training and workshops require sustenance to fuel success. At Blonde Butler, we deliver great food that keeps your team energised and focused throughout the day. Our Boxed brand features a variety of hot and cold dishes, vibrant salad bowls, and tasty sandwich platters, providing a balanced and satisfying meal. We can customise the menu to accommodate dietary requirements and preferences, ensuring that every team member is well cared for. With a well-fueled team, you create an atmosphere where ideas flow freely and productivity soars.
Customer Events: Creating Memorable Experiences
When it comes to customer events, first impressions matter. We understand the importance of creating memorable experiences that leave a lasting impact on your audience. Our catering services are tailored to showcase your brand's identity and impress your customers. From elegant plated dinners to stylish grazing tables filled with delicious bites, we curate menus that align with your event theme and elevate the dining experience. Our dedicated event managers will collaborate with you to understand your vision and execute it flawlessly, ensuring that your Parramatta customer event is a resounding success.
Brand Launches and Conferences: Making a Statement
Brand launches and conferences are opportunities to make a statement and leave a lasting impression. The Blonde Butler can help capture the essence of your brand through food creating a memorable experience for all attendees. Our fabulous menu options can be customised to reflect your brand's signature style and complement the event theme. Whether you prefer a formal plated meal, a dynamic buffet, or interactive food stations, we know how to bring your ideas to life. Let us take care of the culinary details while you focus on delivering a powerful and engaging brand experience.
Private Events: Celebrating in Style
In addition to our corporate catering services, The Blonde Butler is also well-equipped to cater to private events in Parramatta. Whether you're hosting an intimate cocktail party, a stylish engagement celebration, or a milestone anniversary, our team will create a culinary experience that reflects your unique style and vision. From elegant morning tea to stunning grazing tables and decadent dessert displays, we offer a range of options to suit any private occasion. Let us add a touch of sophistication and flair to your event, ensuring an unforgettable celebration for you and your guests.
Drop Off-Catering: Affordable and Beautiful Boxed Lunches
Affordable elegance can be delivered! Boxed by Blonde Butler offers a diverse range of delicious food options for any time of day, conveniently delivered ready to go. No chef is required on site. Simply place your order via our website with a minimum of 48 hours notice, and we will deliver to any venue in Parramatta.
From breakfast items, morning tea to afternoon tea, lunches, to cold and hot canapés to accompany Friday night drinks, organising catering to be delivered has never been easier.
Parramatta Catering: Let's Plan the Perfect Event
We are your trusted partner in creating exceptional corporate and private events in Parramatta. From office parties and working lunches to large corporate events, we have the expertise to deliver a memorable culinary experience tailored to your specific business needs. Contact The Blonde Butler today to discuss your catering requirements, and let us elevate your corporate event in the Parramatta area to new heights of success.