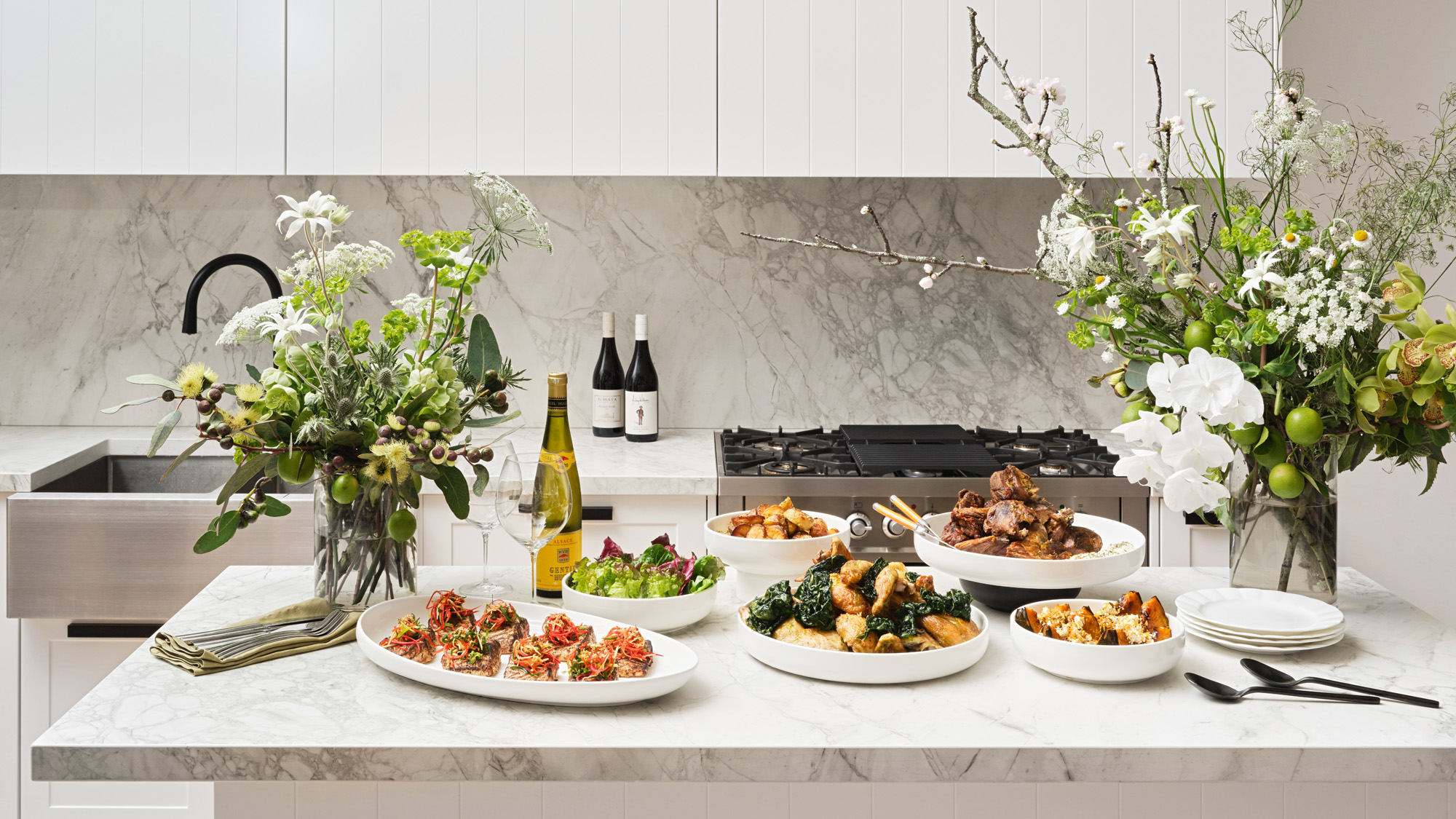 Surry Hills Catering Services: Elevate Your Events
The bustling neighbourhood of Surry Hills is renowned for its thriving food scene and lively atmosphere. When it comes to catering services for both corporate and private events in Surry Hills, The Blonde Butler is your go-to choice. With our passion for great food and commitment to exceptional service, we're here to make your next event one to remember.
Corporate Catering Services Surry Hills
For corporate events in Surry Hills, The Blonde Butler offers a range of catering options to suit your needs. Our corporate catering menus suit every occasion, from boardroom meetings to office staff parties.
Our corporate catering is designed to meet the diverse needs of businesses and organisations. From business functions and conferences to networking events and brand launches, we craft menus designed to make your corporate gatherings shine.
For formal events, our plated meals provide a sophisticated dining experience. Our chefs take select premium-quality produce and locally sourced ingredients so that we can serve your clients the style of elevated cuisine found in Sydney's top restaurants. Choose from a selection of enticing dishes beautifully executed by our chefs, ensuring the highest restaurant-quality taste.
If you prefer a more social setting, our buffet-style setups allow guests to indulge in a range of flavourful options at their own pace. Many clients like us to create themed buffets that align with an special event concept, adding an extra touch of creativity.
For an interactive dining experience, our food stations are perfect for fostering networking and collaboration. Guests can mingle and explore a variety of enticing food offers, from gourmet sliders and sushi rolls to vibrant salads and mouthwatering desserts.
Private Catering in Surry Hills: Celebrate in Style
Surry Hills is known for its lively and eclectic culture, making it the perfect backdrop for private events. The Blonde Butler promises to make your event truly special, whether you are throwing a seasonal party, a birthday celebration, or an intimate gathering with family and friends.
Indulge in our range of canapes, perfect for cocktail parties or stylish receptions. These bite-sized creations look and taste exquisite, impressing your guests from the moment they arrive. Our canapes can be tailored to suit your event theme or accommodate dietary requirements like gluten-free, dairy-free and vegan, ensuring everyone can savour the gourmet experience.
If you are planning a more formal affair, our plated or banquet-style buffets provide an indulgent dining experience. From elegant three-course meals to shared feasts with various mains and sides, our private event menus are designed to spoil your guests.
Customisation and Flexibility: Your Vision, Our Expertise.
From menu selection to dietary needs and setup style, we can adapt our catering services to suit your unique style. Our professional staff is experienced in working with different event spaces and venues in Surry Hills and has an efficient setup process. Whether you prefer formal dining or a more relaxed atmosphere, we aim to create an experience that reflects your style and vision.
Delicious Food Menus: From Classic to Creative
Our menus span from classic favourites to innovative creations, ensuring something for every palate and preference. For those seeking a traditional dining experience, our plated menus feature exquisite dishes, expertly prepared and beautifully presented. From tender meats and succulent seafood to vegetarian delights and beautiful desserts, our plated menus offer a refined and elegant dining experience.
If you're looking to create a more dynamic atmosphere, our grazing tables are a popular option. From artisanal cheese platters and charcuterie boards to fresh seafood displays and themed grazing tables, our setups are visually stunning and abundant in flavours.
Our popular buffet-style menus offer a wide selection of dishes for casual and relaxed events to cater to diverse tastes. Guests can help themselves to delicious options, from hot and cold entrees to hearty mains and tasty desserts. Our buffets can be tailored to suit different themes and cuisines for a unique dining experience.
Flexible Catering Services: On-Site or Drop-Off Delivery
The Blonde Butler understands that each event has its own logistical requirements, which is why we offer flexible catering services in Surry Hills. Whether you need on-site catering or drop-off services, we have plenty of convenient options.
Our on-location catering services bring the culinary experience directly to your chosen venue. Our professional chefs and service staff will set up a functional kitchen and deliver a seamless dining experience for your guests. We take care of every detail, from food preparation to full service, allowing you to relax and enjoy the occasion.
For those who prefer a more flexible and budget-friendly option, affordable elegance can be delivered! Boxed by Blonde Butler offers a diverse range of delicious food options for any time of day, conveniently delivered ready to go. No chef is required on site. Simply place your order via our website with a minimum of 48 hours notice, and we will deliver to any venue in Surry Hills.
From breakfast items, morning tea to afternoon tea, lunches, to cold and hot canapés to accompany Friday night drinks, organising catering to be delivered has never been easier.
We understand that a well-rounded event experience goes beyond just incredible food. That's why we offer a fabulous selection of beverages to complement your catering orders. From refreshing non-alcoholic options to premium wines, beers, and spirits, our beverage offerings elevate the occasion.
We can assist you in finding the perfect beverage package for your event's theme and budget. Whether you're hosting a corporate networking event that calls for a sophisticated wine selection or a lively cocktail party that demands creative and refreshing mixed drinks, we have you covered. Our skilled bartenders can even create signature cocktails as a surprise for your guests.
In addition to beverages, we also provide equipment hire services to ensure a seamless and well-equipped event. From glassware and crockery to tables, chairs, and decorative elements, our professional equipment is available for hire. Our event coordinators can assist you in selecting the right equipment for the atmosphere and ambience of your event.
Experience the Difference with The Blonde Butler Catering
In Surry Hills, The Blonde Butler is the trusted partner for both corporate and private event catering. Whether you are hosting a corporate function or a private celebration, trust our team to deliver excellence in taste, presentation, and service.
Contact us today to discuss your special event needs, and let us take care of your event catering requirements with style and professionalism.