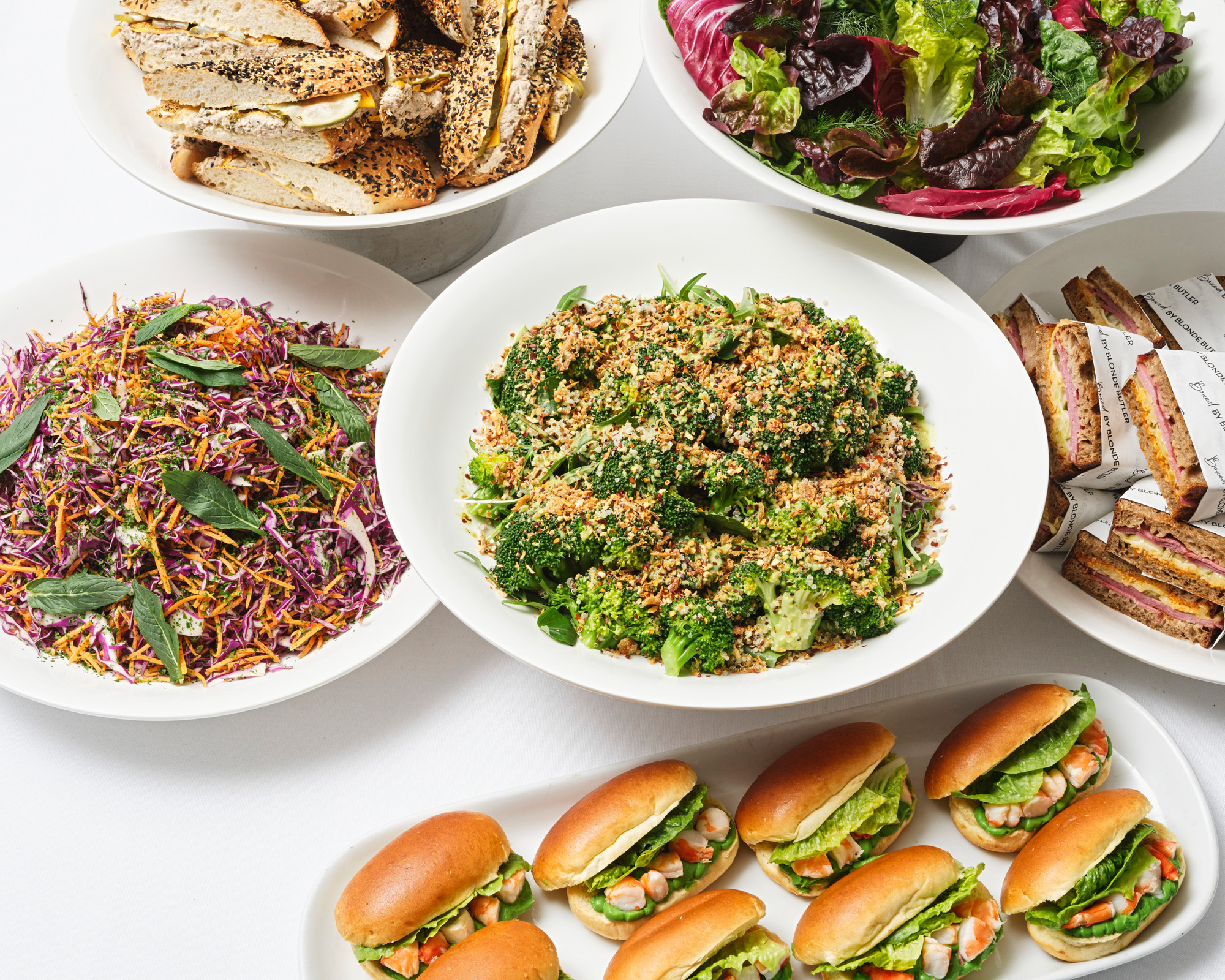 Catering Sutherland Shire
Welcome to The Blonde Butler Catering in the Sutherland Shire! Whether you're planning a private party or organising a business event, we deliver premium catering services tailored to your unique style. Thanks to our focus on quality, versatility, and detail, we have become the trusted partner for special occasions in the Sutherland Shire area. From elegant weddings and milestone celebrations to corporate luncheons and team-building events, our experienced team creates memorable dining experiences for you and your guests.
Private Events in the Sutherland Shire: Creating Unforgettable Moments
Bring The Blonde Butler touch to your personal celebrations and private events. Host a birthday picnic, engagement celebration, baby shower, or wedding with help from our professional team. We offer a comprehensive range of services to make your occasion truly special. Our chefs use premium ingredients and techniques to craft delicious creations that leave a lasting impression. From exquisite canapés, plated lunches and decadent desserts, we have a gourmet creation to suit every occasion.
Corporate Catering Sutherland Shire: Elevating Corporate Events
The Blonde Butler is the premier choice for corporate events in the Sutherland Shire. We understand the importance of professionalism, efficiency, and exceptional service when catering for business events. Our team delivers seamless catering experiences that reflect your brand and create a positive impression on your clients and colleagues.
Whether you're planning a boardroom meeting, networking cocktail parties, training sessions, customer appreciation gatherings, brand launches, or conferences, our catering services are tailored to meet the unique needs of your business. From elegant plated meals to convenient boxed lunches and impressive grazing tables, we offer several options to suit your event style and objectives.
At The Blonde Butler, we pride ourselves on quality. Our chefs select the finest locally grown, in season produce to ensure the freshness and flavour of our dishes. Enjoy serving mouthwatering dishes that impress even the most discerning palates.
We understand that every event in the Sutherland Shire is unique, and we are committed to providing personalised service. Our events team will consult with you to ensure the menu reflects your vision, taste, and budget. If you have something in particular in mind, get in touch to discuss your ideas and our events team will work with you to achieve it.
Creative Menus and Setups
The Blonde Butler offers a wide range of enticing menus and creative setups to elevate your Sutherland Shire event. Whether you prefer a formal sit-down dining experience, a casual grab-and-go setup, or a visually stunning grazing table, our expert team will make it happen. We perfect every detail, ensuring that the presentation and flavours are always on point.
Professional Service and Attention to Detail
With The Blonde Butler, you can expect nothing but the highest standards of professionalism and service. We aim to go the extra mile and create a special atmosphere that reflects the significance of your occasion so you can enjoy the best possible experience.
Convenience and Peace of Mind
Planning an event can be stressful, but you can enjoy peace of mind with The Blonde Butler. If requested, we provide a complete catering solution, handling every aspect of your event's food and beverage needs. From menu creation and customisation to setup, service, and cleanup, our team will handle it all, allowing you to focus on enjoying your event and connecting with your guests. You can relax and trust us to deliver a premium service from start to finish.
Drop-off Catering Services: Convenience and Quality Delivered to Your Doorstep
The Blonde Butler understands that sometimes you need a hassle-free catering solution that doesn't require on-site staff or setup. That's where our drop-off catering service comes in – Boxed by Blonde Butler. Whether you're hosting a small private gathering or a corporate event in the Sutherland Shire, our drop-off catering gives you the convenience of having delicious food delivered straight to your doorstep.
With our boxed delivery service, you can enjoy the same high-quality fresh food and impeccable presentation The Blonde Butler is known for. Each dish is carefully packaged and delivered at the specified time, ready to be enjoyed at your desired location. From beautifully arranged grazing platters to boxed lunches, our drop-off catering options are suitable for a range of occasions.
Your Sutherland Shire Catering Partner
The Blonde Butler is your premier choice for catering services within the Sydney Metropolitan area, from Sydney CBD to the Sutherland Shire and beyond. Let us bring your vision to life and create memorable moments that will be cherished forever. Engage our dedicated team, and let us make your next event the talk of town.