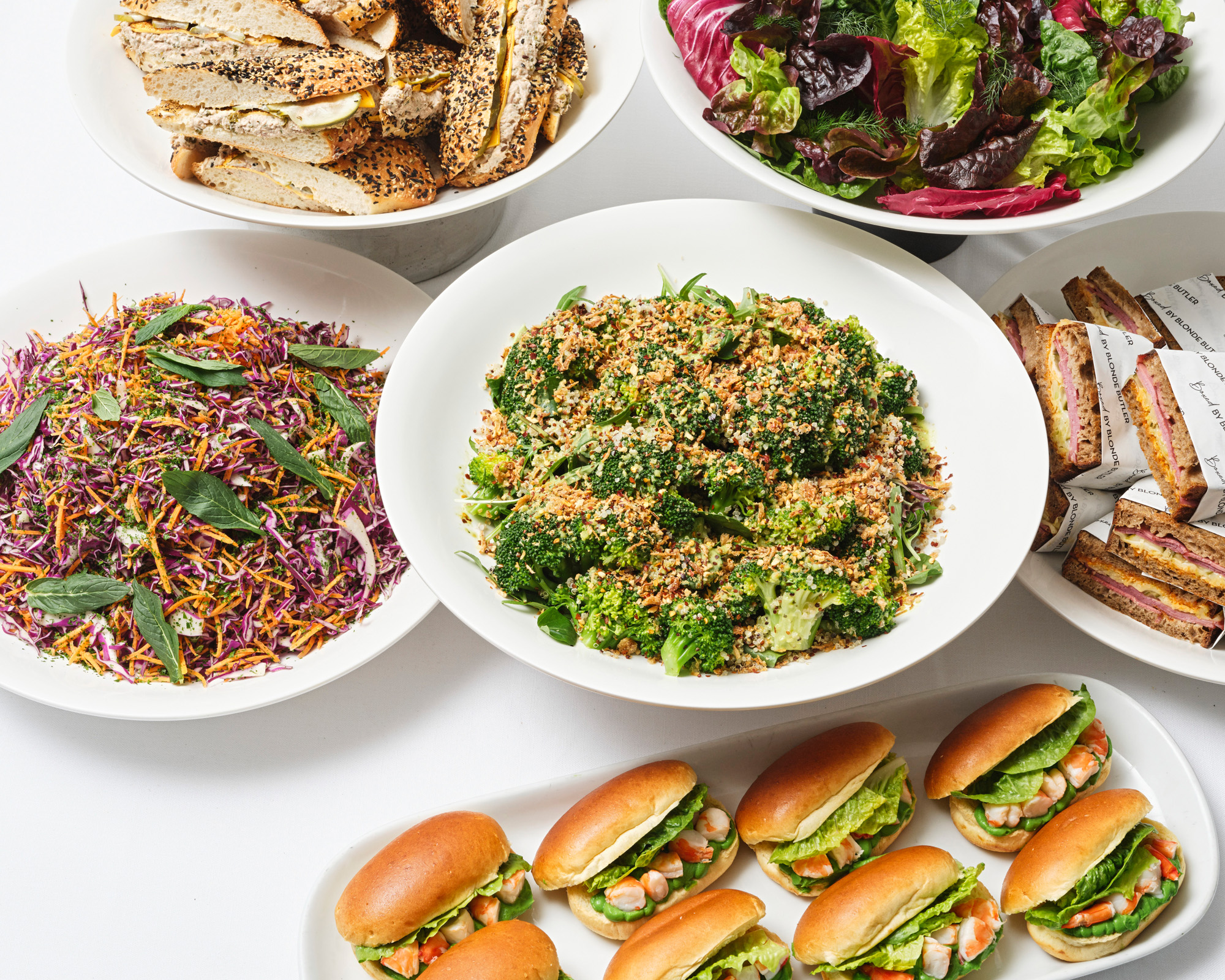 Corporate Catering Sydney CBD
Welcome to The Blonde Butler, your premier corporate catering service in the Sydney CBD. We deliver affordable, accessible, and elevated food to your location in the Sydney metro area. Our professional team can meet any brief and suit any audience. Whether you're hosting an event or just need catering dropped off, ready to eat, our team provides catering options for your every need, including formal boardroom lunches, conference, and grab-and-go lunches, our menus will ensure a memorable guest experience for everyone.
Catering to the Vibrant Sydney Metro Area
The Blonde Butler proudly offers exceptional catering services to the vibrant Sydney Metro area. Our expert team is well-equipped, ensuring prompt delivery to your workplace. Whether in the heart of the CBD or surrounding suburbs, we bring first-class catering options right to your doorstep. From formal plated meals to buffets and convenient boxed lunches, we're here to ensure that every Sydney event is a memorable one.
Versatile Office Catering, Sydney CBD
Office catering doesn't need to be bland. Our team of office caterers will design menus to suit every corporate occasion which is fresh, seasonal and absolutely delicious. From boardroom catering to large business events, our team can accommodate any group size. Whether you're hosting a casual networking event, a formal client dinner, or a celebratory reception, we have the ideal solutions for your next corporate event.
Elevated Corporate Dining
We understand the importance of providing a memorable dining experience for the Sydney business crowd. Our formal plated 2-3 course boardroom style lunches are perfect for those seeking an elevated dining experience. From entrees to main courses and desserts, our kitchen team provides a sophisticated dining experience that you would expect from a top-tier Sydney restaurant. In addition, our buffets offer a versatile yet stunning corporate dining experience for larger groups.
Lighten the Mood with Interactive Dining
For events that require a more casual and interactive dining experience, our buffets are designed to feed large groups. They can be set up as self-serve buffets, shared banquets served down the centre of a boardroom table, or on interactive food stations with a chef preparing and serving to order. Consult with our team on your special requirements, and let us create a menu that suits your event.
Impressive Sydney Breakfasts
One of our specialties is providing a premium Sydney breakfast experience that sets a positive tone for the day ahead. Our breakfast offerings are designed to fuel productivity and create a welcoming atmosphere for your corporate guests. From refreshing fruit platters and freshly baked pastries to nutritious breakfast pots and fresh avocado bruschetta, we offer delicious breakfast menus and versatile setups.
For busy settings where convenience is key, our sandwiches and salads are the ideal solution. These delicious and fresh options can be presented on large ceramic platters and bowls, providing a visually appealing display. We offer buffet setups and individually packed options.
Drop Off-Catering: Affordable and Beautiful Boxed Lunches
Affordable elegance can be delivered! Boxed by Blonde Butler offers a diverse range of delicious food options for any time of day, conveniently delivered ready to go. No chef is required on site. Simply place your order via our website with a minimum of 48 hours notice, and we will deliver to any venue in the Sydney CBD free of charge.
From breakfast items, morning tea to afternoon tea, lunches, to cold and hot canapés to accompany Friday night drinks, organising corporate catering has never been easier.
Throw a Sydney cocktail party like no other with a bit of help from The Blonde Butler. Our chefs design beautiful canapés that are visually stunning and delicious, ensuring your guests are impressed and stomachs are filled. Our extensive canapé offering includes miniature bite-sized items, substantial options and desserts. Not your average spread of finger food: each of our creations is contemporary, and designed to be enjoyed while standing, allowing guests and colleagues to move about, network and celebrate.
Looking to enhance your next cocktail event? Our grazing tables are absolutely stunning and provide a variety of food to suit all palettes when it comes to corporate catering.
Exceptional Quality for all Guests
At The Blonde Butler, we prioritise locally sourced produce so that our ingredients are fresh, sustainable, and of the highest quality. Additionally, we cater to a diverse selection of dietary requirements and preferences. Our skilled chefs are experienced in accommodating dietary restrictions such as vegetarian, vegan, gluten-free, and more without compromising taste or presentation.
Sydney CBD is a thriving hub for business events, brand launches, retail events, and private parties, and our catering services are suited to all these occasions. From corporate events to product launches and special celebrations, our Sydney caterers deliver exceptional catering experiences to the heart of the city. Prompt delivery is guaranteed every time.